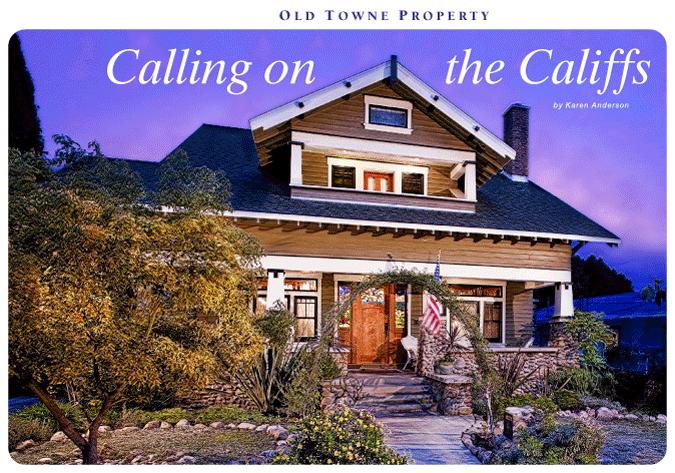 The Califf's two–story, Craftsman–style home was designed after Teri Califf's great–grandparent's home in Los Angeles. A renowned architect in
Old Towne
, Jon Califf has succeeded in creating a new residence that showcases the look and feel of a historic property.
Jon Califf stands with his mother Georgina (front), while wife Teri and son TJ look on (Daughter Amanda is pictured on the cover). Jon made good use of vintage architectural elements he salvaged while working on renovation projects in town. The stair railings, for example, were fashioned from old ceiling joists.
In the kitchen, sophisticated soapstone countertops were sourced from Best–Way Marble and Tile. Jon designed the beautiful farmhouse sink, also made of soapstone.
A stained–glass window in the dining room is one of many stained–glass pieces showcased throughout the home. Jon's antique bottle collection includes old bottles he found on the property when it was excavated.
The wrap–around porch provides a cozy retreat for Jon and Teri, who enjoy entertaining at home as well as cooking meals for extended family and friends.
A clawfoot tub, pedestal sink and retro-style tiles combine to impart a nostalgic look in the bathroom.
Growing up in Orange, Jon and Teri Califf first met in junior high school, became high–school sweethearts and got married in 1977 when they turned 20.
So it's no surprise that the lifelong Orange natives hold a special appreciation for the history of their hometown, so much so that they designed their new home to reflect the area's architectural heritage.
An architect who loves and admires historic architecture, Jon always dreamed of building a house in Old Towne Orange. Having previously served on the Old Towne Orange Design Review Committee for almost six years, he is intimately familiar with historical buildings. But instead of renovating an old home, he chose to build a new one from the ground up, inspired by an historic Craftsman home built by Teri's great–grandparents in Glassell Park in LA.
"Jon actually acquired the plans to my family's old home; we now have them framed and hanging on the wall," said Teri, who notes that her grandparents and father also grew up in the LA home.
"When the property was sold, we took one of the doors from my grandmother's room and installed it in our new house. It was a closet door and it has a mirror on one side. It's just beautiful."
Located at 365 North Harwood St in Old Towne, the Califf's five–bedroom residence showcases a brilliant use of salvaged architectural elements from the Craftsman period, including repurposed shelving, cabinet doors, drawers and ceiling joists recycled from historic Old Towne homes that Jon helped to renovate.
The newer building materials, as well, also replicate the look and feel of a traditional–style Craftsman home – everything from the hardwood flooring, stone masonry and lighting fixtures to stained glass, redwood siding and wood windows.
"Our house very much adheres to the style of an earlier era," Teri said. "When people walk into our home, they don't realize that it's not actually an old home. Yet it's fully networked with modern technology and conveniences, energy–efficient insulation and air conditioning."
Showcasing Douglas fir flooring throughout, the house unveils intricate tile work and woodworking, especially in the living room where old ceiling joists obtained from a client were fashioned into hand railings for the stairs and other architectural details. All the doors in the home feature vintage lock sets and knobs.
Installed by local tile contractor Jim Quast Tile, nostalgic hexagonal tile graces several of the home's five bathrooms. Pedestal sinks, a clawfoot tub and beadboard wainscoting add to the charm. Stonework for the fireplace, and elsewhere in the home, was done by Rick Win'E of Old Towne Orange. Stained glass, by the Glass Eye in Orange, illuminates the premises.
In the kitchen, countertops are crafted of soapstone from Best–Way Marble and Tile, including the beautiful soapstone farmhouse sink designed by Jon. An expansive breakfast bar with cabinets beneath serves as a central gathering place where up to seven people can be seated.
"We spend a lot of time in our kitchen," Teri said. "We eat at home most of the time. Jon likes to cook; he's creative in the kitchen. We all seem to gather in the kitchen."
The couple's large extended family includes Jon's parents, who now live in the home after Jon's father suffered a stroke. Although three of the Califf's five children are grown, their son Tim, 15, is home–schooled, while their "adopted" son TJ also stays at the house.
Thus explains the Califf's need to live in a larger house. As Teri explained, the couple had once thought about renovating an older home rather than build a new one, but as is the case with most vintage homes in Old Towne, the square footage is usually small, and historic renovation guidelines prohibit substantial additions.
"At one point, we had considered taking on the historic Edwards home that was on the library property, but it just wasn't big enough for our family," Teri said. "We can still have our three generations here and also be able to have friends over and entertain."
Like many families in Old Towne, the Califfs enjoy antiques. Many of the pieces in their home are heirlooms from both sides of the family, including the elegant dining room table that belonged to Teri's great–grandparents in Los Angeles. Other furnishings include her mother's antique couch and chair, which she had refinished, as well as antique sewing machines.
A lifelong collector of antique bottles, Jon found many old bottles in an old incinerator pit on the property when it was excavated.
A 25–year middle–school teacher in Orange and Santa Ana, Teri is currently on hiatus, writing a book about education as well as operating a small business making hair accessories. Jon and Teri's Old Towne roots run deep. Her father and Jon's father both taught at Chapman University.
Teri says that many of their friends from childhood are still part of the local community.
"There are a lot of Orange High School graduates who still live here, and the hometown feeling is always here, no matter the changes. Once you're a part of this community, you don't want to go anywhere else. We choose to live here because this is our home. For us, Old Towne is the feeling of family."