Hank Mascolo - May / Jun 13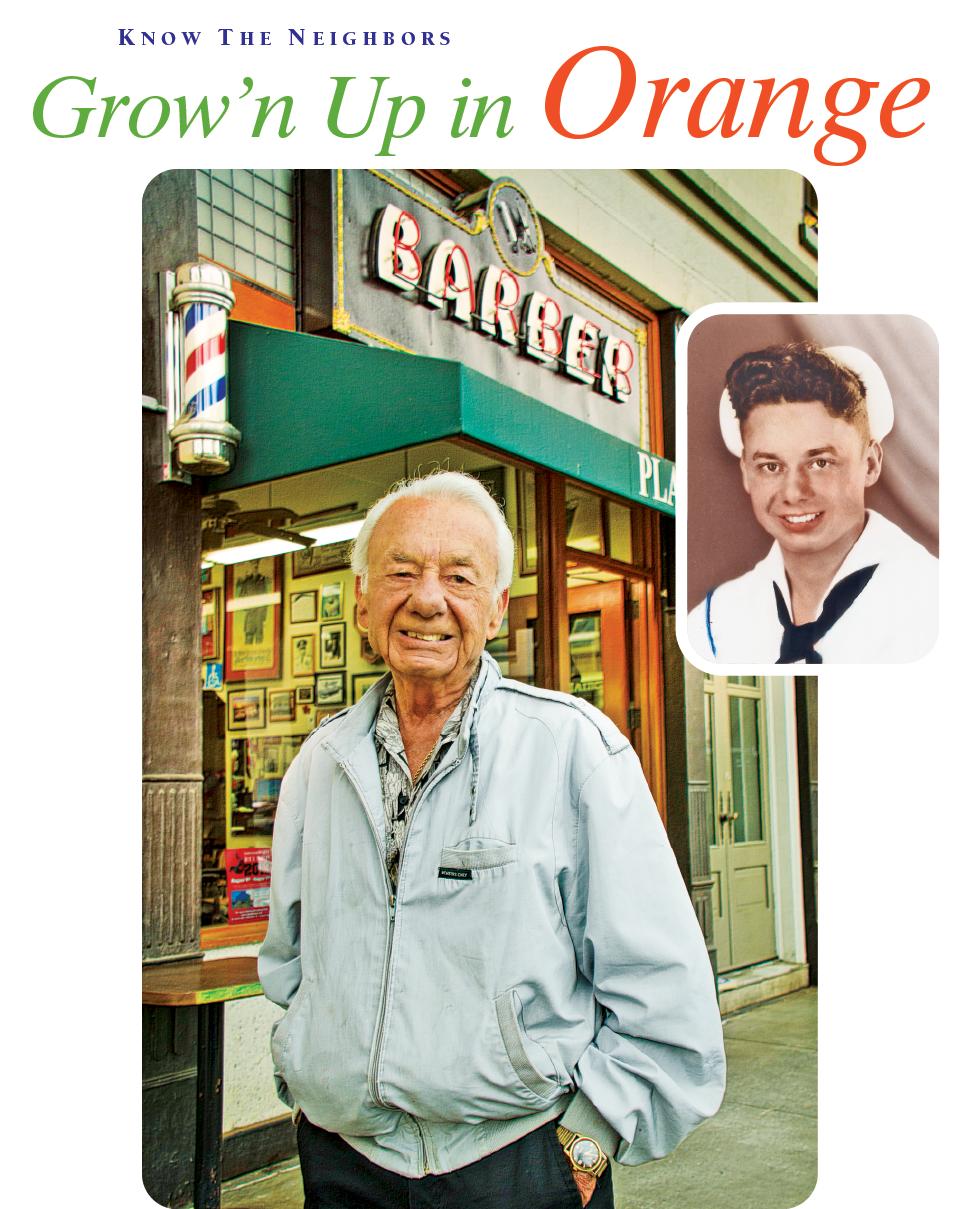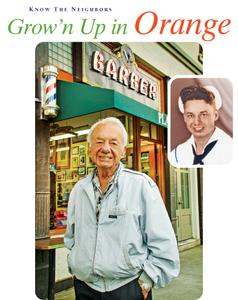 Hank Mascolo's given name was Gennoro. When he was a child his teacher couldn't understand his name. She smiled and said, "We'll call you Henry." "Henry" morphed into "Hank." Inset: Hank joined the Coast Guard during World War II. At 91-years-old, he still has the smile he had as a seventeen-year-old boy.
Hank Mascolo, the "Mayor" of the Plaza!
Like all good barbers, Hank Mascolo has a lifetime of compelling stories to tell. The 91-year-old resident, who owned Hank's Barber Shop in the Plaza for 65 years, entertained his customers with tales of time spent as a fisherman and his World War II military service.
An Italian immigrant and commercial fisherman, Hank's father taught his son how to catch a livelihood from the sea. It was during a fishing expedition near Point Ferman when he was 18 years old that Hank spotted a Japanese submarine under the water. A short time later, American warplanes bombed the submarine out of the water. That experience excited young Hank, and he joined the Coast Guard a short time later.
After the war, Hank settled in Orange, returning to his life as a commercial fisherman in San Pedro. Looking for a career closer to home, he decided to learn another trade, so he attended barbers college. After working for local barber Charlie Caster for a few years, Hank took over his shop in the Plaza and re-named it Hank's Barber Shop.
Over the next six decades, Hank cut the hair of everyone from sports figures to politicians to movie stars. During those years, in 1983, his eye fell on Renée Andreo, owner of Renée Jewelers on Glassell. "I used to watch all of the pretty girls walk by as I cut hair," Hank smiles. "She was the prettiest!" Renee won his heart, and they married in 1985.
A part of the Old Towne fabric, Hank is one of the City's most recognizable figures. So recognizable, in fact, that he was named "Honorary Mayor of the Plaza" in 1990 by Mayor Don Smith. And when his wife held a 90th birthday surprise party for him, over 100 people came. Though he's technically "retired," nowadays, Hank still enjoys visits from his former customers and doling out stories about his times as the Plaza barber.
Plaza Barber
30 Plaza Square, Old Towne Orange CA 92866 / 714-532-4847