Bright Electric - Jul / Aug 12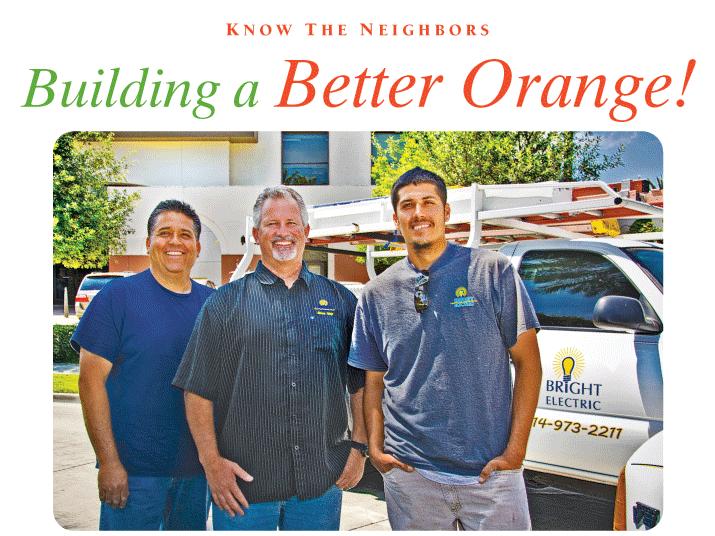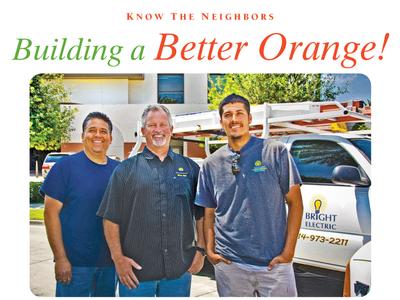 Owner of
Bright Electric
, Mark Bright (center) specializes in electrical projects for historic home renovations. He is pictured here with two of his electricians, Raul (left) and Anthony (right).
With a name like Bright, what better profession to pursue than becoming an electrician?
Owner of Bright Electric, Orange resident Mark Bright is an electrical contractor with 26 years experience.
Launching Bright Electric in 1996, Mark specializes in residential projects, specifically historic homes where old wiring needs to be removed and replaced. As it turns out, the process of rewiring a historic home is very specialized, given the hard-to-reach location of old wiring usually hidden inside the walls.
"We've developed a technique where we carefully fish the wires into the walls to create the least amount of impact to the historic structure," he explained. "Some of these older homes have fire blocks in the walls at strange angles. I have tools made for tricky situations."
With seven years of electrical theory schooling under his belt, Mark possesses top qualifications for the job. He prides himself on being up-to-date on all the newest electrical codes in California that he says many contractors may not be aware of.
"In California, the codes go way beyond the National Electric Code," he said. "For example, requirements for receptacles along counter tops, islands, etc. need to be placed in specific locations, with minimum of two circuits in the kitchen. Fifty percent of lighting must be LED or flourescent. Arc fault circuit breakers are also now required in the California Electric Code for all outlets."
Mark says his favorite part of the job is working with local general contractors like Mike Williams of Cross Construction. He enjoys the working relationship that he has developed with homeowners, business owners and realtors in town.
"I really like working for the people of Orange, and especially Old Towne," he said. "I do work in other cities, but here in Orange, it really is like a Mayberry kind of feeling. I see clients around town all the time, and it motivates me to do the best work that I can do. I take a personal interest in the client, and I pride myself on those relationships."
Bright Electric
1208-I East Walnut Street
,
Orange
,
CA
92866
/
714-973-2211
---
Published in the
Jul / Aug 12
edition of the Old Towne Orange Plaza Review Article Written by Karen Anderson, photos provided by Jeanine Hill
View More Articles