Jadtec Security - July / August 12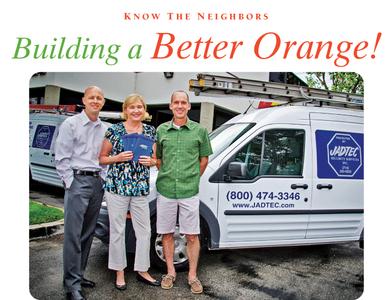 Based in
Orange
,
Jadtec Security Services
provides monitoring services for residential and commercial clients. Pictured above are (from right)
Jadtec
Vice President, Kelly Webber, Account Executive, Carol Brooks and President John Lusty.
Based at 1520 West Yale Avenue, Jadtec Security Services has deep roots in Orange. What started as a computer business in 1983 has become a leader in the alarm-services industry for residential and commercial clients.
In 1994, longtime business partners John Lusty and John Dieball were looking to add something to their successful computer business, Jadtec Computer Group, when they decided to purchase a small security operation with 600 accounts.
Today, Jadtec Security Services has grown to 10,000 accounts throughout Southern California, says Jadtec President John Lusty.
"We've always owned our own building here and did some modifications when we bought the security business," he said. "We were attracted by the recurring revenue possibilities of the security business and liked the whole concept."
With 25 employees on site, Jadtec Security Services operates its own monitoring center 24/7. Unlike other security companies that subcontract out their monitoring services, Jadtec is truly at the helm of its operations, and therefore able to pass along the savings to its customers.
"We continue to improve our technology and offer multiple ways to monitor customer accounts, whether over traditional phone lines, cellular device options or a customer's Internet connection," he said. "With more and more people not using traditional land lines these days, we've had to find different ways to get our customer's alarm systems to our central station."
Lusty said that the public is welcome to stop by the offices for a tour of the monitoring center. He adds that Orange continues to provide the ideal central location for the business, offering a convenient base from which to send technicians out into the field.
He attributes the company's success and longevity to a dedicated staff of employees. In fact, many of Jadtec's employees have been with the company since 1983.
"It does feel like a family at Jadtec," Lusty said. "We have a core group of employees who have been here from the start."