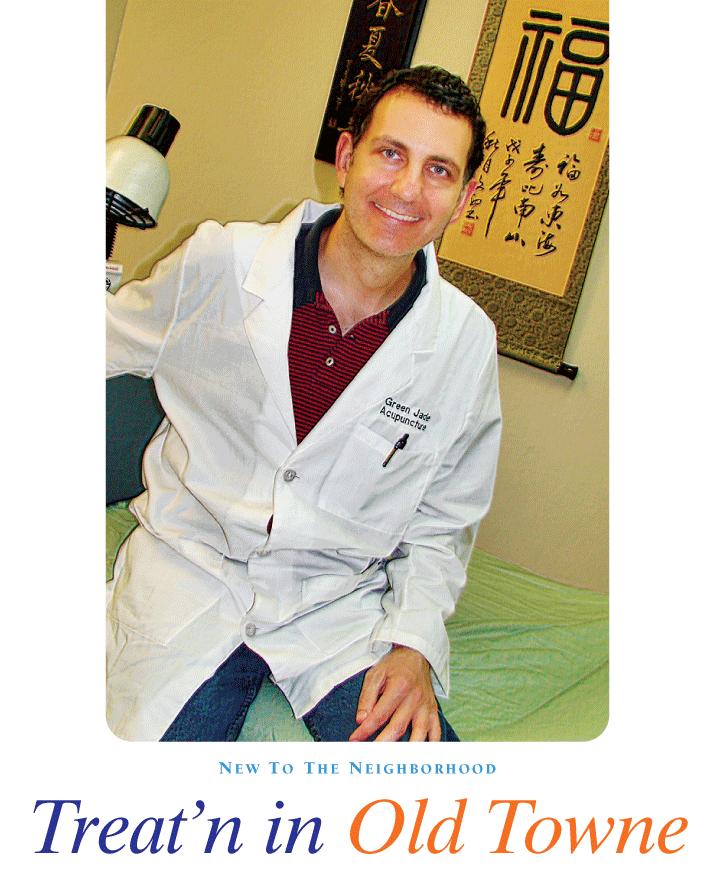 Acupuncturist Chris Bruckner specializes in pain relief at his newly opened Green Jade Acupuncture. Located on East Chapman within walking distance to the Plaza, the office includes four treatment rooms for massage and acupuncture.
---
Having previously worked in the pharmaceutical industry for many years before becoming a licensed acupuncturist, Chris Bruckner knows firsthand the pros and cons of Western medicine. After discovering the benefits of acupuncture during his own personal health struggles, Chris decided to leave the pharmaceutical industry altogether and learn the ancient Chinese practice.
After four years of intensive study at schools in San Francisco and Anaheim, the Santa Ana native has now opened Green Jade Acupuncture at 707 E. Chapman, offering effective and holistic treatments that enhance the body's ability to heal itself.
"Acupuncture is unsurpassed for pain relief," says Chris, a board-certified acupuncturist and herbalist. "Acupuncture can also address internal medicine conditions such as allergies, digestive issues, diabetes and complex diseases as well. The acupuncture I specialize in pertains to decreasing pain."
Paying homage to the Chinese Year of the Horse, Chris's office features lovely Asian décor, including hand-carved wooden chairs in the waiting room. With four treatment rooms, the office also accommodates a second acupuncturist and a massage therapist on site. Chris also offers Chinese herbal formulizations and nutritional counseling.
"We use an outside lab that formulates our herbs, which are fresh and customized to the client's particular needs," he says. "Chinese medicine is so simple in many cases, it eludes the Western mind."
Suffering from chronic digestive problems for more than 10 years, Chris found little success with Western doctors. He finally tried acupuncture. Within three weeks of treatment, his symptoms subsided, and he soon became an advocate of alternative medicine.
"The results were just too amazing to ignore. To put it in Western terms, acupuncture increases oxygenation to the tissue, increases circulation, stimulates endorphins and decreases stress response."
Located within walking distance to the Plaza, the studio provides the ideal "hometown" office that Chris had always envisioned.
"I want to be the small hometown doctor kind of guy, and this is the place to do it," he says. "At Green Jade Acupuncture, we strive to work with the body's own natural immune response to achieve total health for our clients."