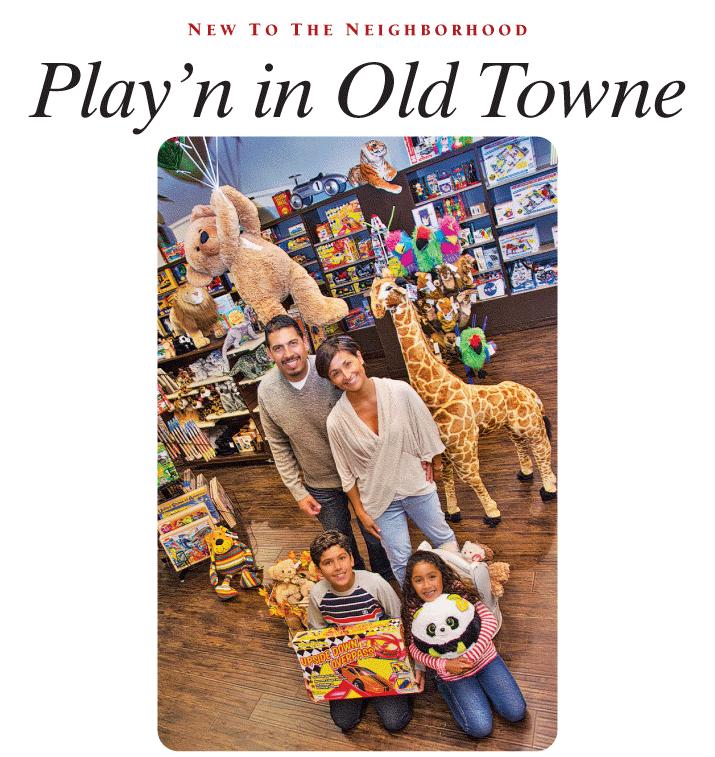 Mom and entrepreneur Jeanie Viveros, along with her husband, Gil, show their playful side at the opening of Tiddlywinks Toys & Games in Old Towne. Kids are welcome to explore the many offerings while parents can reminisce among the variety of nostalgic toys. Pictured above are the couple's two children: Lucas and Miranda
- - - -
Tiddlywinks Toys & Games
Just in time for the holiday shopping season, Tiddlywinks Toys & Games has opened its doors in Old Towne Orange.
Unveiling 2,000 square feet of retail space at the former site of The Den clothing boutique, Tiddlywinks offers an interactive destination where children can "test drive" toys on display while having fun in a nurturing environment. Tiddlywinks takes its cue from the nostalgic toy stores of a bygone era, featuring everything from classic American and European toys, to science projects, puzzles, books and crafts.
"We have opened a store that is very engaging and inspiring to kids," says co-owner/operator Jeanie Viveros. "It's a place where families can bring their kids to play, have fun and use their imaginations. We also feature all of those classic toys that we loved when we grew up. So, for adults it's a trip down memory lane."
Working for almost 20 years in the apparel industry in the areas of branding, marketing and merchandising, Jeanie helped manufacturers bring their products to fruition. Her demanding career, however, required extensive domestic and international travel, so with two growing children in the family, she decided to stay closer to home.
That's when she and her husband Gil–an engineer for Boeing who now also helps manage the store–began thinking about opening a retail store. With their favorite stomping ground being Old Towne, the couple had eyed the empty storefront for a while before deciding to take the leap and lease it.
"It's a great space with beautiful, open ceilings, skylights, wood trim and exposed brick," Jeanie says. "We didn't have to do much renovation work at all. The toys take prominence in our merchandising efforts."
With the Cupcakery a few doors down and the candy store across the street, the addition of Tiddlywinks has transformed North Glassell into a great destination for families.
"We're really reaching out and continuing with the same nostalgia and community-oriented environment that Old Towne is known for," she adds. "There's nothing like a classic toy store in a great town."
Tiddlywinks Toys & Games
129 North Glassell, Old Towne Orange, CA 92866 / 714-997-8697