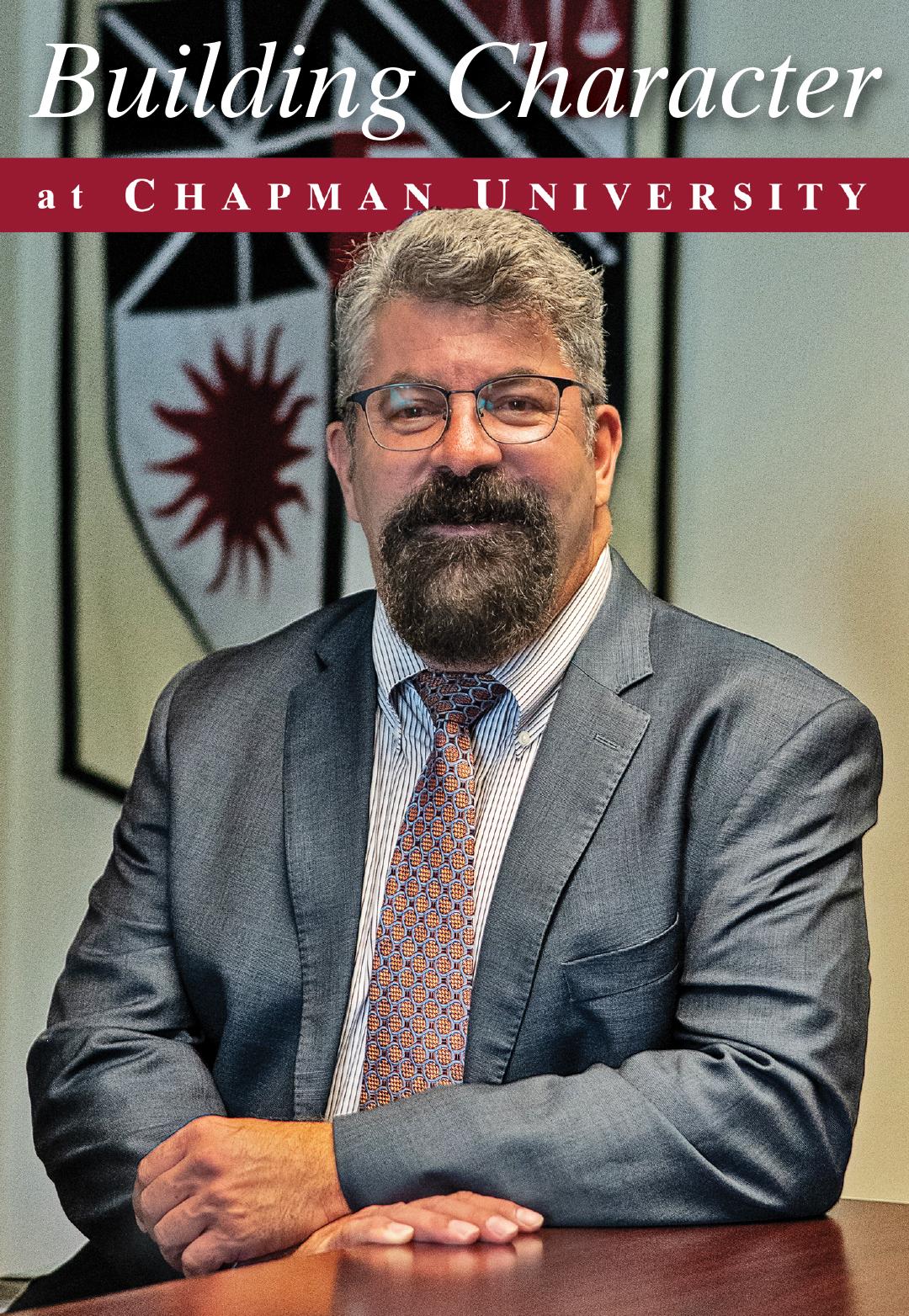 Paul Paton
For Paul Paton, Dean of Chapman University's Fowler School of Law, lessons learned in childhood helped shape his accomplished career, which has spanned corporate, government and academic environments.
"I was born and raised just outside of Toronto, and dinner table conversation was very important," he says. "My brother, sister and I were instilled with a strong ethical compass and understanding of the value of a good debate and a respectful argument."
Paton was also taught about the importance of education. "My parents placed a priority on learning," says Paton, a first-generation student and lawyer, who has taught, written and advised on ethics in government and business. "My mother wasn't able to finish high school and my father didn't have a college degree, but he became a public school-board trustee."
All these lessons led to the knowledge that with talent comes responsibility. "We were taught to use our gifts and work to the best of our ability in service to others," he says. "My parents were both born during the Depression—my father in Scotland and my mother on a farm in northeastern Alberta. Their challenging upbringings inspired us to make the most of the opportunities we are given."
Educational Beginnings
Paton began his higher education at the University of Western Ontario but changed course after a year, deciding to pursue a Bachelor of Arts in International Relations at the University of Toronto where he graduated as Moss Scholar, the university's top all-around student.
During his time as an undergraduate, he also considered pursuing music as a career—even receiving a scholarship and admission to a top Canadian music school—but decided to study music privately while finishing his bachelors.
"In law, you spend so much time connected to a world of logic that it's sometimes difficult to turn that off and focus on creativity," he says. "Music provides me with a wonderful way to immerse myself in something that can be both logical and creative."
Prior to his career in litigation and after receiving his undergraduate degree at the University of Toronto, Paton attended the University of Cambridge in England to study for his Master of Philosophy in International Relations, which he received in 1990. While there, he was supervised by Christopher Greenwood, who later became a judge of the International Court of Justice.
After his time in England, Paton returned to the University of Toronto and earned his law degree in 1992. He followed this by working as a law clerk for the Chief Justice Court of Appeal for Ontario. The rigorous position required that he prepare summaries of cases for the judge and brief him orally in advance of each week's hearings. "I couldn't have asked for a better—and more frightening—form of training," he laughs.
Commercial Litigation
After his clerkship, Paton became a commercial litigator at a top Canadian firm, starting as an associate and quickly becoming a partner, often working on cross-border issues. "I traded the sleepless nights and long, hard days for the opportunity to get on my feet early," he says. "I learned a great deal that has informed my career by working with some of the brightest and most ambitious people I have ever encountered."
Music helped him deal with the rigors of working in commercial litigation. While employed as a litigator, he sang in the Toronto Symphony's anchor chorus. "Every Monday night, I would leave the office at 7 o'clock and run to the symphony hall to rehearse until 10 o'clock," he says. "While other (normal) people went home, I went back to the office! Between rehearsals and performances, I sang well over 150 nights a year. It was a magnificent opportunity to share in the gift of music."
Though litigation proved lucrative, it wasn't Paton's long-term plan. "Financial success wasn't the ultimate goal for me," he says. "I measure success in other ways, including in rich experiences."
So, when the opportunity to work for the Premier of Canada's Province of Ontario presented itself, Paton grabbed it. "I was a senior justice and policy advisor in a challenging political environment and drew on my policy and legal skills to serve the public interest," he says of the position he held from 1997- 1998. After leaving, he worked as in-house counsel to PricewaterhouseCoopers, leading the establishment of PwC's affiliated law firms across the country.
While in the corporate world, Paton decided that if given the opportunity to return to academia, he would jump at it. While a full-time litigator, he had directed an undergraduate program at the University of Toronto, but given his passion for education, he knew he eventually wanted to shift his efforts from practice to teaching and research. When he applied and got admitted to the Stanford Master's Program in Law, he took a leave of absence from PricewaterhouseCoopers from 2001-2002, earning a Master of Juridical Science degree and admission to Stanford's highly competitive doctoral program.
Taking multitasking to a new level, Paton returned to consult with PwC, continued to pursue the doctorate at Stanford and became a tenure track full-time law professor, traveling back and forth to Canada to assist his aging parents with their health issues, especially with his father's Alzheimer's. That experience in particular offered opportunities for "grace and learning," the value of patience and finding joy in every day. During this time, he co-authored a 2006 seminal article for the Canadian Bar Review that remains a resource for lawyers on the topic of ethics: "Corporate Counsel as Corporate Conscience: Ethics and Integrity in the Post-Enron Era." He has also been recognized as an ethics expert in the U.S. and internationally, serving as Reporter for the American Bar Association's Ethics 20/20 Commission, for an Arizona Supreme Court Working Group and for the ABA's prestigious Standing Committee on Professional Regulation. He has also held positions with the International Bar Association and been an invited speaker for state bars, academic panels and legal conferences across the U.S. and internationally.
"My time at Stanford showed me the next chapter was to step into the academic environment full-time," says Paton, who returned to California in 2008 at the University of the Pacific's McGeorge School of Law as Professor and Director of its Ethics Across the Professions Initiative. He taught ethics, corporate governance, business and international law and served as the university's Vice Provost from 2012-2013.
Back to Canada
In 2014, Paton returned to Canada to serve as Dean of the Faculty of Law and Wilbur Fee Bowker Professor of Law at the University of Alberta. "During my five years as dean, we hired 11 faculty members, doubled the operating budget and broke into the top 100 in The Times Higher Education world rankings of law schools for the first time ever," he says. "Ninety-three percent of my students got jobs after graduation, even during an economic downturn."
Colleague Ian Holloway, Dean of the University of Calgary Faculty of Law, worked with Paton when he was dean at the University of Alberta. "Paul has something near-unique in North America today—a deep understanding of the legal profession in both the U.S. and Canada. That represents a tremendous strength when it comes to educating the next generation of legal professionals."
Students of Paton note his impact on them, including Sereena Dosanjh, 3L President - Law and Business Association at the University of Alberta Faculty of Law. "What sets Dr. Paton apart as a mentor and educator is his unwavering support," she says. "He takes a genuine interest in each student's growth and well-being, ensuring they not only excel academically but also develop the essential life skills that will serve them throughout their early careers."
Bernadette McMechan agrees. "I had the pleasure of completing my Juris Doctor under Paul's Deanship at the University of Alberta Faculty of Law (2016-2019). I worked directly with him on the inaugural Dean's 'Women in Law' Speaker Series which enabled students to engage in intimate, candid conversations with female trail blazers, leaders and mentors about the challenges they faced in their legal and judicial careers. Paul initiated this impactful speaker series and actively supported its success."
Coming to Chapman
For Paton, all roads have prepared him for the deanship at Chapman. "I was thrilled to be invited to apply and have had a warm welcome," says Paton, who moved to Orange County with his partner, Michael James. "At Chapman, we have a great faculty and university, an incredible building and the benefit of being situated in a wonderful community. Old Towne Orange is a gem. There is a healthy population of first-generation students and a diversity of viewpoints, which encourages debate and dialogue."
Since arriving, he has identified three areas for focusing initial efforts: supporting research and its potential as a public service; enhancing and focusing experiential learning for law students and building opportunities for collaboration with other programs and deans across campus.
As former colleague Kellye Y. Testy, President & CEO, LSAC (Law School Admission Council) sees it, Paton is ideal for the deanship at Chapman. "Paul was a member of LSAC's board and chaired our audit committee. His expertise in legal ethics helps provide the core of integrity that characterizes his leadership. I am excited to see where he can take Chapman, as it is a very strong institution with much to contribute to advancing law and justice."