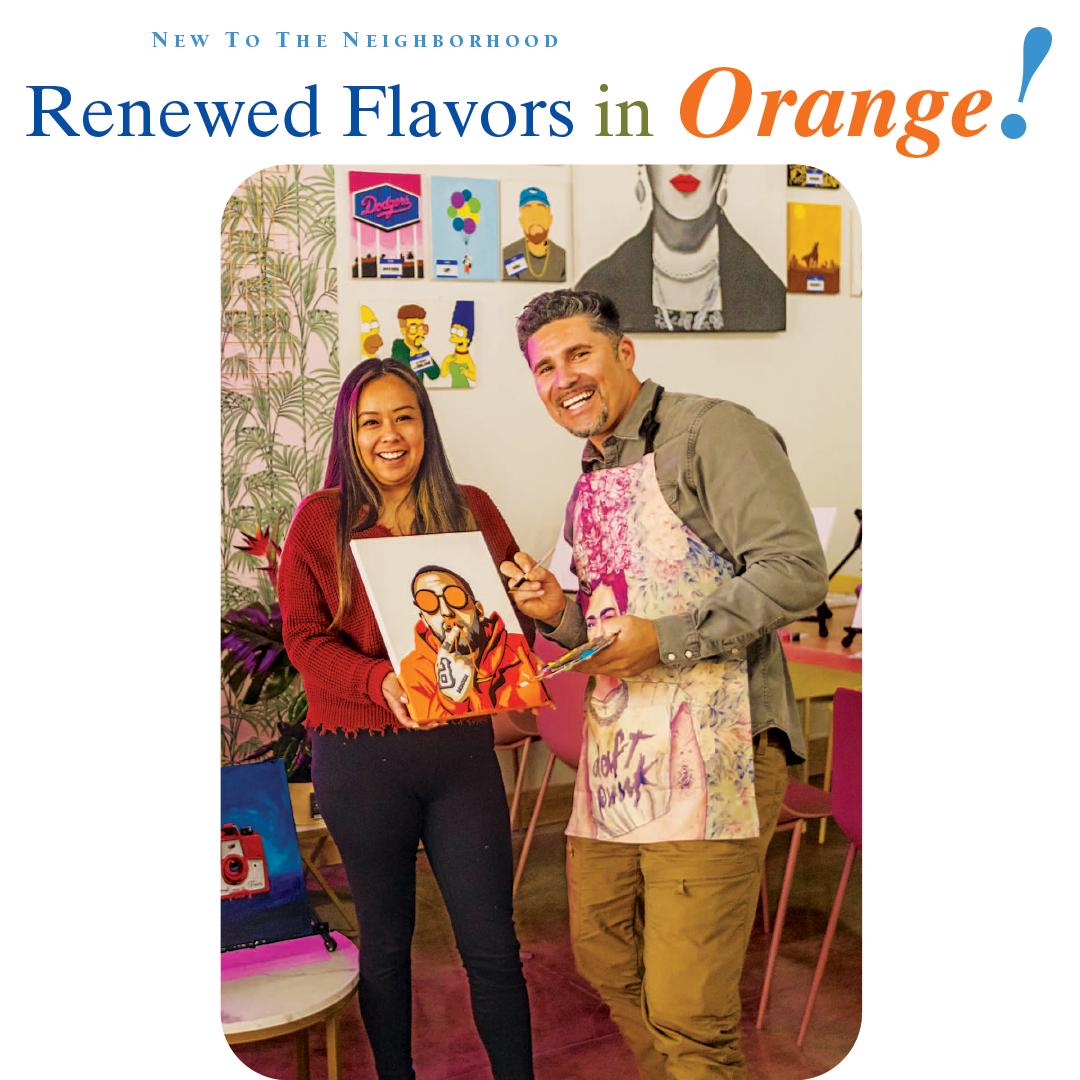 Mercedes and Mike Salas, the husband-and-wife duo who founded SOUL+LAND Lab, showcase a finished product from their themed workshop honoring rapper Mac Miller. "Our workshops where we paint portraits of icons like Mac and Kobe Bryant are quite special," says Mike. "We have a DJ and music videos playing, and it's a great experience."
- - - -
SOUL+LAND Lab
Last month, Old Towne welcomed a new addition to its arts scene with SOUL+LAND Lab, a space dedicated to art workshops and other creative events.
"We want to be a safe space for people to come in, students to do homework, and artists to express themselves," says Founder and Creative Director Mike Salas.
Salas and his wife, Mercedes, originally created the concept for SOUL+LAND two years ago, during the height of the pandemic. They transformed an old warehouse they owned into a creative hub, initially hosting informal art workshops for their friends.
"At our first workshop, everybody had blank canvases. We realized after that we wanted to do something a bit different," says Salas. "We made it easier by offering stencils, which gave everyone an edge. We started seeing little masterpieces on their canvases."
The couple brought their workshops to restaurants and venues across Orange County, hosting nearly 200 sessions before opening the first retail space in Old Towne.
"Old Towne has a special place in my heart," says Salas, who was born in Orange and often went to restaurants in the Plaza on date nights. "We saw a lease open, and it felt like fate."
SOUL+LAND's schedule is already filled with upcoming themed stencil workshops. Participants can immerse themselves in creative sessions like football-themed paint-by-numbers or a nostalgic 1990's hip-hop painting experience. The team is also gearing up for October, including several sold-out Halloween paint and sip classes and Dia De Los Muertos workshops with mocktails and Mexican sweet bread.
For those seeking a more intimate artistic experience, the space is rentable for private art workshops and events, and SOUL +LAND's paint-by-numbers kits can be shipped anywhere in the country.
As the company expands, Salas will offer other community-driven art forms like dance and yoga. They have hired several Chapman students to lead classes for participants of all skill levels.
"We were mobile for a long time, so we're excited to finally have a location in Orange," says Marketing Director Yajaira Pompa. "The space is open for everyone to hang out and express themselves."
Salas' long-term vision for SOUL+LAND is a community hub that brings all art forms to life. From morning dance classes tailored for seniors, to spoken poetry sessions designed for teens, and engaging family workshops for parents and children, he aims to create an environment filled with creativity for all ages.
"We want to be an art café where we sell coffee and mocktails, with everything sourced from the local farmers market," he says. "We love art in all forms, and our goal is to support local artists as much as possible."
SOUL+LAND Lab
162 North Glassell St. #B, Old Towne Orange CA 92866 / 714-600-1467