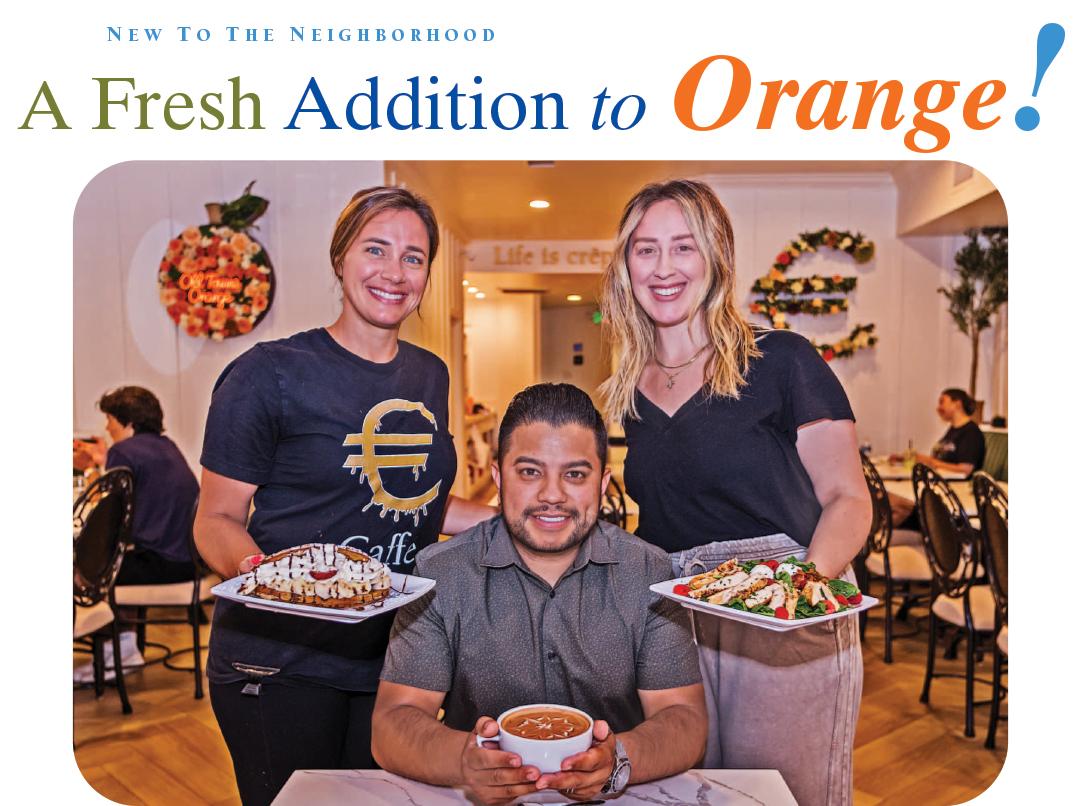 Euro Caffé Owners Sam Ruiz (center), his sister-in-law Staella Gianakakos (left) and his wife Aliki Ruiz share the cafe's variety of sweet and savory menu items. The trio owns and operates their family business together, and drew inspiration from European cuisine to open the first Euro Caffé location 12 years ago.
- - - -
Euro Caffé
If you've been dreaming of taking a culinary journey to Europe, try visiting the newly opened Euro Caffé, a family-owned business offering fresh pastries, food and lattes. The Old Towne Orange shop is the business's second location, joining the existing Euro Caffé in South Coast Plaza in Santa Ana.
Both locations are owned by Staella Gianakakos, her sister, Aliki Ruiz, and her brother-in-law, Sam Ruiz. The partners, all of whom grew up in the food industry, opened the first location 11 years ago and the Orange Euro Caffé this past summer.
"Being born and raised in the restaurant business, we knew what we were getting ourselves into, but there has still been a lot of trial and error along the way," says Aliki. "The journey has required patience and energy, but it has been gratifying and fulfilling."
The Orange location took four months to complete before opening in June. "Working on the Orange cafe has been a labor of love, but one of the most rewarding feelings is seeing how the place looked before and after," says Gianakakos. "We have people come in and tell us how much they love it, and it's the icing on the cake. We feel so accomplished."
The Euro Caffé staff are also passionate about the menu, which features an array of sweet and savory crepes, waffles and sandwiches.
"When we first created our menu, we wanted it to be European-inspired, which is reflected in our ingredients and the names of our items," says Gianakakos. "From day one, our sweet crepes have always been extremely popular."
All crepes are made-to-order, and the Greek Goddess is the most frequently ordered, filled with Nutella, strawberries, bananas and honey. Customers can also order from an extensive coffee menu, with specials like the Nutella Latte or the Lavender Latte, as well as traditional espresso-based drinks. The Orange location also boasts an exclusive pastry: a circular croissant filled with an orange panache cream, dipped in chocolate and topped with orange zest.
"Our food is fresh and made to order, which we're very proud of," says Aliki. "We're fully family- owned, and we take so much pride in everything we do."
As Euro Caffé settles into its new Old Towne home, the team hopes to create a welcoming and friendly atmosphere where guests feel comfortable stepping away from their daily hustle.
"We want people to come in, take a break from school or work, and just enjoy their delicious coffee and crepes," says Aliki.
Euro Caffé
119 South Glassell St., Old Towne Orange, CA 92866 / 714-363-3456