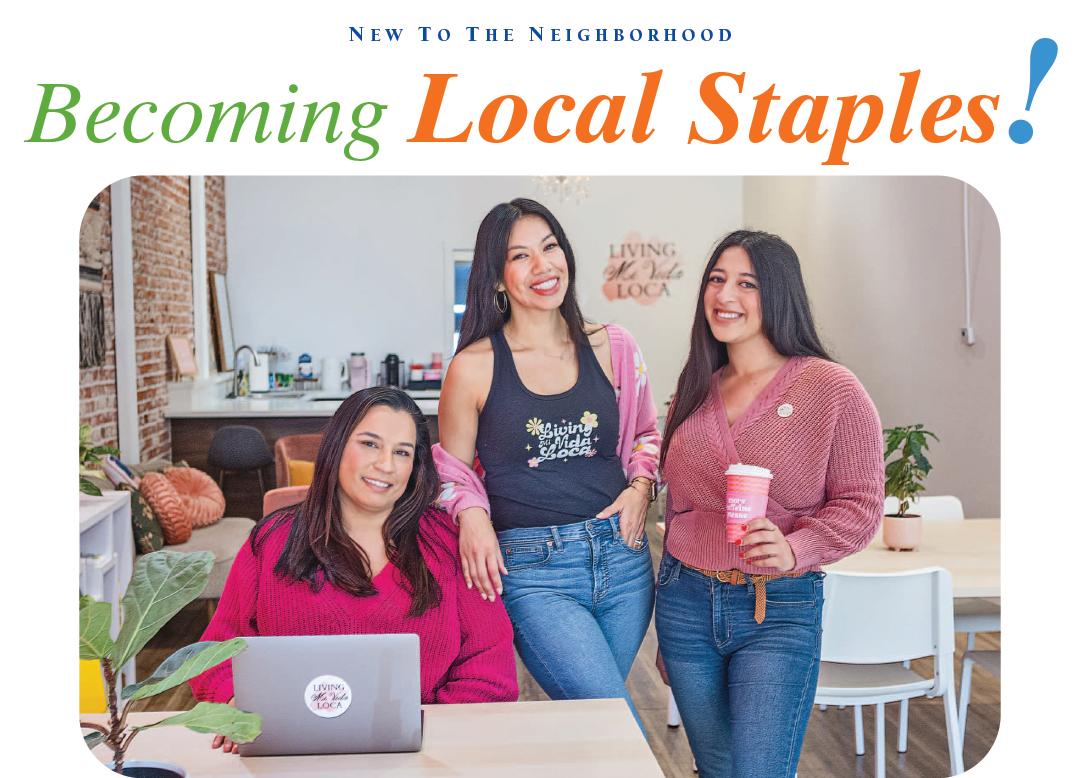 Living Mi Vida Loca Digital Content Creator Belinda Espinoza (left), Founder Pattie Cordova (center) and Writer Stephanie Robledo stand in the Orange County guide's newest community space. The location also doubles as the headquarters for the social media management arm of the business.
- - - -
Living Mi Vida Loca
Living Mi Vida Loca, an award-winning Orange County guide and website, began as a lifestyle blog in 2009 by Founder Pattie Cordova, but the company recently brought its online community together into the physical world through a new coworking and events space.
The new communal space, LMVL.club, opened in Old Towne in January and serves as a hub for coworking, events, workshops, and more. During the workday, the location offers designated workspaces for anyone to work and collaborate.
"In the evenings and weekends, the space is open for people to use for events and workshops," says Cordova. "We've found that small businesses have all these ideas and plans they want to do but don't have the space or capital for it. We want to provide that space for them."
Cordova originally founded Living Mi Vida Loca as a personal blog but quickly expanded her content to product reviews and started working with big brands like Walt Disney World and Ford. During the pandemic, she rebranded the site into what it is today: a guide for fun things to see, eat and do in Orange County.
"We wanted people to see what was possible in Orange County," says Cordova. "That's how the space came about, because we wanted to be a resource for local businesses and the community, especially with the isolation the pandemic brought."
After a few years of running the blog and a social media management company, Cordova brought in two friends, Belinda Espinoza and Stephanie Robledo, to help grow Living Mi Vida Loca. Espinoza, a digital content creator at Living Mi Vida Loca, started writing blog posts and covering press events almost 10 years ago.
"The work I do has become so much more than I originally thought it would be," says Espinoza. "Now we have a team and are always bouncing ideas off each other. People see how much we love what we do and how hard we work, and it shows."
Cordova and her team are most proud of their work to create a heightened sense of community through the event space, guides and local calendars, especially within the Latino community.
"We wanted to give the Latino community access to things they maybe didn't know about before, like street fairs, and specifically for first-generation families," she says.
Beyond creating an event directory and an in-person space, Living Mi Vida Loca bridges businesses and the local community, connecting them with experiences they may have otherwise missed.
"With our platform, we're able to give businesses a broader audience," she says. "we also introduce community members to new experiences they never would've known about before, especially if they felt like they had to know somebody to get in."
Living Mi Vida Loca
146 South Glassell St., Old Towne Orange, CA 92866