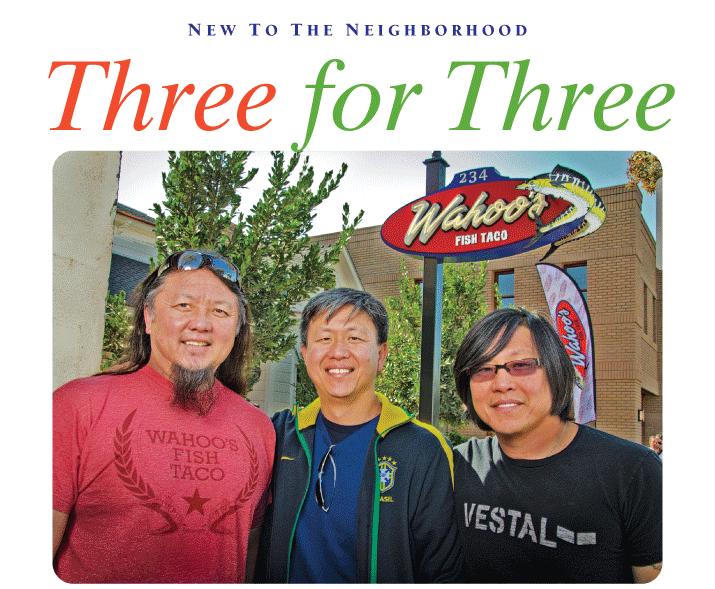 The
Wahoo's
brothers (from left: Wing, Mingo and Ed) have established one of the most successful food chains in Southern California and beyond. They are pictured here at the VIP preview party of the new
Wahoo's Fish Taco
on Chapman in
Old Towne Orange
.
The highly anticipated arrival of Wahoo's Fish Taco in Old Towne marks another milestone for the popular eatery, which first opened its doors in Costa Mesa in 1988.
With 60 locations in the United States – 40 of which are in California – Wahoo's is known for its freshly prepared salsa, fish, meat and rice, highlighted by delicious fish tacos and favorites like the Banzai Burrito and Wahoo's homemade Chicken Tortilla Soup. The venues feature a laid-back "North Shore Hawaii" vibe, with walls and tables colorfully decorated in surf stickers and action-sport posters.
Occupying an historic building on West Chapman just a block from the Plaza, the new Wahoo's location has been a long time in the making, said Ed Lee, company co-founder and partner.
"We've always wanted to be in Old Towne, and we'd been working with the City for almost six years to find just the right spot," he said. "The Plaza is amazing, and the community is fantastic. It's what attracted us to come here."
Featuring more than 2,500 square feet, the restaurant includes an expansive outdoor patio pre-wired for a movie screen and a state-of-the-art sound system. An additional 1,000 square feet of extra retail space allows Wahoo's to bring another tenant on board.
"We are contemplating what type of tenant we want to have here," said Ed. "It has to be something that complements us and that's fun and unique."
They also plan to hold fundraisers at the restaurant, such as the recent event they hosted for the local senior center.
"The big patio will be awesome for gatherings, especially in the summer," he added.
Ed, whose appreciation for old buildings was a deciding factor in choosing the Old Towne location, credits Rutter Development with the renovation of the historic building.
"I think the restaurant turned out phenomenal. Working with the City of Orange was a great experience, and all the city officials really helped us tremendously through the process."