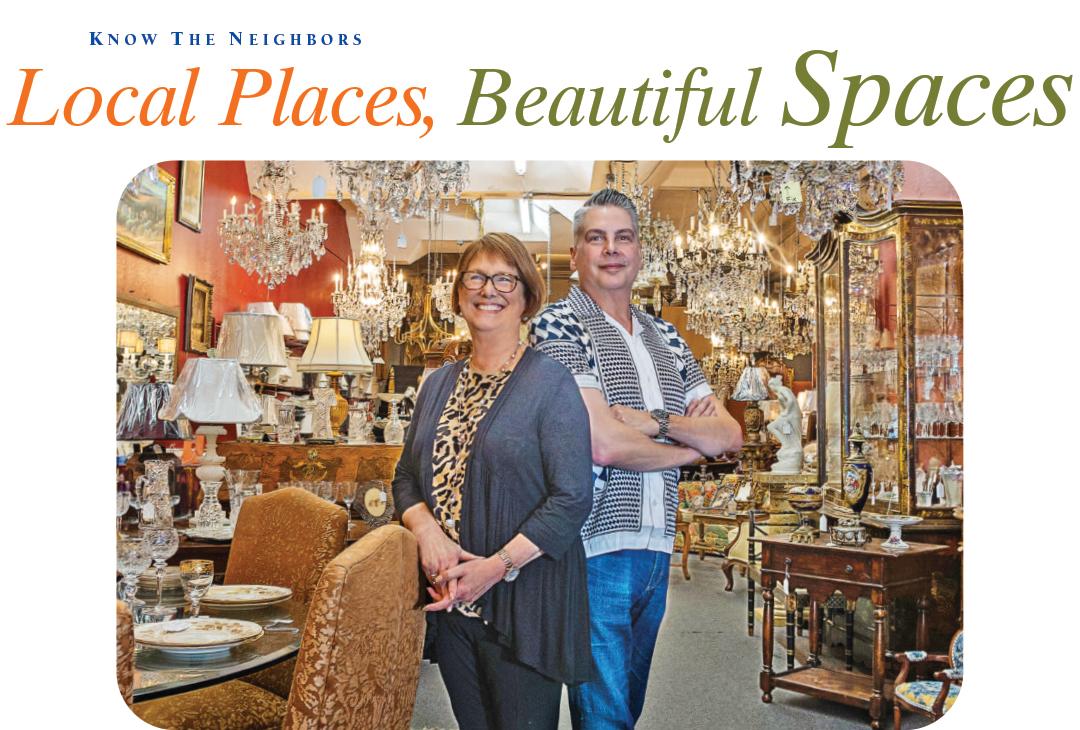 Denise Jochec and Shawn Escalante of Summerhill Ltd. see the future evolving with more interior design and customization. "Customer service is everything," says Jochec.
- - - -
Summerhill Ltd.
High-end antiques have proven their mettle with Summerhill Ltd.'s nearly 30 years in Old Towne Orange. Owner Denise Jochec and her team, including designer Shawn Escalante and other specialists, acknowledge the evolution of trends, but their commitment to style and quality has provided them with a stalwart clientele. The street level showroom with chandeliers and European-inspired furnishings is complimented by a second grand space below showcasing more beautiful items.
"We made a conscious decision to focus on décor items that were stylish, well-made and desirable, and that really launched us into this higher realm of quality antiques," says Jochec, who travels to Paris once a year to meet with merchants and returns with exclusive items.
Escalante has been with Jochec throughout much of the shop's time and offers complete design services, from furniture and fabric selection, to upholstery, bedding and drapes, paint and flooring and room placement.
"We get to know the clients so that we can work with them to create beautiful spaces uniquely theirs," says Excalante. "For instance, a person might entertain a lot and have a dining room that doesn't fit their table. I may turn their dining room into a sitting room and turn their living room into a dining room."
"Antiques can be nice, but you don't want a room full of them," says Jochec, who suggests having a couple of striking antique statement pieces to anchor a room. She is noticing a trend in shoppers. "The younger generation in their twenties is coming in now," she notes. "Tradition is coming back because people are feeling like their world is shaky. They want things that are substantial, well-made and will span decades. That disposable part of our society is kind of going away."
Trends in the product and service lines also evolve. "Wallpaper is really on the rise at the moment," says Escalante. "We are also selling a lot of paintings."
Jochec attributes Summerhill's longevity to their commitment to style and customer service. "We believe that your interior should represent you. We want our clients to have that expression in their homes so that when people walk in, they know immediately that the space represents the person's personality."
Longtime client Dara Lynn started with Summerhill with one piece. Twelve years later, much of her home showcases the collaborative relationship of working with Escalante and Jochec. "It's been a work in progress, but with such loving and caring, every single corner has attention to detail," she says. "They think of things that you would never even consider, and it works."
Summerhill Ltd.
110 South Glassell St., Old Towne Orange CA 92866 / 714-392-2792