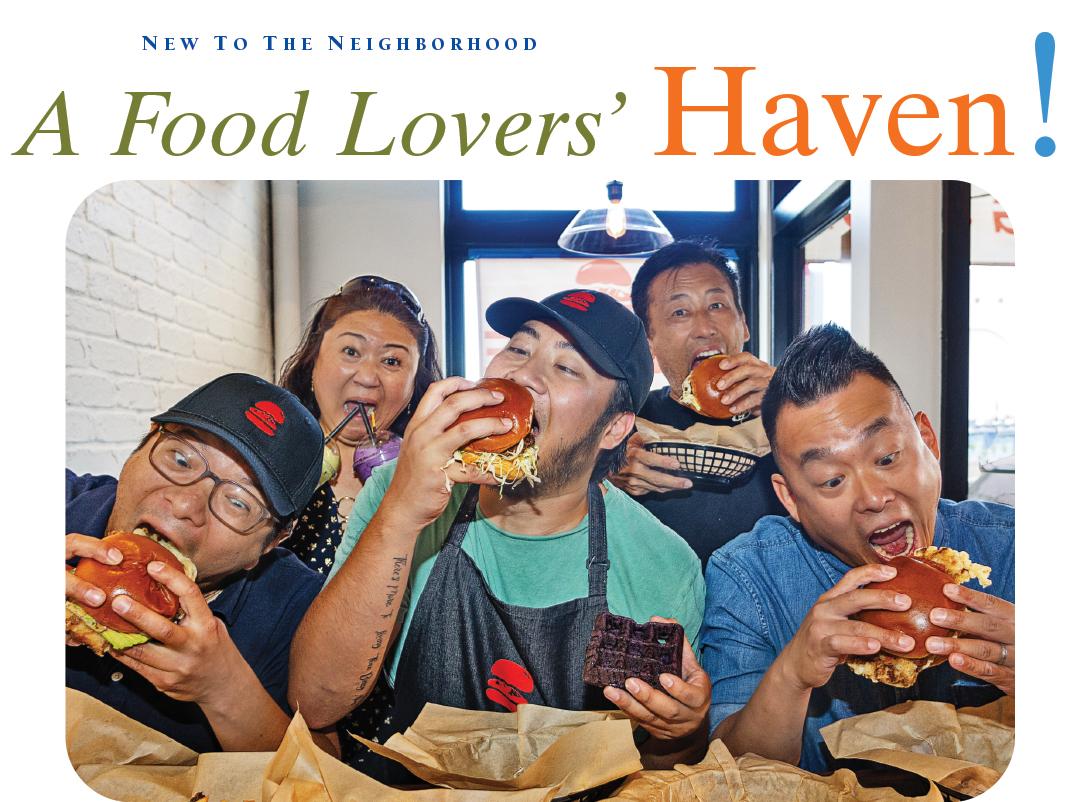 Ojai Burger business partners Michael Wu and Chikage Ozaki (left), General Manager Patrick Nguyen (center) and partners Takeshi Ozaki and Carl Tong showcase the variety of entrees, desserts and drinks available on their menu. The restaurant's logo pays homage to two locations it drew inspiration from. The patty in the center represents the mountain ranges in Ojai, California, and when situated on the storefront's white background, the red burger represents the Japanese flag.
- - - -
Ojai Burger
When Carl Tong visited the small town of Ojai, California and took a bite of a chicken karaage sandwich at a local restaurant, he knew he had to bring the very same recipe back to Orange County. Less than a year later, he officially opened Ojai Burger with a few partners in the Plaza in July, serving wagyu burgers, chicken sandwiches and sides.
"As soon as I started eating, I knew it was the best sandwich I'd ever had," says Tong. "I absolutely fell in love with it and went back in to talk to the owners while still holding the sandwich."
Tong met with Yume Japanese Burger Cafe owners, husband-and-wife team Takeshi and Chikage Ozaki, to learn more about them and their restaurant history. Their conversation sparked a new venture, and Tong invited them to become partners of the rebranded Orange restaurant. With the help of his business partners Michael Wu, Kasper Hsu and Peter Yang, Tong launched Ojai Burger, giving the restaurant a name that honored its roots
"We think of ourselves as stewards of what Takeshi and Chikage created," says Tong. "We want to spread the incredible food and concept they've built and let it be seen and tasted by more people."
The menu is a condensed version of the original restaurant's offerings, and the team selected popular dishes they believe will be a hit in Orange. That includes the dish that started it all, a Japanese fried chicken thigh sandwich served on a brioche bun, aptly named the Ojai Chicken Sandwich.
Also on the menu are wagyu burgers and loaded Japanese-inspired fries topped with options like spicy miso and loaded wagyu. For dessert, customers can opt for a mochi waffle or a shake.
Tung has lived in Irvine for the past two decades, so when it came time to choose a location for the restaurant, he immediately thought of Orange and felt like the Old Towne community matched the rustic atmosphere in Ojai.
"I was very drawn to Orange and the neighborhood environment we have here," he says. "We only looked at locations for a week before this location became available, and we knew it was perfect."
After evaluating the success of the Orange location, Tung and his team aim to expand and bring Ojai Burger to new cities across Southern California. Before expanding, however, the Ojai Burger partner team is taking time to appreciate the new community and meet customers in Old Towne.
"The community feedback has been great so far, and we feel lucky to be at our spot," says Yang. "It's been so nice to be a part of this close-knit community in Orange and have such a warm welcome."
Ojai Burger
238 West Chapman Ave., Old Towne Orange CA 92866 / 657-221-0619