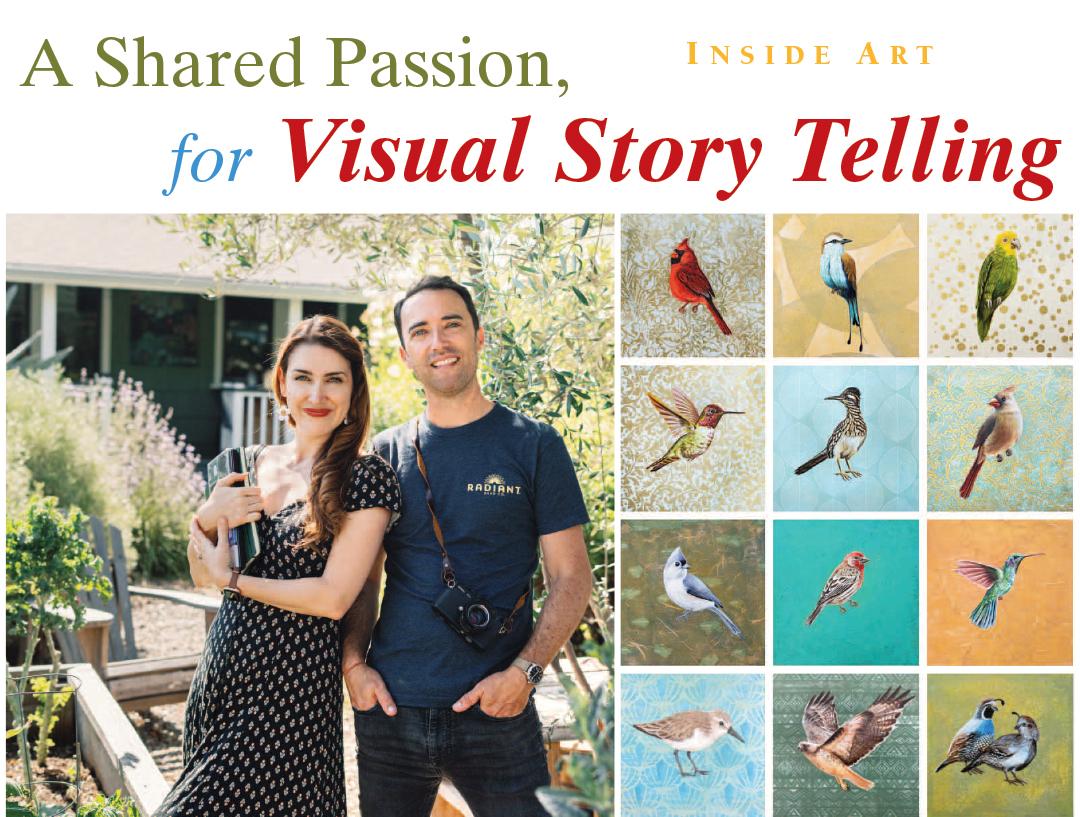 Creative couple Leanne and Paul Sargeant are avid gardeners. Leanne is expressing a love of nature through her California bird painting project.
- - - -
Sergeant Creative
They met in illustration class at the Laguna College of Art and Design—and the rest, as they say, is history. Or, in this case, art history.
"One day Paul sat across from me in the class, so he could see the reference better," Leanne Sargeant recalls. "Studio art classes are four to six hours long, so we were doing our work and chatting most of the time. It happened to be Valentine's Day, so I worked up to, 'Hey, what are you doing after class?' I convinced him to go out to coffee with me."
Now husband and wife and parents of a young daughter, Paul and Leanne Sargeant live in Old Towne Orange. They founded Sargeant Creative, which focuses on visual storytelling and photographic rebranding, and carry out wedding and portrait photography through www.We AreTheSargeants.com. They also each pursue their own artistic and creative passions.
Most recently, Leanne, with the assistance of Paul and a cast of dozens, completed a very public project for the City of Orange. Megan Penn of Orange Home Grown, the non-profit that runs the weekly Farmers & Artisans Market in Old Towne, was searching for someone who would design and paint the tool shed in the citrus grove in Hart Park.
The metal shed happens to stand at a very visible spot at the confluence of the 22 freeway and Glassell Street and had previously been adorned with a simple painting that had unfortunately been heavily graffitied over the years. The question was, how to turn the shed into a point of civic pride?
"The shed is really like a little gateway marker from Santa Ana into Orange," says Paul. "You can see it from the freeway and from many different directions."
Leanne created and submitted an eye-catching design based on the community's citrus farming history and rooted in the style of the old-fashioned labels that once adorned orange and lemon crates in the city's packing houses. Her design won; the city approved it, and then the hard work of re-painting the shed began.
"I designed it and laid out the original drawing outlines on the shed, and from there I directed the painting process," says Leanne. "I couldn't have done it alone. Everyone who worked on painting it contributed so much."
She gives huge props to Paul's sister-in-law, Bailey Sargeant, also a local artist, who Leanne says contributed to helping them finish the project.
Paul agrees. "Bailey probably logged as many hours as I did on the project." Other volunteer groups from local schools and organizations pitched in along the way.
"The shed became a wonderful community project. Everyone came together to make it beautiful. I love that it's such a nice welcome sign now for our beautiful little city." (See the shed below.)
- - - -
Penn has nothing but praise for the shed mural and how it turned out. "Paul and Leanne are not just extremely creative artists, they are exceptionally kind and caring people. Leanne created and implemented the design for the Hart Park orange grove storage shed mural that Orange Home Grown received approval for through the City's Park Planning & Community Events Commission. It was such a joy to work with Leanne on this project. She is so artistically talented in so many different mediums."
Recently, Leanne branched out into another interest—birds—and is working on a series of paintings of different bird species, all highlighted by varied decorative backgrounds.
"During the pandemic when our work had slowed quite a bit, I became fascinated by birds and how many different ones there are in California," says Leanne. "As a way of meditation and of educating myself, I started doing this series of paintings. I've done about 50 paintings now. My goal is 365—a bird for each day of the year." She donated half the proceeds from her sales of these works to Seal Beach-based International Bird Rescue, which saves and protects waterbirds in crisis.
So what is next for this creative couple? The Sargeants are planning a new endeavor that they're calling The Wonder Workshops.
"The project is marinating right now," says Leanne. "Paul and I are avid gardeners. He is co-market manager and creative director at Orange Home Grown. We want to find a way to connect gardening and art and help children and adults find the joy of getting their hands into the dirt, planting things, creating things and just being out in nature. The goal is to make art in the garden, share what we know, and metaphorically plant seeds of a love for nature, so kids and adults can go home and inspire their own families and friends."
It seems that whatever the Sargeants put their creative minds to, grows excitement and engages the community!
Rebranding Photography / Wedding & Portraits / The Wonder Workshops / Leanne's art website