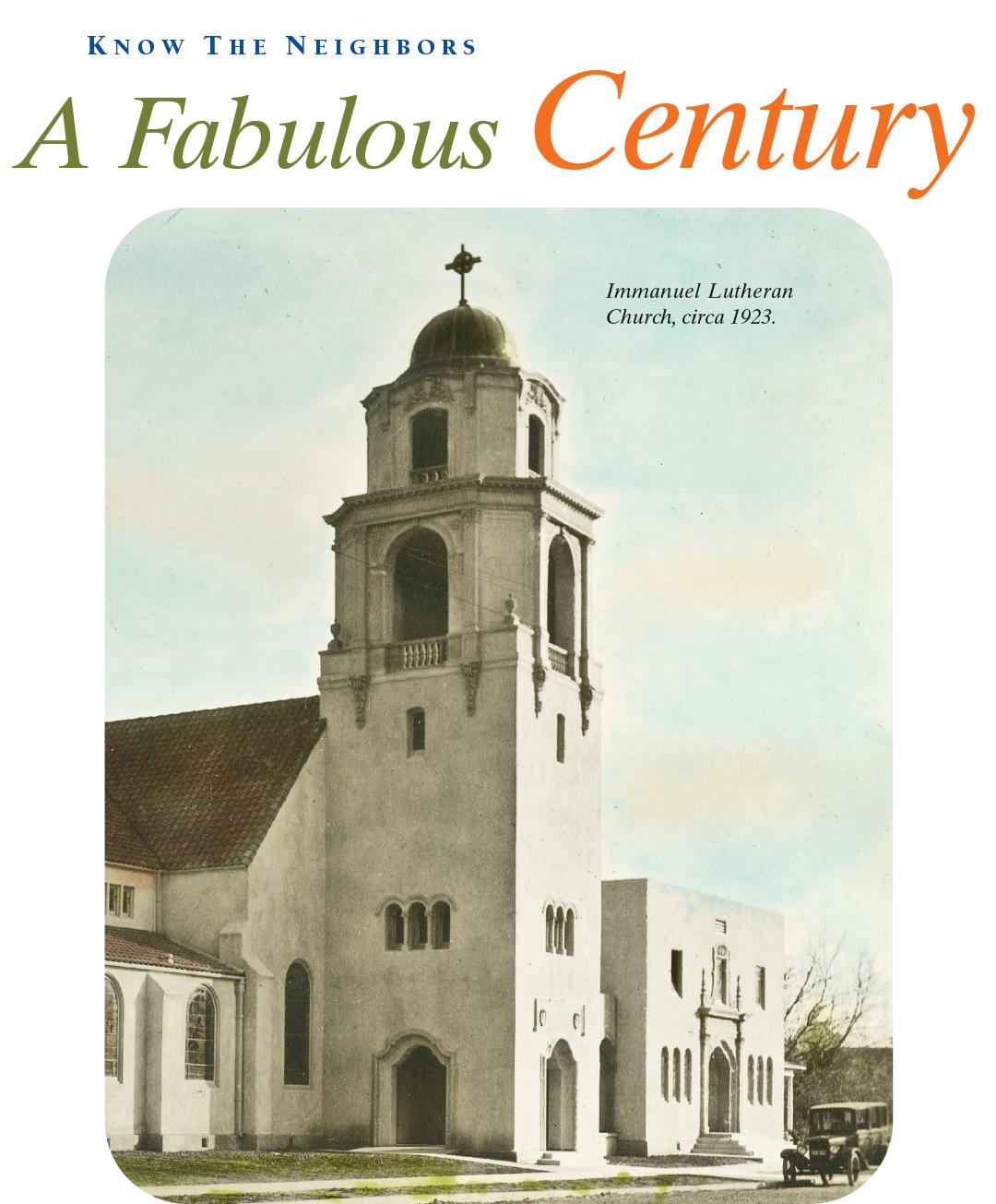 Immanuel Lutheran Church
A little more than 100 years ago, there was just one Lutheran Church in the southeast quadrant of Old Towne Orange. That would change in 1922 when a faction of parishioners left St. John's to start Immanuel Lutheran Church at 802 East Chapman, then considered the edge of town. Today, the two churches work in harmony to serve the local Lutheran community.
Immanuel Lutheran looks like it did a century ago. "The alter, pews, parish hall, and even the mailboxes in the narthex, are all as they were 100 years ago," says Senior Pastor Robb Ring.
The bell tower is also original. Every Sunday, the bell ringer still makes the climb to play the carillon bells, alerting the neighborhood that church is about to start.
Photograph of the framing for Immanuel Lutheran Church during construction. The church is Spanish Colonial Revival style and features stucco facades and adobe tile.
- - - -
While early church services were in German, the school was always taught in English. Local realtor Dan Slater attended Immanuel School from kindergarten through 8th grade, graduating in 1973. He was taught to ring the carillon bells and continued doing so every Sunday until he was 24.
"The schooling was very strict," Slater recalls. "If you didn't do your homework, you got the paddle in front of the whole class. You also didn't talk during class, or you would be punished."
Every classroom had a piano, and every teacher knew how to play. "We would sing hymns in class," recalls Slater. "We had memory work to recite each day. On Christmas Eve, the whole school participated in the 7 pm Children's Service, and in May, we took buses to Irvine Park for the annual school picnic."
Students at Immanuel Lutheran School, circa 1928
- - - -
Mr. Pingel was a fixture at the school from the early days. Slater's father, Bob, had him as a teacher. Later when Dan attended, Mr. Pingel was the principal and taught the combined 7th/8th grade class. In a fun twist, Slater would later buy the home Mr. Pingel had lived in on North Pine since 1931. Slater continues to live in the house today.
Looking forward, Pastor Ring says, "At Immanuel Lutheran, we want folks to feel they can worship here while knowing they are loved as family. As a pastor, it's a real privilege to carry on something that will be here after I've gone."
On October 15, Immanuel will honor its 100th birthday with a dinner in the Parish Hall. On Sunday the 16th, there will be a group photo following the service.
Immanuel Lutheran Church
802 East Chapman Ave., Old Towne Orange CA 92866 / 714-538-2373