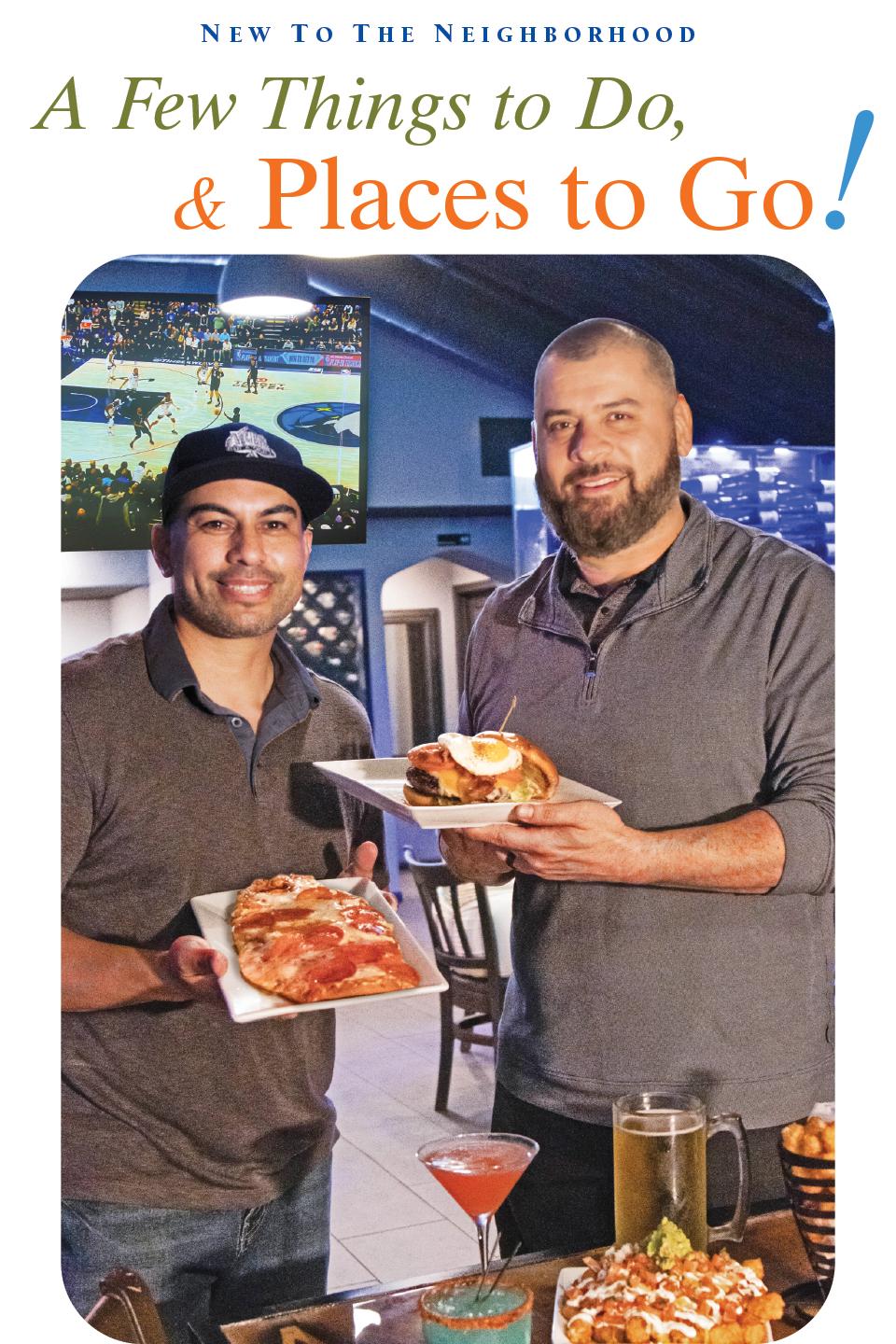 Aces Bar & Grill Owners George Lopez (left) and Eddie Martin pose with some of their original food and drink menu options. The pair have been friends and business partners for more than 25 years, working together on other ventures, but opening a bar has always been their top goal.
- - - -
Aces Bar & Grill
Although Aces Bar & Grill opened recently in October, the restaurant concept has been a goal for owners Eddie Martin and George Lopez for decades. The establishment, located on East Chapman Avenue across from In-N-Out, serves traditional American cuisine with a full bar.
"I started bartending young, and by the time I was 25, I had already managed 24 restaurants," says Martin. "My dream has always been to open up my own bar."
The atmosphere at Aces feels like a traditional American sports bar, and the owners aimed to create an environment where customers felt welcome to connect and watch their games of choice while choosing from a comprehensive menu of housemade drinks and dishes.
The dining menu is also filled with traditional, comforting options combined with new homemade specialties from the Aces chefs. Some of the bestselling items are the shrimp tacos and the Aces burger, served with a side of original loaded tots.
"I'm really proud of our menu and the dishes we create," Martin says. "We use a lot of organic ingredients in our food, and everything we serve is made to order."
When Martin and Lopez first developed the concept for Aces, they never imagined they'd be opening in Orange. After a retail spot opened up, they felt like they lucked out. They took their time remodeling the space, crafting an environment they knew Orange residents would enjoy.
"Even while we were building, people kept stopping by to see our progress and meet us," says Lopez. "The community has been phenomenal and so supportive."
Before Aces opened, the restaurant Opus Dining & Cocktails occupied the storefront on East Chapman. Martin and Lopez completely remodeled the location to craft a new eatery with their own flair.
"I love meeting people who haven't been here since our dramatic remodel," says Lopez. "I really enjoy getting to show them the new space and introducing them to our restaurant."
After celebrating their first year in business, the owners have two main goals in mind: to continue supporting the local community and to expand to more locations within the county. Already, they've made progress on the first goal—the duo has donated to local schools, police and fire departments and plans to do more supportive outreach.
"Orange has this small, true American feel to it, and we're so grateful for the community," says Martin. "I'm looking forward to giving back even more."
Aces Bar and Grill
3538 East Chapman Ave., Orange CA 92869 / 714-628-9404