A Midcentury-Modern Aesthetic - Jan / Feb 23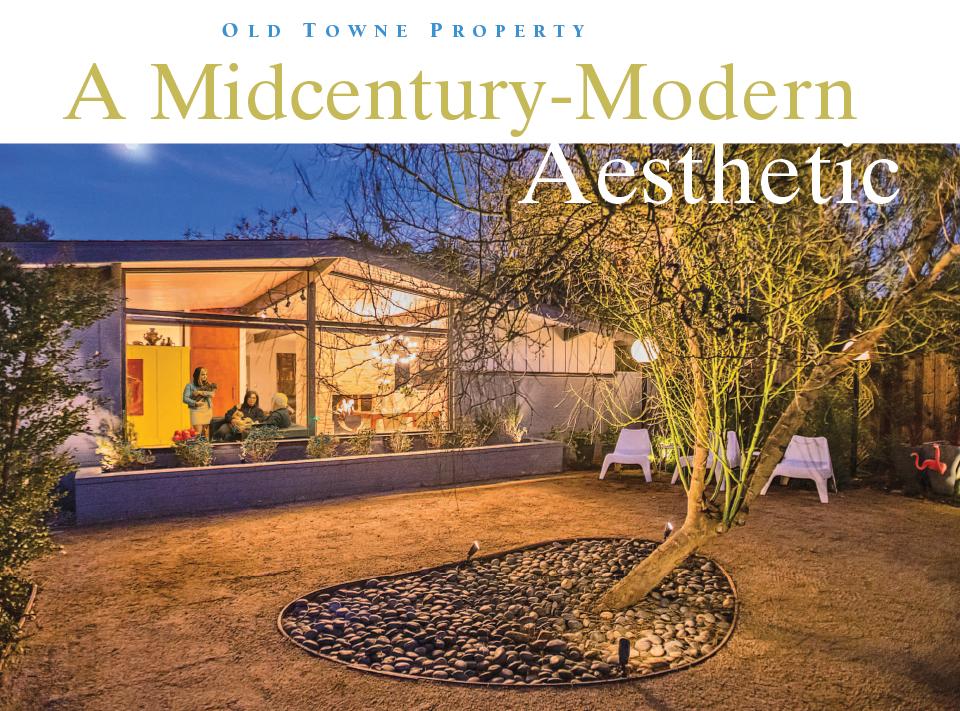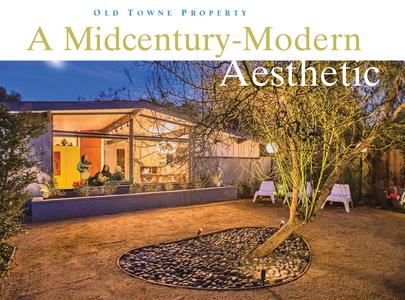 Washed by landscape lighting at dusk, the large windows of the living/dining area open to the park-like front yard that serves as a forecourt to the house.
Built in 1953 on the edge of Old Towne's historic district, the home of Michael Cecconi and Maryam Zahedi is one of the rare examples of midcentury-modern architecture in the area. Their gem of a home has also provided a canvas for the couple to express their appreciation of contemporary art and the midcentury-modern aesthetic.
Michael, a licensed architect, and Maryam, an architectural designer, purchased the house in 2008 after an exhaustive search throughout Southern California and even as far away as San Francisco. They had been living and working in Irvine at the time.
"Maryam found this house for sale online after we swore we would take a break from looking for homes for a while," says Michael. "We drove by and the owner happened to be there and invited us in. As an unexpected consequence of our impromptu visit, we had a wonderful chat with the eldest daughter Kay, one of three siblings who had inherited the house after their parents passed away. They had grown up in the house, which had been in the Schulenburg family for 30 years. They all three still live in Old Towne to this day."
The personal connection they felt with Kay, along with the many attributes of the property, led Michael and Maryam to make an offer that same day. Despite the obvious TLC that would be needed to upgrade the property, they saw the potential and were excited about the possibilities.
In the den area adjacent to the kitchen, a large work by artist Dana Lovell is accompanied by a "found object" sculpture by local artist Pamela Grau, while an Alessi "Blow-up" basket adorns the coffee table that rests on a Persian rug.
Maryam, Michael and Chiara in front of their mid-century modern home. Michael often rides with Chiara on his Ducati Monster through the local canyons.
The double-sided fireplace is a central feature of the home. An Eames rocking chair graces the den, while a 1950's vintage painting, purchased at the Orange Antique Mall, hangs between the den and living/dining area.
Showcasing open spaces, post-and-beam construction, floor-to-ceiling windows and a connection with the outdoors, the 1,500-square-foot home epitomizes many of the characteristics of midcentury-modern design. Perfect for a family, the home has three large bedrooms and two bathrooms, plus an enormous yard. Their teenage daughter Chiara, an aspiring actress, grew up in the home and currently attends Orange County School of the Arts in Santa Ana.
Before addressing some 1980s-era additions like "country oak" accessories and floral wallpaper, the couple installed air-conditioning after their first summer there. Over time, they upgraded the electrical and plumbing, installed new track lighting and reconfigured the layout of the kitchen, to name a few.
"The old kitchen didn't have any historical value to it, so we decided to re-do the entire space and add Caesarstone countertops and barstool seating," says Michael. "Our home continues to be a work in progress. Two years ago, for example, we installed a new roof and added rigid insulation because the original one didn't have any insulation. We still joke about the old roof, recalling how on rainy days, it felt like being in a glorified tent when heavy rain pounded down and water would drip in."
Eager to learn more about the property's history, Maryam researched records at City Hall. Totaling a third of an acre, the lot itself is 60 feet wide and 250 feet deep. Back in the day, the property had been an orange orchard, as evidenced by a heritage orange tree that still grows in the yard. They also unearthed a plethora of historic artifacts in the back.
Artwork by longtime Orange County artist Suki Berg is prominently featured on the chartreuse entry wall. A glimpse of the family's coffeemaker collection can be seen from the living room area.
A "satellite" chandelier hangs in the dining area that opens directly to a side yard seating area featuring a woodburning fireplace. A sculpture, nicknamed "Gaia" by the family, stands in the corner below a portrait of Chiara created by San Diego Artist Soudabeh Memarzadeh.
"Our neighbor across the street grew up here and distinctly remembers the orange grove," says Maryam. "We found bits and pieces from the old grove, such as light-gauge railroad track, sections of old, red clay pipe and other things related to the old irrigation system."
Recently, the couple re-landscaped the front yard, creating a park-like setting and a "fore-court" to the entry where a frosted-glass French door opens to the living room. They soon embarked on a physically challenging project that was quite daunting at the time. Designed by the couple for entertaining, multiple seating niches provide cozy areas for gatherings, including a concrete firepit with a midcentury look.
"For the gas piping for the firepit, we dredged a 150-foot-long trench two-feet deep with a machine we could barely manage," says Michael. "We fitted up all the gas pipes and got it permitted in anticipation of the next phase of work when we hired a landscape contractor to finish the job. We then converted a portion of the yard into a bocce court to reduce the amount of lawn and help animate the space. The court also has a personal meaning and is dedicated to my beloved relative Vittorio Costantini, a true Bocce champion, for the time I spent with him and his family in Italy," says Michael.
Maryam added: "The yard has become the core of the house, a place where we can relax and connect with our friends. We have hosted weddings and had a memorial to remember a loved one. Also, we have summer parties, outdoor movies nights, bocce games, and enjoy chilling out next to the fireplace. Our favorite is when we gather with friends on Thanksgiving as our extended family and celebrate together."
Meanwhile, the interior showcases abstract art, plus pieces they've obtained from Old Towne Orange antique shops. As a multi-cultural family (Italian/Persian), Michael and Maryam share similar tastes in art, architecture and travel. They first met in 2003 when they worked at the same architectural firm in Irvine and discovered their mutual appreciation for Alessi houseware products. They got married in 2007 in Florence, Italy after Michael proposed to her in Santa Barbara the year prior at the site of their first date.
The front yard features "spiral trees" found discarded at a local building supply yard that were purchased and refurbished by the couple. Obligatory, vintage pink flamingos stand guard.
Chiara prepares for another round of bocce, while Michael and Maryam await by the firepit. The sign "il campo di Vittorio" pays homage to Michael's relative, who was an avid bocce player in Rome. A heritage orange tree stands proudly next to the bocce court.
"One of the many things we have in common is our love of coffeemakers from around the world that we started collecting as travel souvenirs," says Michael. "We keep our collection displayed on top of the tall cabinet that extends across the side of the kitchen."
The couple has also acquired a number of artworks—mostly from local artists—that are displayed prominently in the house. They have also created their own artwork.
The incredible chandelier in the living/dining area was gifted to them by a friend who found it slightly damaged and discarded in Los Angeles and thought it would look "cool" in their house.
"We happily had it repaired when we realized it was from acclaimed designer Jonathan Alder," says Maryam.
Having grown up in a major metropolitan area, Maryam appreciates the walkable community of Old Towne Orange with its shops, restaurants and historic neighborhoods. She and Michael frequently walk to Starbucks in the Plaza with their daughter. They also enjoy eating at Pandor Artisan Bakery and Café, as well Byblos Café, their favorite local restaurant. The friendly, small-town atmosphere of Old Towne has yielded many friendships and acquaintances.
"We lived in Irvine for 10 years and never knew any of our next-door neighbors," she says. "Now we have so many friends here in Old Towne. It's the sense of community that we appreciate most about living here. The unique architecture and pride of ownership are just some of the things that make Old Towne so special."