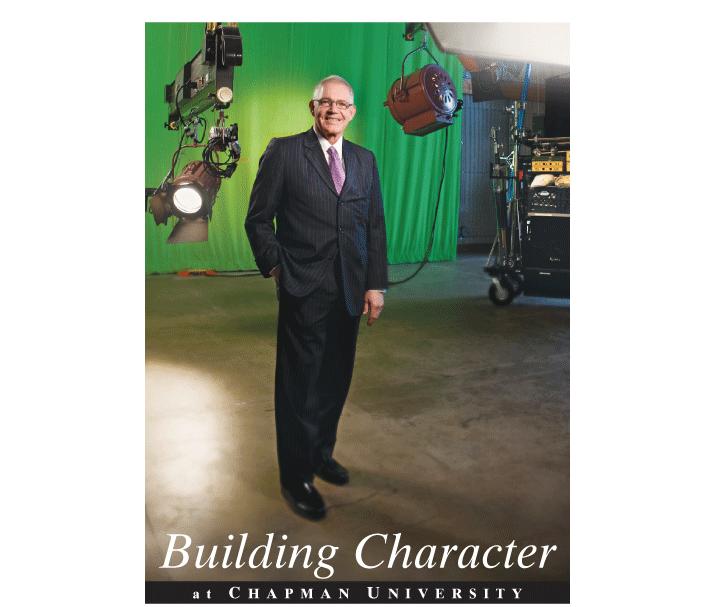 Dean Bob Bassett
Today if Bob Bassett were to grade the first film he created, the professor and dean of Chapman University's renowned Dodge College of Film and Media Arts would have probably given himself a poor mark. "Though at the time I thought the movie was the most brilliant thing I'd ever seen, it went against the advice I always give student filmmakers," says Bassett. "I tell our kids to avoid making something trivial and look inside themselves to find something deeper. My first film was a western comedy about a boarding school that trained outlaws, which made no sense, but I have to admit that it was some of the most fun I ever had."
Instrumental in creating what has become one of the leading film schools in the nation, Bassett joined the University in 1981 when it was still Chapman College and there was no film department yet. He initially taught filmmaking classes, until 1992 when interest had grown enough to create a separate department. "It was at that point that we got ambitious and decided to really build up the film school," says Bassett, who met that goal by forming what is now a highly competitive film school of 1,300 students. He accomplished this task by assembling a world–class faculty, harnessing the power of digital technology and overseeing the conception and creation of state–of–the–art facilities. The faculty have a combined filmmography of more than 150 feature films, some award winning, and long before other film programs followed suit, Bassett converted the film school's entire curriculum to the use of digital technology.
For a decade, Bassett worked on the conception and building of the Marion Knott Studios and his ambitious plans led to successfully collecting $42 million dollars. "I really believe in the power of self–fulfilling prophecies and persistence," says Bassett of the fundraising efforts. "In the beginning, when we were talking about the film school, there was a lot of smoke and mirrors, and I sometimes thought that the task seemed impossible, but we persisted and actually became the vibrant community of filmmakers we had envisioned."
Born and raised in Whittier back when the town had a sleepy, Midwest feel, Bassett took a circuitous route to filmmaking. As a child he was involved in athletics, such as swimming, water polo and wrestling, and he also enjoyed literature. While in college, he thought for a time that he would like to be a philosopher and writer, but soon found that philosophy wouldn't pay the bills, and he questioned his desire to live the solitary life of an author. Always interested in storytelling, however, he became fascinated by films and people's reactions to them.
"Movies reflect ourselves back to us," he says. "We see something on the screen that enables us to understand our own lives better; it's a universal art that is accessible to just about everyone."
Deciding that film would give him an opportunity to express his creativity and offered the social and collaborative aspects of sports, he turned to filmmaking once out of college, doing documentaries on a wide variety of topics,including those that focused on the creative process and highlighted artists. Eventually he became an award–winning producer and director of educational films and video projects for corporate and non–profit clients such as Children's Hospital of Orange County, the American Cancer Society and John Wayne Airport.
Running the film school today takes most of Bassett's time, but he wouldn't have it any other way. "When I first came to Chapman, I thought it was the perfect place to build a film school, and we developed the type of school that I would like to attend. Here students have creative freedom, and instead of just theorizing, they actually make films. The program is very production–oriented. We put a camera in students' hands on day one, and they immediately get used to being in a constant state of film production. The kids love seizing the opportunities and putting their own spin on things. I'm really proud of the school and amazed at what the students accomplish. It's fun to go to work every day."
Marion Knott Studios
Those involved in the decade–long planning and creation of Chapman's Marion Knott Studios anticipated today's technologically savvy, real–time film students. That's why the 76,000–square–foot state–of–the–art complex, which houses the Dodge College of Film and Media Arts, has all the amenities of a real Hollywood studio. Opened in 2006 at 326 W. Palm Street, the building contains a 500–seat theater with digital cinema and 35 mm projection. There are sound stages and shop facilities, graphics and digital post–production labs, and a wide collection of DVD's and scripts for study.
In keeping with the film school's hands–on philosophy and the idea that creativity and film students never sleep, the facility is open 24/7 so that students can work on their projects whenever inspiration hits and schedules permit.
Construction will soon start on the second phase of building, which will comprise a Hollywood–style back–lot.