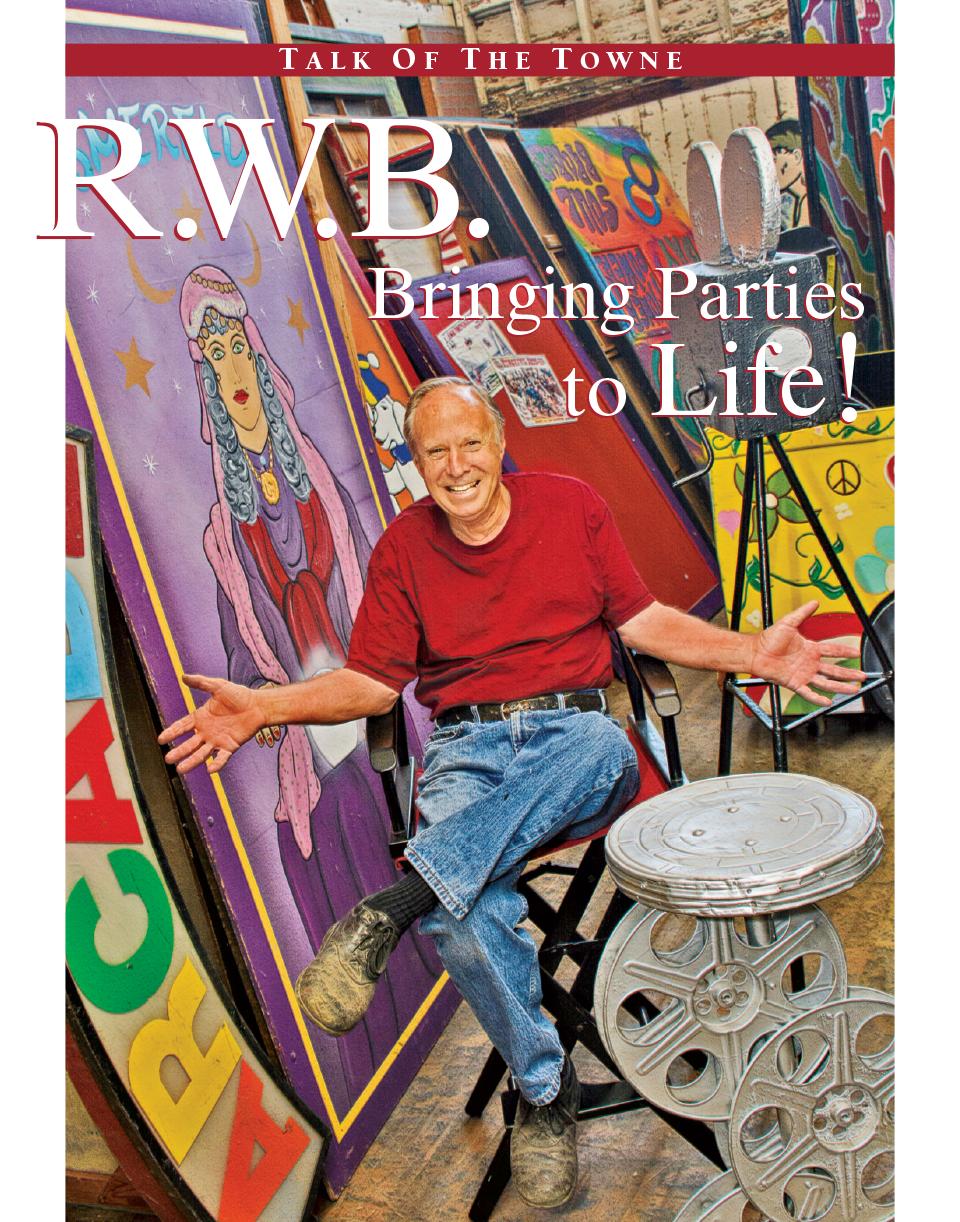 When R.W.B. Party Props started in 1963, the business began as a hobby for co-owner Bob Babcock.
"I always liked to build things and tinker with antique vehicles," says Babcock, who graduated from Garden Grove High School in 1961. "Back then, I owned an antique popcorn wagon and a 1909 one cylinder Reo. People asked me to attend events with my props to add atmosphere. At first, I worked for lunch, but before I knew it I was getting paid for my time and trouble."
Fast forward to today and Old Towne-based R.W.B. Party Props Inc. is a leader in design, construction, rental and installation of theme prop decor. The full-service event production company provides props and decorating services for a wide variety of events, including corporate and private parties, receptions, weddings and fundraisers. The company owns thousands of props, some of which have been used on movie sets and for events held by amusement parks.
Located in the 1917 Foothill/Red Fox/Consolidated packing house on South Cypress, the R.W.B facility houses just about any prop you can think of—from life-sized horses, astronauts and cannons, to antique cars, stagecoaches and giant lollipops. Over the years, the company has built an inventory of props for themes, including the circus, 1950s, Hawaiian, Las Vegas, Mardis Gras, Roaring 20s and Hollywood. And if you can't locate what you want, R.W.B. will most likely create it for you.
The Babcocks are able to house the many items they do thanks to purchasing the packing house in 1981. They found the building for sale just a few blocks from their former place of business and scratched the money together to buy the historic structure, which provides them 72,000 square feet of operation and storage space. Scheduled to be on this year's Old Towne Preservation Association's (OTPA) home tour, the giant 2-story building features a flat roof and is the last surviving wooden packing house in Orange County.
"Many companies wouldn't give this old building a second look, but for us, its floor space and central location has worked out well," says Bob.
Lori Babcock is Bob's wife. She runs the company with her husband and comments on how what started as a hobby turned into a rewarding business. "We get the pleasure of seeing people at their best as they're planning their events, and receiving new props is always exciting," she says. "When we see customers and their guests walk into a venue and their eyes light up, we're thrilled, because that's why we do what we do."
While their props are the center of attention, the Babcocks prefer to remain behind the scenes. "Though we love to stage parties, we don't go to many of them," says Bob. "We consider ourselves Cinderella. The stepsisters go to the party. We just set everything up and then step out of the limelight."
For more information about R.W.B. Party Props, visit www.RWBPartyProps.com. The 2013 OTPA Home Tour will be held on November 2nd - 3rd from 10 am to 4 pm. Visit http://OTPA.org for more information.