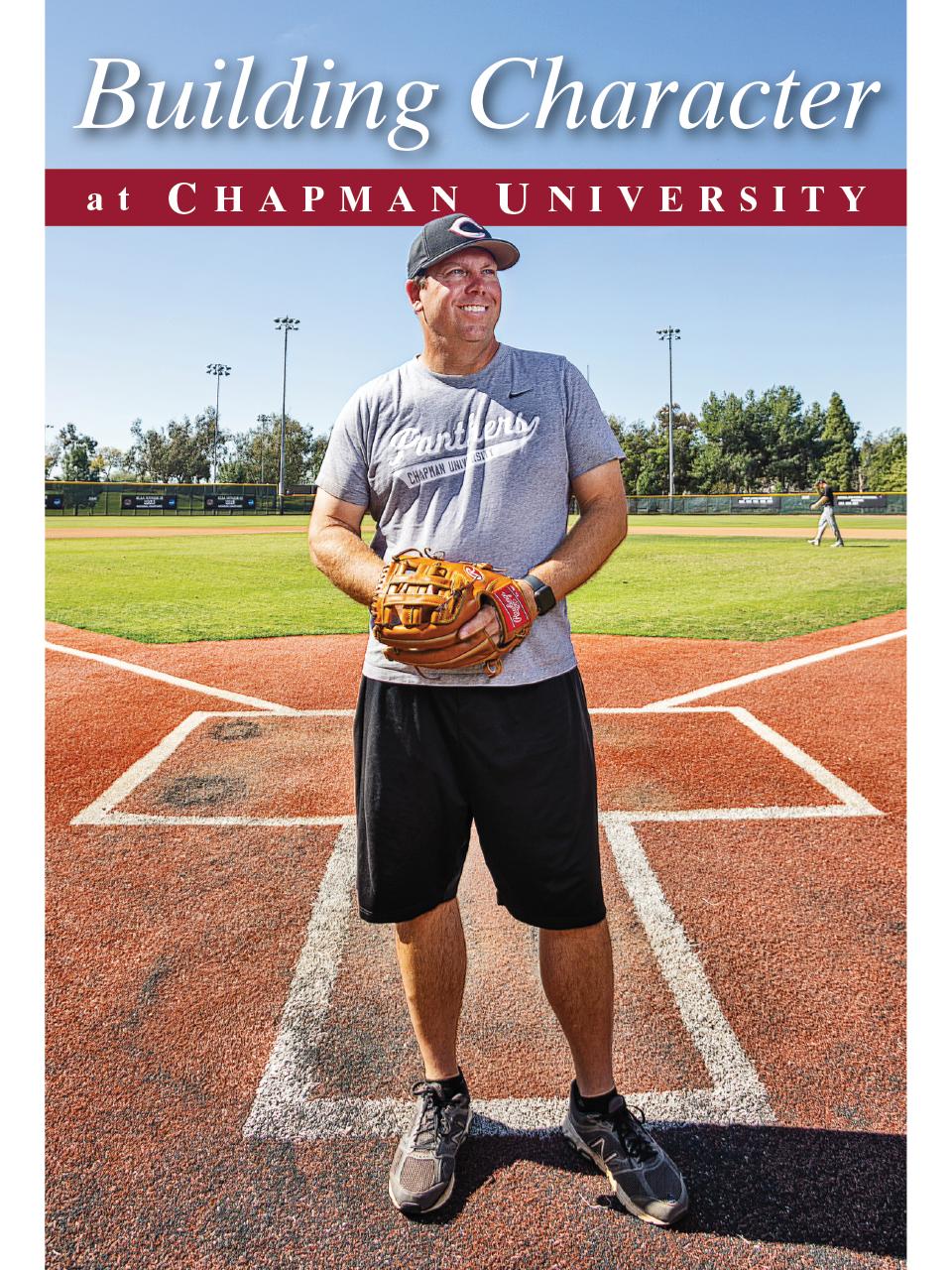 Coach Scott Laverty
Successful baseball coaches and their players know that strategic moves are what knock a ball out of the park. That's why Chapman University's Head Baseball Coach, Scott Laverty, left his position at a Division 1 team in college to play with a Division 2 team.
Laverty started his college baseball career at University of Arizona, where he was coached by Hall of Famer Jerry Kindall.
"It was a great opportunity to play for a high-ranking school and well-known coach, but I wasn't as highly recruited as some of the other players playing above me," says Laverty. "Coach Kindall told me that since the other players were only a year older than me, he wasn't sure how much opportunity I'd have to play."
After some consideration, Laverty decided to transfer to University of California, Riverside his sophomore year, where he played shortstop for the next three years. "While it seemed like I was taking a step down, I was able to play a lot at UC Riverside for another great coach, Jack Smitheran," says Laverty. In 1994, his team made it to the Division II national finals. The experience also gave him what he needed to play professionally after college before transitioning to coaching.
"Making it to the World Series when I was at Riverside is an experience I wouldn't have had if I stayed at Arizona," says Laverty, who led the Chapman Panthers to the 2019 NCAA Division III National Championship, which was Chapman's third national title in baseball. Under his guidance, the Panthers also set the school record with 44 wins and the NCAA Division III record with 524 strikeouts, among other accolades.
Northern California Beginnings
Born in Northern California, Laverty grew up in Concord in the house where his parents still live. In addition to playing a variety of sports as a child and trying other pursuits, he spent summers in a small town in Iowa where both sets of grandparents had farms. "One of my grandfathers also owned a hardware store and did woodworking, which he taught me," says Laverty.
When it came time to apply to college, baseball was the obvious choice. "Baseball has always been my first love, so it was a pretty easy decision when I was looking at colleges," says Laverty. "I was a good student with a high 3 GPA, so I had options."
Laverty enjoys baseball the most, because as he sees it, the game is different than other major sports. "With sports like football and hockey, for instance, it's the team that plays the best game—due to being bigger or faster or stronger—that usually wins. But with baseball, it's a more autonomous process that starts with the player and the often-split-second decisions the player must make. It's the execution of the game that matters. If players take care of what needs to be taken care of and do what needs to be done, they can and will win."
Professional Career
After graduating from UC Riverside with an undergraduate degree in business in 1995, Laverty played professionally for a few years in California, Australia, Pennsylvania and Indiana. It was in Indiana that he decided to stop playing and try coaching, which he did for a season in 1997 for the Evansville Otters of the Frontier League. After that, he returned to UC Riverside where he coached while earning his master's in education and kinesiology from California Baptist. Alongside Smitheran, he coached at UC Riverside from 1997-1999. From there, he went to the University of Redlands where he was hired as head baseball coach in September 1999 at the age of 27.
"I coached for 14 years at Redlands, and I loved it," says Laverty. "When I joined, it was a young department with a lot of young coaches, and we built the program up."
Under Laverty's direction, the Redland's fledgling baseball program, which had a losing record from 1997-2004, became a contender. The Bulldogs went on to nine straight seasons of .500 or better. During his 14 years coaching at the university, the team amassed 298 wins, including winning two Southern California Intercollegiate Athletic Conference (SCIAC) championships.
Aaron Holley played football and baseball at Redlands and is now the University of Redlands Head Baseball Coach and Assistant Director of Athletics for Event Management. "My first year of baseball at Redlands was the spring of 2001," he recalls. "Scott was 28 years old and in his second year of coaching at Redlands. The team wasn't very good at first. It took until the 2005 season to really turn a corner. In 2006, we had the school's best year to date, winning 30 games and conference, and were the number 1 ranked team in the West region."
Holley attributes the team's success to Laverty and his assistant coaches, who he says "brought knowledge and hard work. A lot was expected of us, and I think that pushed the team to improve, leading us to nine straight years (from 2005-2013) without a losing record," he says. "Scott brought a winning culture and a positive attitude to the team. We were expected to succeed on the field and in the classroom. His assistant coaching hires during that time were key to helping him, and the team, reach their potential. He also continued to improve our team through his recruiting efforts."
Recruited by Chapman
Though Laverty wasn't planning to leave Redlands, when the opportunity to take over as head coach at Chapman came up, he considered his options and decided to take the position. One of the contributing factors was that he lives in Placentia and was commuting to Redlands. Another was the opportunity to coach at a growing school.
"Chapman is booming academically, socially and athletically," says Laverty, who joined the university in July 2013, becoming the 14th head baseball coach in Chapman's history. "As I tell new recruits, it's not often that you get to be at a university that is growing and expanding like Chapman."
As Holley sees it, Laverty's success stems from his coaching skills. "Scott embodies what it means to be a college baseball coach. He believed in me as a coach and a player. If it wasn't for him, I wouldn't be the head coach at Redlands today, and probably wouldn't be coaching at all. It goes beyond his success on the field. The lessons he instills into players have helped hundreds of young men be successful in their careers, as husbands, as fathers and as people."
Jarod Penniman played for Laverty at Chapman while a business major from August 2015 to May 2019 and echoes the same sentiments.
"Coach Laverty has resurrected the historic Chapman program and brought it back to prominence amongst the DIII ranks. He has a unique way of getting his teams to play together, and he helps build a close-knit group. He cares deeply about his players and is always willing to do the right thing for them and their families. What he has built at Chapman is a phenomenal baseball program that has shaped lives for the better."