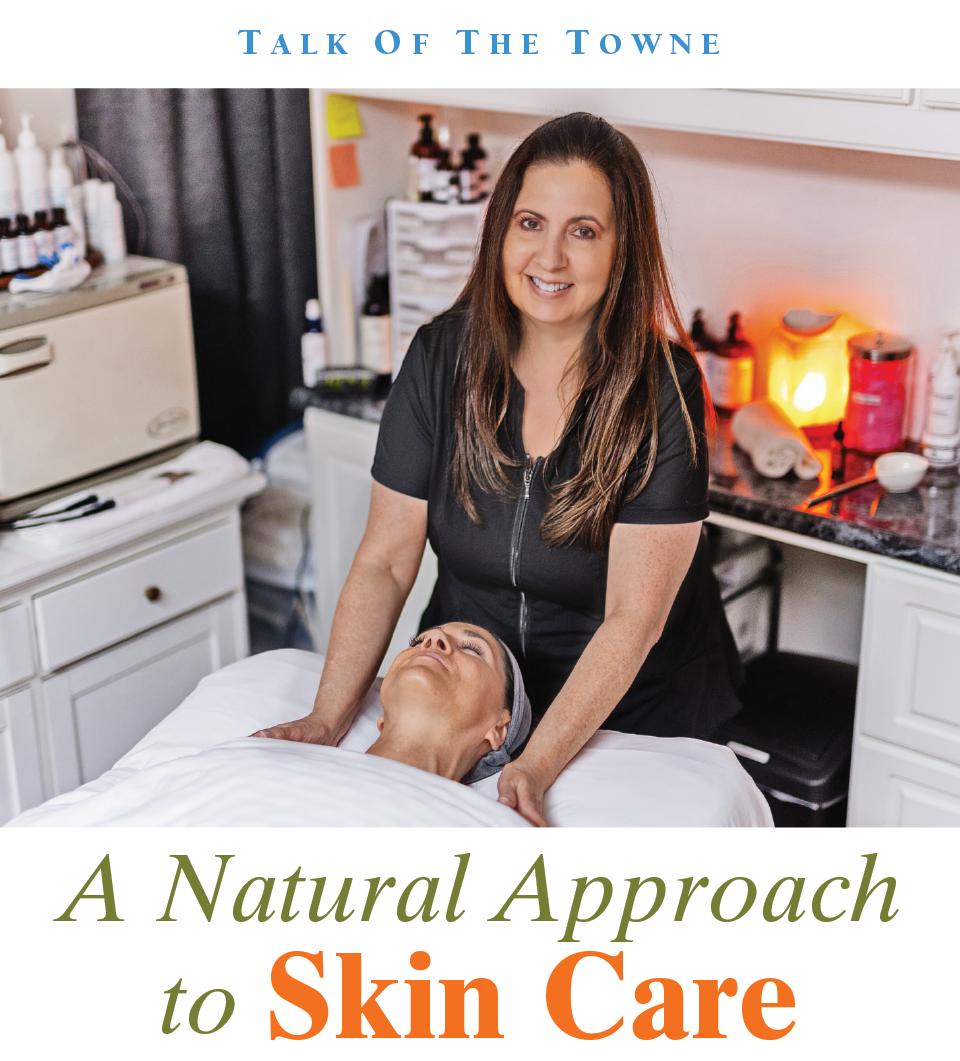 Christina Martinez, owner of Skin Care by Christina, has built an impressive collection of 5-star testimonials that continues to grow as word of her natural approach to skin care and its effectiveness spreads. As a licensed skin care specialist, she is known and praised for her gentle, knowledgeable and professional manner.
Soft-spoken Martinez blends old-world spa traditions with new-world, holistic modalities and techniques in a peaceful environment, where candlelight flickers, aromatherapy fills the air and etheric music plays. She sets the scene for your personal spa journey.
"I've been coming to Skin Care by Christina since it opened in 2017," says Lisa Blanc of Orange. "Christina's facials and treatments are the best and leave my skin looking and feeling amazing. Skin Care by Christina is a hidden jewel in Old Towne."
Martinez offers customized facials and peels, skin-firming regimens, and clinical treatments for skin conditions such as: acne, mature skin and hyper-pigmentation. During treatments, she explains the process and answers questions, as well as guides clients with tips and advice on how to maintain healthy skin. In addition to offering gift certificates and natural pharmaceutical grade skin care products, Skin Care by Christina provides a full line of CBD products to help with pain management, sleep issues and stress.
"More and more clients are requesting help with anti-aging," Martinez says. "Microcurrent has quickly emerged as the number-one treatment designed for anti-aging." She points out that Skin Care by Christina was the first spa in Orange County to offer Neurotris Microcurrent Treatment, a holistic, non-surgical treatment that is clinically proven to tighten the facial muscles and help restore firmness.
"I can't say enough good things about the microcurrent results I have seen," says Julie La Scalza, a longtime Orange resident. "I've already had numerous people say, 'you look great' or 'you look so rested. What are you doing differently?' The compliments are nice but the microcurrent truly makes me feel better about aging, and it has been nothing short of a miracle—without the high cost of a facelift."
When asked if microcurrent hurts, Martinez smiled. "You feel it working, but it doesn't hurt," she says. "As a matter of fact, clients say it's relaxing."
Microcurrent facials have gained popularity—especially amongst celebrities. In an InStyle Magazine interview, Jennifer Aniston said, "Microcurrent facials are like a little workout for your face. If you don't work out, eventually everything drops."
Of course, to firm skin, plastic surgery is an option, and there is a time and place for such treatment. However, there is something to be said about aging gracefully, owning the lines that mark laughter, tears and every emotion we encounter on our journeys through life. That's where Skin Care by Christina comes in.
Martinez focuses on providing her clients with relaxing, therapeutic practices that lead to glowing skin and a confidence boost. She notes that it's her clients' gratitude for her approach that drives and fulfills her. She enjoys how her many regulars say they love to support sole proprietor businesses in Old Towne Orange.
She is a member of the Woman's Club of Orange and donates products, gift certificates and proceeds to the organization, due to their support of charities near and dear to her.
Skin Care by Christina
369 South Glassell St. Old Towne Orange, CA 92866 / 714-450-2878