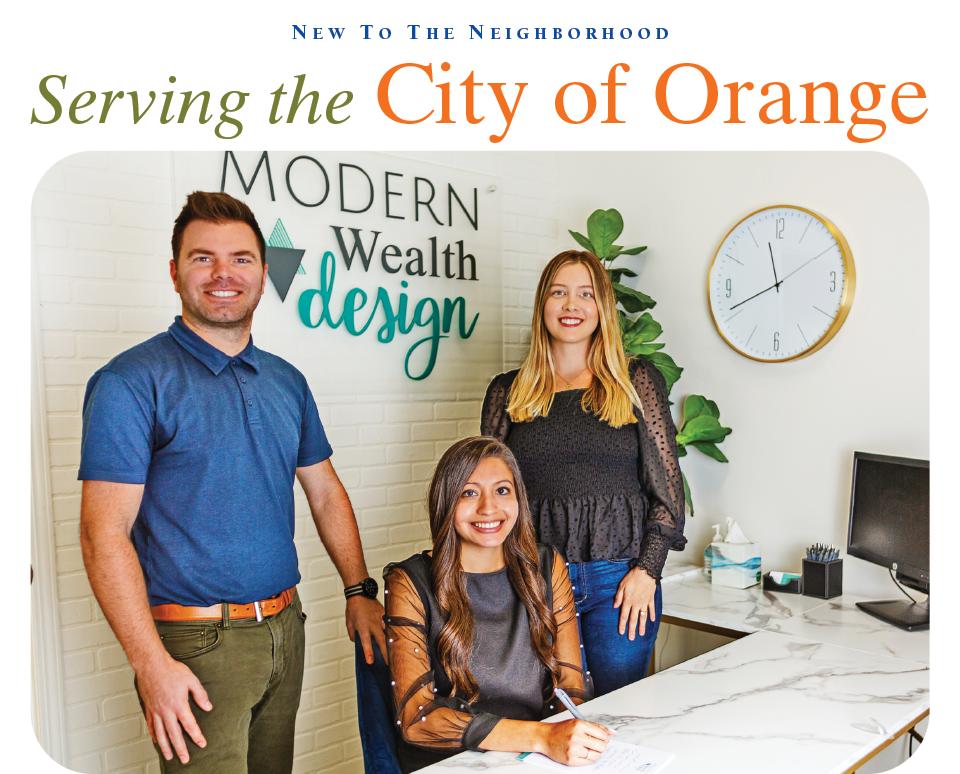 From left, Partner and Financial Planner Adam Carr, Partner and Financial Planner Nicole Letarte and Financial Planner Hannah Sullivan are here to serve all types of clients in Orange. They hope to strengthen their bond with the community. Carr and his wife are even searching for a historic Old Towne house to call home.
- - - -
Modern Wealth Design
If your New Year's resolution is to take control of your budget, stop by Modern Wealth Design, a financial services company that moved its office to Old Towne at the end of November.
Although the firm has been around for almost eight years, Modern Wealth Design partners Adam Carr and Nicole Letarte just moved their practice* to Orange from Irvine.
"Our team has always loved downtown atmospheres, and Orange just checked every single box," says Carr. "It's ideal to be right in the heart of the city."
Modern Wealth Design offers a variety of financial planning services for customers, including investing advice, debt strategizing, insurance solutions and retirement planning. At Carr and Letarte's practice, you'll find a team of passionate, experienced financial planners who truly enjoy making a difference.
"Even in the second grade I knew I wanted to do something in finance," says Carr. "This combination of being able to work with numbers and have a huge impact on people is something that's hard to find anywhere else."
Letarte is also keen on using her financial savviness as a method for changing lives. "Growing up, I always wanted to help women and families because I feel it's very important for women to always have that financial background," she says. "Now, I love to create customized plans for our clients and show them how to be successful in the future."
The team at Modern Wealth Design also focuses on an often-neglected clientele of financial planning: younger adults. The duo's mindset is that you're never too young to start preparing for retirement, and they're eager to help young professionals in every aspect of their finance journey.
"It's been encouraging to see more young families and workers take an interest in their financial futures," says Carr. "We feel like this age group is often overlooked by financial firms, and they might need the help and guidance more than anyone."
The planners recognize that financial prepping isn't something that comes naturally to most people, which is why they invite anyone to stop by for a complimentary consultation.
"Our speciality is getting to know our clients and giving them a comprehensive plan," says Letarte. "People are scared to start, but it's important to just talk to a financial planner because it will only benefit you in the end."
Looking forward to 2022, Carr and Letarte hope to integrate themselves into the Orange community and connect with their neighbors. They've started reaching out to local businesses to help with financial education and aim to do seminars at Orange Senior Center.
"I've been doing this for almost 10 years, and having people cry happy tears in your office after you made a massive impact on them is something that will never get old," says Carr.
Modern Wealth Design
134 South Glassell St, Old Towne Orange CA 92866 / 949-439-8116
* Adam and Nicole are registered representatives of Lincoln Financial Advisors.