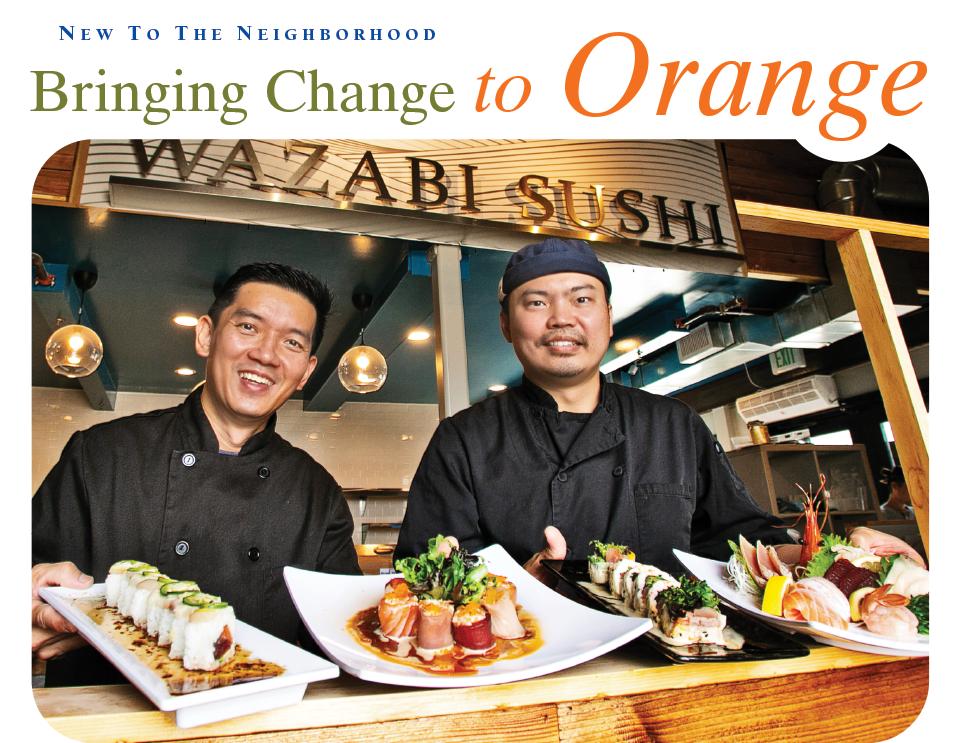 Wazabi Sushi Owner Arthuro (left) and sushi chef Tee display some of their exclusive menu items. The restaurant's fish is sourced from all over the world, which allows them to always have fresh options that can be substituted in any dish.
- - - -
Wazabi Sushi
Old Towne Orange is renowned for its impressive array of available cuisines. The Plaza is now adding another option: Wazabi Sushi, a Japanese sushi restaurant set to open this month.
"The Old Towne community is great for small businesses," says Owner Arthuro. "We saw the opportunity to serve the neighborhood and wanted to bring great sushi to the area." This is Wazabi Sushi's second location. The original restaurant opened in 2015 in Hacienda Heights. Arthuro previously worked at other sushi bars. After 15 years of experience, he decided to open his own business.
Wazabi Sushi's menu will feature a blend of traditional sushi, like authentic Sushi and Sashimi and inventive rolls and fusion dishes developed by sushi chefs. At the Hacienda Heights location, the "Awesome Roll" is a customer favorite. It features a sashimi roll wrapped with soy paper and topped with yellowtail, lemon, jalapenos and a homemade sauce. "We serve traditional dishes, but we also like to add our own creative fusion dishes to the menu," says Arthuro.
The chefs at Wazabi Sushi also set themselves apart by establishing a special omakase experience for customers. Omakase follows the Japanese tradition of letting the chef choose their order, and the employees are always excited to showcase their best off-menu items to diners. "We're challenged to prepare impromptu dishes using our fresh fish of the day and the ingredients to serve the customers whatever they'd like," says Arthuro. "It feels like being an Iron Chef."
If you'd like to fully customize your order instead, Wazabi Sushi also has a variety of substitutions available. Arthuro says many customers opt for the soy paper wraps instead of traditional seaweed. There are choices of rolls with no rice on the menu as a healthier option, as well as various vegetarian dishes. Gluten-free soy sauce is also available upon request.
Arthuro and his team pride themselves on using fresh, high-quality fish for their sushi. "We bring fish from around the world to this restaurant," says sushi chef Tee (AKA Mr. T). "We really care about the products we use, and you can taste the difference."
Looking forward, Arthuro and Mr. T hope to build a camaraderie with Old Towne residents. When Mr. T managed another restaurant in Orange County, he developed daily relationships with customers who stopped by, even if they weren't dining. He feels the Wazabi Sushi atmosphere will be similar. "I'm excited about introducing diners to Japanese food and making new friends," he says. "People are very nice in Orange. I want to invite them to come in and say hi."
Wazabi Sushi
240 West Chapman Ave, Old Towne Orange CA 92866 / 714-602-7375