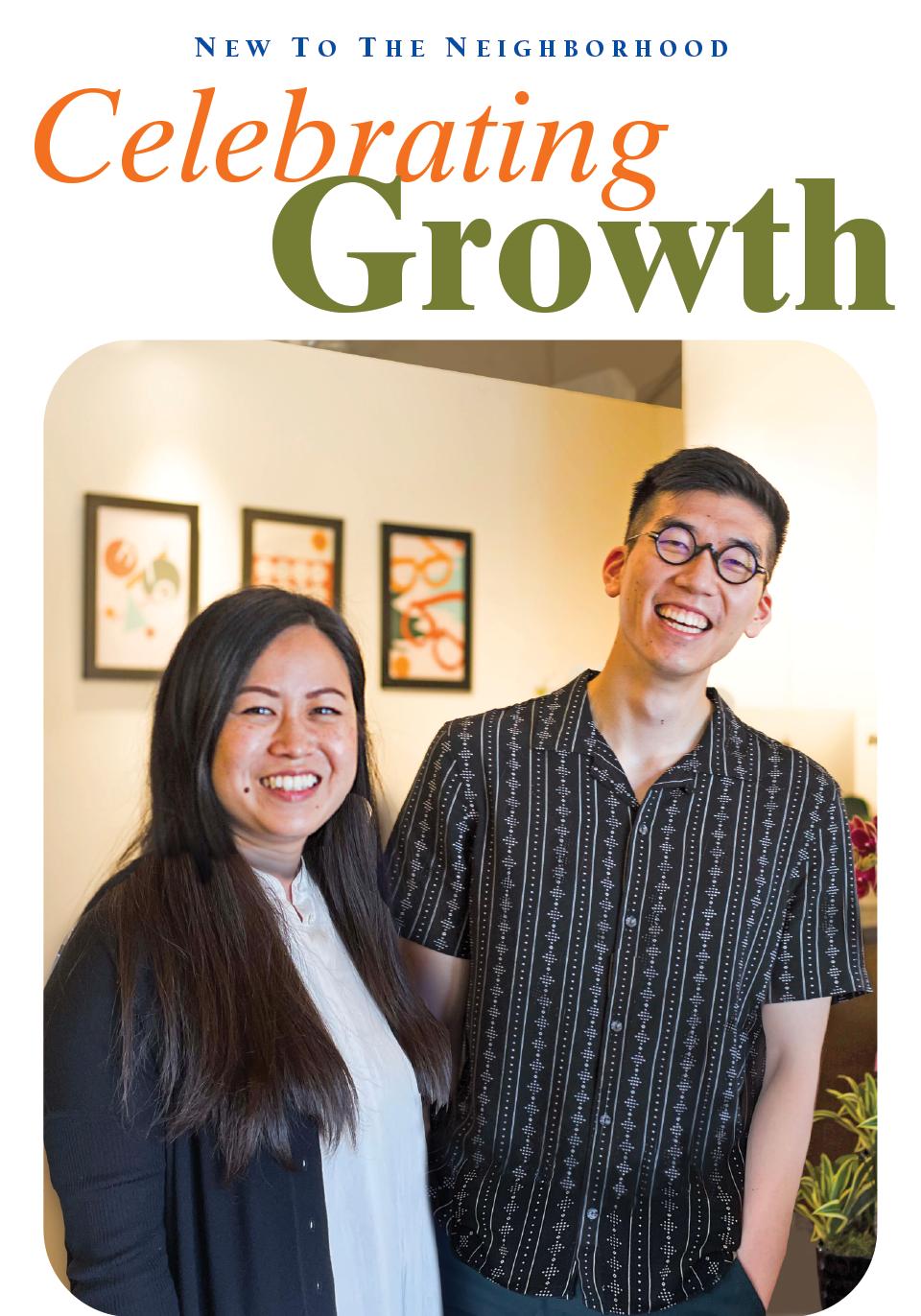 Doctors Michelle Cho and Edward Tran pose in their new optometry shop. When they're not working, they both enjoy getting to know other small businesses around town. Cho recently started volunteering with Orange Home Grown, and Tran has a mission to try plenty of restaurants in the area.
- - - -
Hello Optometry
If you've been envisioning buying a new pair of glasses, head over to Hello Optometry and get a good look at the comprehensive eye services the practice offers. Located on Glassell St. next to Portola Coffee Roasters, Hello Optometry specializes in providing customers with one-of-a-kind, high-quality eyewear and eye care.
While cofounders Michelle Cho and Edward Tran both have backgrounds in the healthcare industry, they're looking forward to treating the practice as a small business.
"People can come by to chat any time," says Cho. "We don't want it to feel like a traditional doctor's office. We want to create a relaxed atmosphere."
At Hello Optometry, Cho and Tran give patients a personalized experience by helping with everything from medical eye exams to individualized eyewear. The pair took the time to source high-quality glasses that felt simple and trendy.
"We get our eyewear from independent companies so we can offer something you can't find anywhere else," says Tran. "Our glasses are about serving you as an individual."
Their shared drive for individualism is what pushed Cho and Tran to work together. After attending the Southern California College of Optometry in Fullerton, they realized that client relationships were their main draw for entering the industry. When the pandemic hit and they were furloughed, they decided to use the opportunity to launch their business.
"When we were in school and learned about the lifestyle that optometrists had, we really liked the relationships they had with their patients," says Tran. "We felt like we had to open up our own small business."
In addition to hosting a wide collection of sunglasses and prescription glasses, Hello Optometry provides a full range of eye services, including comprehensive exams, lens evaluations and LASIK and dry eye consultations.
They also offer a lesser-known process called orthokeratology, which reshapes the front of the eye through nightly contact lenses. Ortho-K usually helps growing children stabilize their vision, but also works well for athletes or people who want to avoid daytime contacts.
"The ortho-K process acts as a retainer for your eyesight, allowing you to have good vision without wearing any eyewear in the daytime," says Tran. "We want to get the word out so people can take an extra step to improve the quality of life for both children and adults."
As students in Fullerton, Cho and Tran were very familiar with Old Towne's friendly reputation within the county before they opened in Orange. "The atmosphere in the Plaza is so special, especially compared to any other shopping area," says Cho. "It really feels like a small-town neighborhood, which has been new for both of us."
As Hello Optometry picks up more patients, the team hopes to establish themselves as the top eyecare destination in Orange. Now, they're aiming to distinguish their practice as a bright spot in the Plaza.
"That's why our name is Hello Optometry," says Tran. "We're very welcoming."
Hello Optometry
141 North Glassell St, Old Towne Orange CA 92866 / 657-650-2020