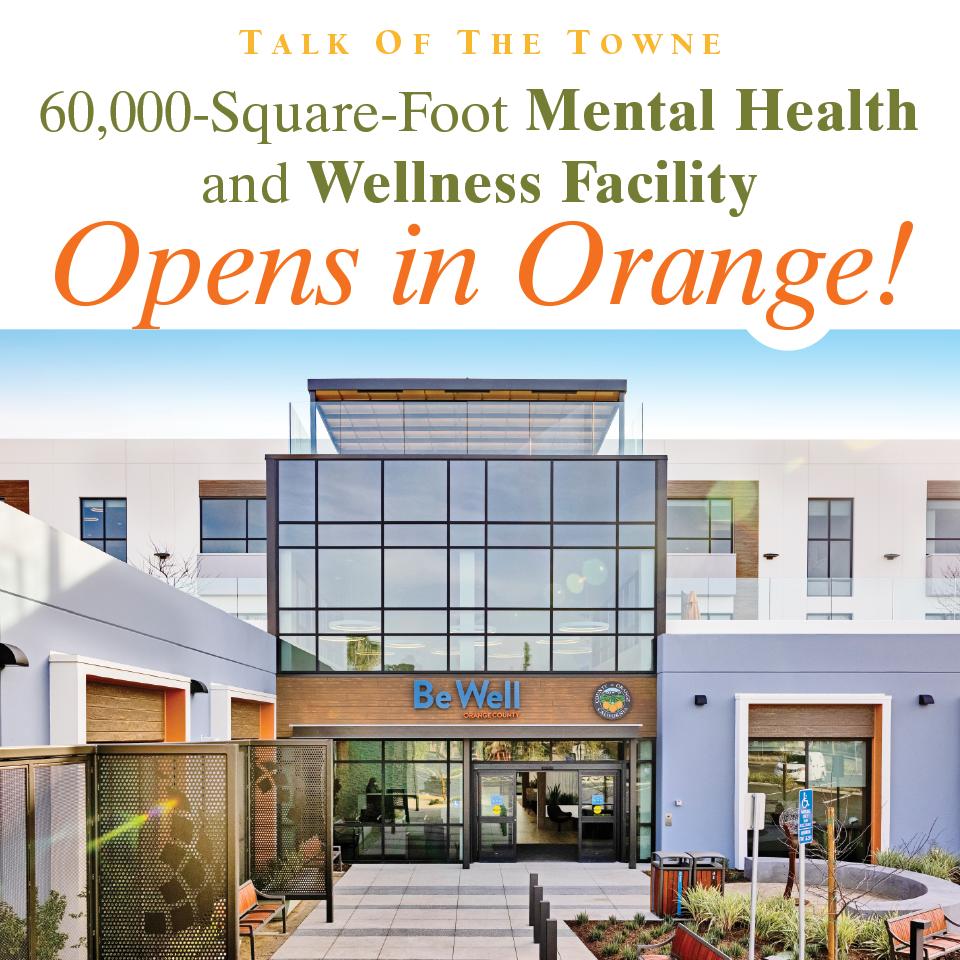 Be Well Orange County
At least one in three Californians has suffered from anxiety or depression during the pandemic, according to a study by the Kaiser Family Foundation. That number jumped to more than 40 percent nationwide in a December survey by the U.S. Census Bureau.
But there's a new organization in Orange that wants to help people suffering from these challenges. It's called Be Well OC, a state-of-the-art facility that opened January 25 at 265 Anita Dr. The campus provides services by referral for all Orange County residents with mental health and substance abuse disorders.
The county needed such a facility, says Be Well CEO Marshall Moncrief. Of the roughly 50,000 annual emergency room visits related to mental health in Orange County, around 80 percent would be better served in a facility dedicated to mental health and substance abuse.
"While we do not have current data on emergency department visits related to COVID-19, we do know the uncertainties associated with COVID-19 have triggered mental health needs in our community, and the pandemic has created a greater need for mental health services in general," Moncrief says.
Be Well OC is not a walk-in facility. Clients will instead be brought in by law enforcement or ambulance. They will be assessed by staff and receive immediate treatment and a plan for their next level of care, Moncrief says. Be Well primarily treats adults, but also provides limited services to children on-site and through partnerships with Children's Hospital of Orange County and other community-based organizations.
The Orange County Board of Supervisors began developing the Be Well OC concept in 2015 while examining the need for behavioral health services in the region. Around 20 percent of county residents experience mental health disorders every year, and the county has seen an eight percent increase in mental illness in the last three years, Moncrief says.
Supervisors committed $16.6 million to the project, with additional investments from CalOptima, Kaiser Permanente, Hoag Presbyterian, Memorial Care and Providence St. Joseph Health.
Supervisor Andrew Do says that Be Well OC will serve as a cornerstone in building a world-class system of mental health care for the county.
"COVID-19 has certainly exacerbated mental health struggles within our community, and I am deeply honored to be part of the ongoing endeavor to help ensure Orange County provides vital care to those who need it most," Do says.
The Anita Drive location is the first of three planned campuses. It includes a crisis stabilization center for mental health needs, adult residential treatment and a "sobering center" that provides a safe environment for intoxicated people to recover. There are 93 beds and capacity to treat about 100 people per day.
Be Well teamed up with numerous organizations to provide mental health and substance abuse services, including Exodus Recovery, Telecare and the National Alliance on Mental Illness (NAMI). City of Orange Mayor Mark Murphy says that Be Well OC illustrates the power of partnerships.
"This first Be Well campus is a significant stride forward in providing help to those who have nowhere else to turn," Murphy says. The facility—the equivalent of an urgent care center for mental health and substance abuse needs—will help ER doctors refocus on physical health emergencies. And it will give people suffering from mental health and substance abuse crises immediate access to the right care.
"No single organization, or even sector, can solve the pervasive challenge of mental health and substance use disorders alone, but Be Well OC can be part of the solution," Moncrief says.
Orange County residents experiencing mental health or substance abuse concerns may use NAMI's 24-hour "Warm Line" for assistance at 877-910-9276 or online at namioc.org/oc-warmline.
Learn more about Be Well OC at bewelloc.org