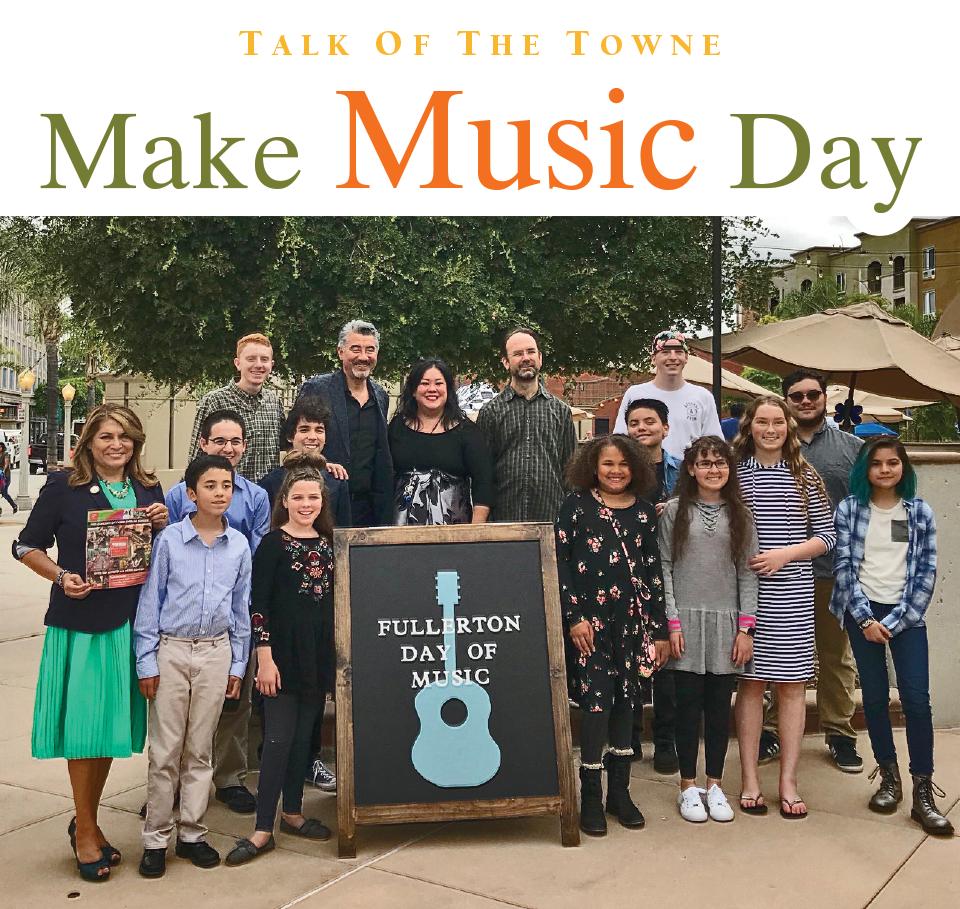 Coming to Orange on June 21, Make Music Day is a global musical event featuring outdoor musical performances. Pictured are participants of Fullerton's 5th Make Music Day, including students from Orange's Pacific Conservatory. Also pictured are Fullerton Mayor Jesus Silva (back left) and Assemblywoman Sharon Quirk-Silva (far left).
Make Music Day Orange / June 21, 2021
Get ready to head to the streets and celebrate the summer solstice in a musical fashion this June. Orange is hosting its first Make Music Day, a global event open to any level of musician. Performers head out to parks, parking lots and other outdoor spaces to share their music.
Make Music Day is a worldwide festival that began in France as Fête de la Musique and has since expanded to more than 120 countries. Many cities across Southern California, including Fullerton and Anaheim, have hosted their own celebrations, but this is Orange's first year taking part.
Kim Le, owner of the music school Pacific Conservatory, was inspired to establish Orange's first Make Music Day when she randomly stumbled upon the celebration in Fullerton a few years ago.
"We want to show Orange this is something the rest of the world is already doing, and they're doing it well," says Le. She is teaming up with other Orange schools, Laurie Ann's Music and B&B Music for the event. On June 21, people of all ages will be asked to perform and participate in front of City Hall and at other venues in Orange.
"There's enough of a music community here in Orange, and it's getting stronger and stronger," says Le. "We all have the same goals for our city, and we want more arts and culture."
Across the world, Make Music Day is known as an event where music floods the streets. Although many professionals do participate and perform, it's open to any level of talent and is completely free.
"It's a day that celebrates music everywhere and the musician in everyone," says Jonah Udall, Special Projects Manager at Make Music Alliance, a nonprofit that works to help cities build their own Make Music Day events. "It can take on a life of its own, and we want each city to decide for itself how it's going to look."
Fullerton has held its Make Music Day celebration since 2016 and has grown it into a community-wide event with more than 150 performances across musical genres at 40-plus venues across the city. In 2019, after Le's music students participated at the event, Le saw how impactful the performance was and wanted to bring the experience back to Orange.
"The City of Fullerton painted piano keys at its center, and my students got to walk across the keys with Mayor Jesus Silva and Assemblywoman Sharon Quirk-Silva before performing," she says. "It was a great learning experience for them."
Le says that she eventually wants to build up the event to include more organizations in Orange, but for now, she's excited to get the event off its feet and raise awareness.
"Make Music Day is a grassroots and community-centered celebration," says Udall. "It's a continuously growing process, and it can take on different shapes in different communities all around the country."
The pandemic stopped Le from introducing the event last year, but she's determined to get the ball rolling and give Orange a musical tradition for years to come.
"This event really has taken on such a life of its own," she says. "We want it to grow organically and be an alliance with us, the city and other music schools."
Le, along with Laurie Ann's Music School leader Laurie Ann Fischer and B&B Music School head Briana Harley, hope to raise awareness for the Greater Orange Community Arts Theater project, a nonprofit spearheaded by Michael Short that supports arts in the city and aims to build a community theater in the open space at Orange's Grijalva Park.
Find out more on Facebook, or e-mail Kim Le at kimthienle@me.com