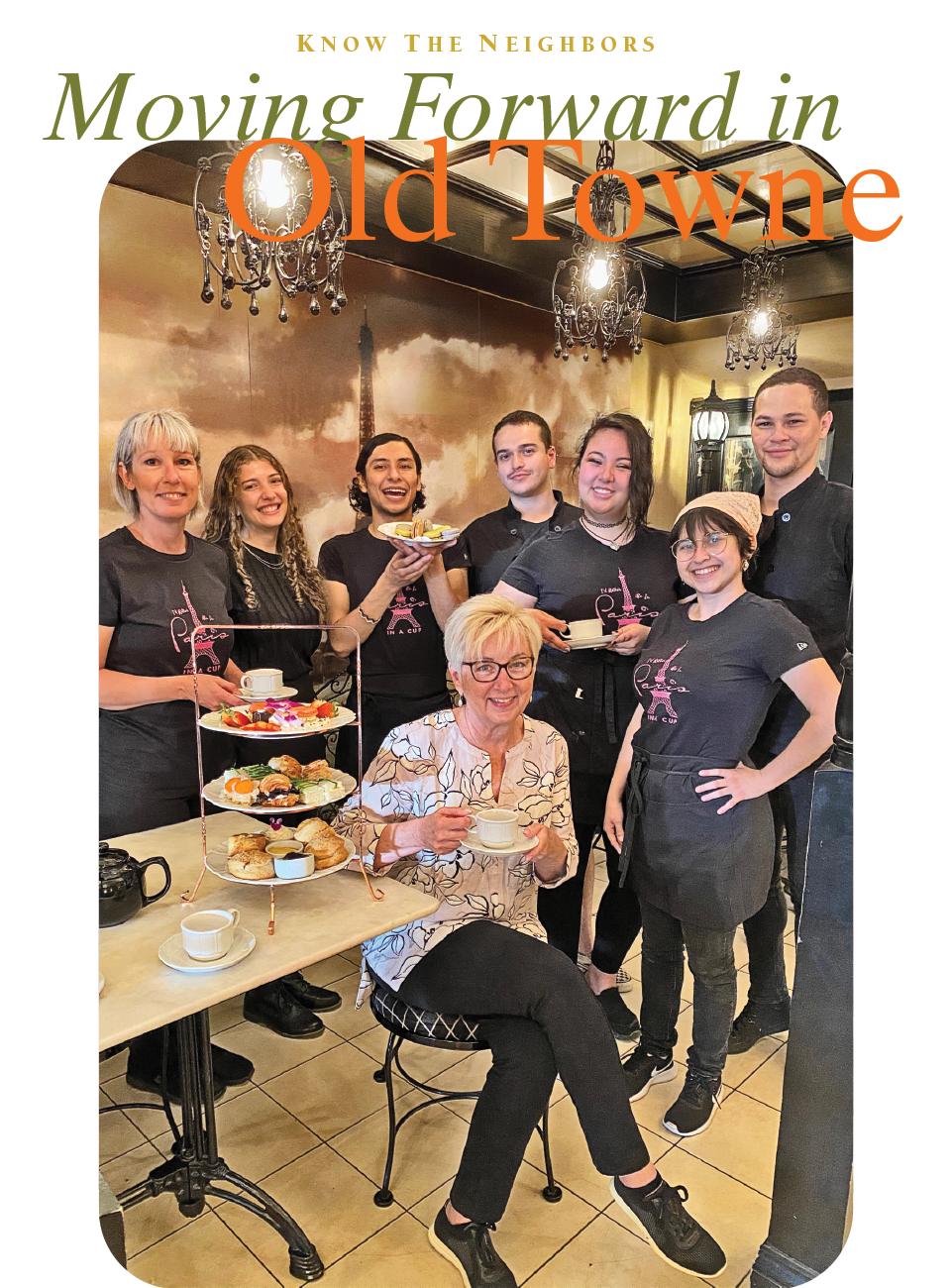 The team at Paris in a Cup Tea Salon & Café–Brandee, Courtney, Andrew, Gabe, Caitlin, Kat, David, from left; and Cheryl, seated–works to create a French-themed experience for their guests.
- - - -
Paris in a Cup Tea Salon & Café
After 13 years of welcoming countless guests to Paris in a Cup Tea Salon & Café–the beautifully decorated French-themed destination serving sandwiches, soups and specialty desserts like scones and crème brûlée–Cheryl Turner was ready to call it quits.
With months of back-and-forth restrictions put in place to slow the spread of COVID-19, Turner says the entire experience wasn't easy. And in December, when the state imposed another wide-ranging shutdown, it was a particular challenge because the action forced her to contact 400 people who had reservations for Christmas teas. Instead of serving the delights on-site, staff packaged everything up, and tied each box with ribbon for the would-be guests to pick up.
"Some of them posted photos on social media so we could see them enjoying the food," says Turner, 71, who has been in business in Old Towne since 1993, when she purchased Someplace in Time, an antique mall with a tearoom. "If it were not for their support, it would have been a catastrophe."
While heartened by the kind gestures, Turner considered retiring.
In stepped her daughter, Brandee Youngdahl, who believed she could make everything work with the support of those many loyal customers. "For them, we really needed to give it one more shot, and not say, 'We're done.'"
Her predictions were realized in early April. After restaurants, gyms and other businesses in the state received the OK to return to indoor activities, Paris in a Cup announced on its website a special afternoon tea–and it sold out within 48 hours.
More offerings are being planned, including a Mother's Day tea and evening teas on the Orange Plaza Paseo, which were a hit last summer. And Youngdahl hopes to expand the days of operation for Paris in a Cup, which for now is open Friday-Sunday.
Turner, who plans to assist during special events, says a major take-away from the past year has been how much she missed personal interactions.
"A lot of customers have become friends, almost family, and we liked to hug when we saw each other," she says. "I've really missed the whole human contact. I'll be thankful when we can get back to that."
As for Youngdahl, if there's one word that describes what's ahead, it's "hopeful."
"Our customers enjoy coming here because they can sit and enjoy a nice, relaxing time with their friends or family," she says. "We provide a semblance of normalcy, and everybody is hopeful they can get back to that."
Paris in a Cup Tea Salon & Café
119 South Glassell St, Old Towne Orange CA 92866 / 714-538-9411