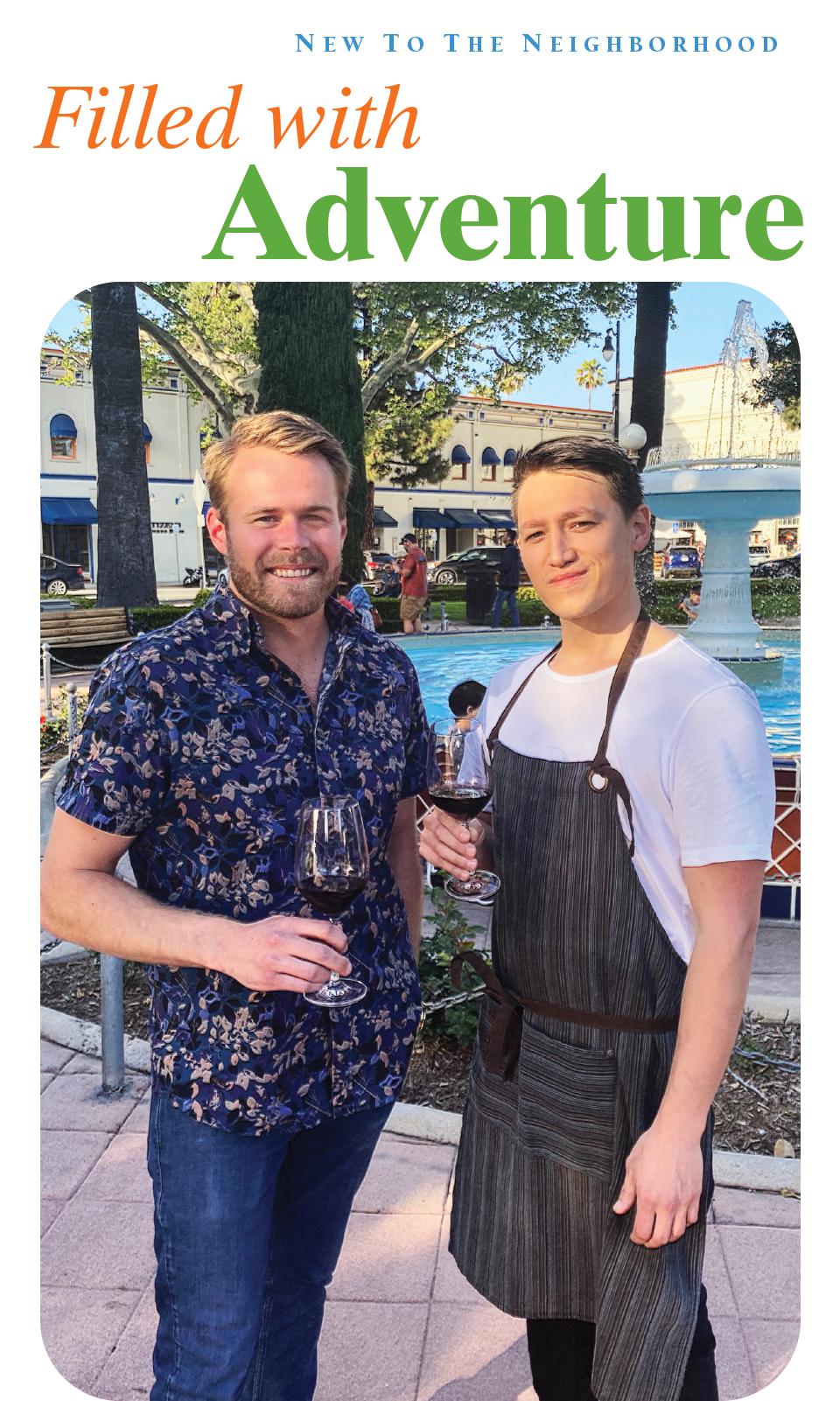 O SEA Owner Mike Flynn (left) and Executive Chef David Yamaguchi toast to their restaurant's summer opening. The O SEA menu is filled with eclectic and refreshing wines that are specifically made to complement the unique menu offerings.
- - - -
O SEA
Orange is reeling in a new establishment with a fresh cuisine this summer: O SEA, a fine-casual restaurant that serves high-quality, affordable and responsibly sourced seafood is set to open at the end of May.
O SEA Owner and Founder Mike Flynn, an Orange County native who graduated from Mater Dei High School in Santa Ana, kickstarted his passion for seafood after taking a summer job at Fish Camp, a Huntington Beach-based restaurant. Although he had planned to become an attorney, that summer job shifted his entire plan.
"I had this lightning bolt moment and fell in love with the industry," says Flynn. "On day one, I caught the proverbial bug."
After that summer, Flynn was hooked. He immediately made a plan for his future and set a list of goals for himself to stay in the seafood industry. His biggest goal was to open his own restaurant in Orange County to take care of his family and friends.
Now, Flynn's dream is finally becoming reality. O SEA is set to open in late May, bringing fine-casual dining to the Plaza. The menu centers around fresh seafood, shying away from the traditional East Coast ideals of the cuisine—instead taking a contemporary approach emphasizing the seasonality and diversity of California cooking.
On the menu, you'll find an udon noodle bowl with scallops, burrata cheese with spicy salsa macha, and Flynn's summer favorite, a seasonally rotating dish that starts off with the Mexicali plate, featuring fresh fish, fire-roasted sweetcorn and cilantro pesto.
"I'm really proud of the seasonal component we've built into the menu," he says. "The restaurant and menu is very much a reflection of my background and my chef's background, and where we want to see seafood go, not just where it's been."
To keep up with the seasonal ingredients, O SEA is partnering with Orange Homegrown in selling a weekend special with products grown in the nearby Orange Homegrown Education Farm.
Executive Chef David Yamaguchi shares Flynn's vision of a dynamic and original menu. He drew culinary inspiration from his family background; his father is Japanese, and his mother is Hispanic.
"I went to my grandparents' houses on both sides, and they were always cooking, so I got to see both sides. They're very different but complementary," says Yamaguchi. "For example, the texture of seaweed is similar to nopales, or cactus."
Yamaguchi finds it refreshing to work with more than just the basics of shrimp and fish, and he loves the fresh menu offerings like ceviche in coconut leche de tigre and steamed salt spring mussels in pho broth.
Flynn and Yamaguchi are also proud to share that their seafood products are all responsibly sourced as a part of their mission of serving 'Seafood for Thought.' "The level of care and attention that we take for our products is one of the most important parts of the concept to me," says Flynn. "I see myself as a product of my generation, and as a business, it's important to consider how our choices impact the next generation."
O SEA
109 South Glassell St, Old Towne Orange CA 92866 / 714-363-3309