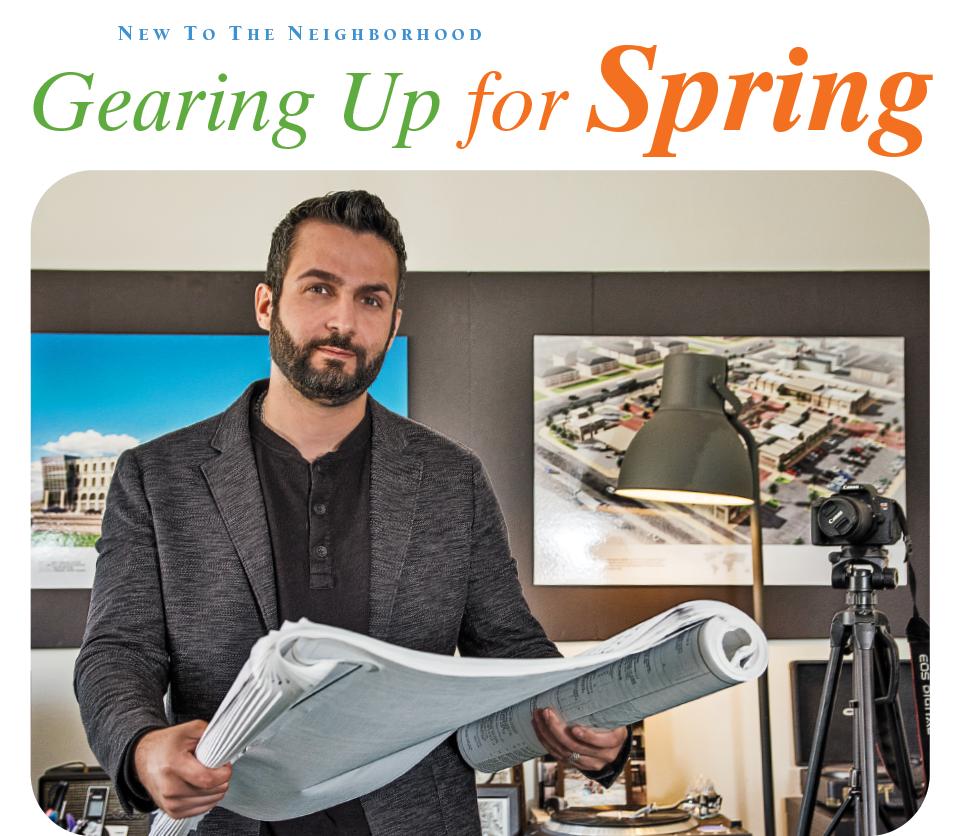 Ali Haddad, Principal and Owner of MAHD Design + Planning, is looking forward to completing the final stages of a multi-family project in West Hollywood. He's particularly excited about creating a landmark home in LA that looks over a view of the historic Wilshire Blvd.
MAHD Design + Planning
If you're in need of a contemporary design for your new project, check out MAHD Design + Planning, a firm with headquarters right above Cafe Zocalo on Glassell. Ali Haddad, Principal and Owner of MAHD Design + Planning, is an Orange resident who started working out of Old Towne about a year and a half ago.
Haddad started the business in 2017 and has since grown it to a full-scale firm offering designs for single and multifamily residences, commercial buildings and restaurants. In addition to countless other projects across the globe, he and his team redesigned and remodeled the Bubba Gump location in Hollywood.
Although conceptualizing design strategies is his main passion, Haddad got his start in the industry with graphic design. He discovered Photoshop in middle school and grew his experience by experimenting with colors, fonts and appearances.
"It clicked for me to go to architecture school where I can play not only with colors and locations, but also with the relationship between a place and a human," he says. "I can play along with the human interaction and start creating buildings to see how it improves peoples' quality of life."
After more than a decade in the industry, Haddad understands that human experiences drive him to produce creative designs. "My favorite part is the human interaction with my creation, even if it's a big or small project," he says. "I understand the client's personality, goals and burdens, and getting to know them on a personal level helps me create a good design."
Norman Kai Lee, a bar and restaurant entrepreneur, worked with Haddad to get support on the design and engineering work for his ventures. He found that the personal connection helped him pinpoint the exact solution for his businesses.
"It's hard to find people who do what they love and put 100 precent into it every day," says Lee. "Ali commits himself to what you want to do and makes it his own. To me, that's dedication and someone who cares about what they do."
While most of his recent projects took place in LA, Haddad is looking forward to reaching new customers in Old Towne. He has a concept for a grab-and-go restaurant that would help businesses safely adapt to serve customers during the pandemic.
"With the grab-and-go idea, there's minimal interaction and the process is more streamlined," he says. "We're doing research on how it should be done and how restaurants should be working together even after the pandemic."
In Orange, Haddad has already seen how the city and other local businesses quickly modified plans to be safe and responsible. He's also fascinated by Old Towne from a structural perspective. "As a designer, it's very inspiring to see Old Towne Orange because it's such a unique space from a historical standpoint," he says. "It's a vibrant community and it's an important hub."
MAHD Design + Planning
134 South Glassell St Unit #E, Orange CA 92866 / 657-223-6828