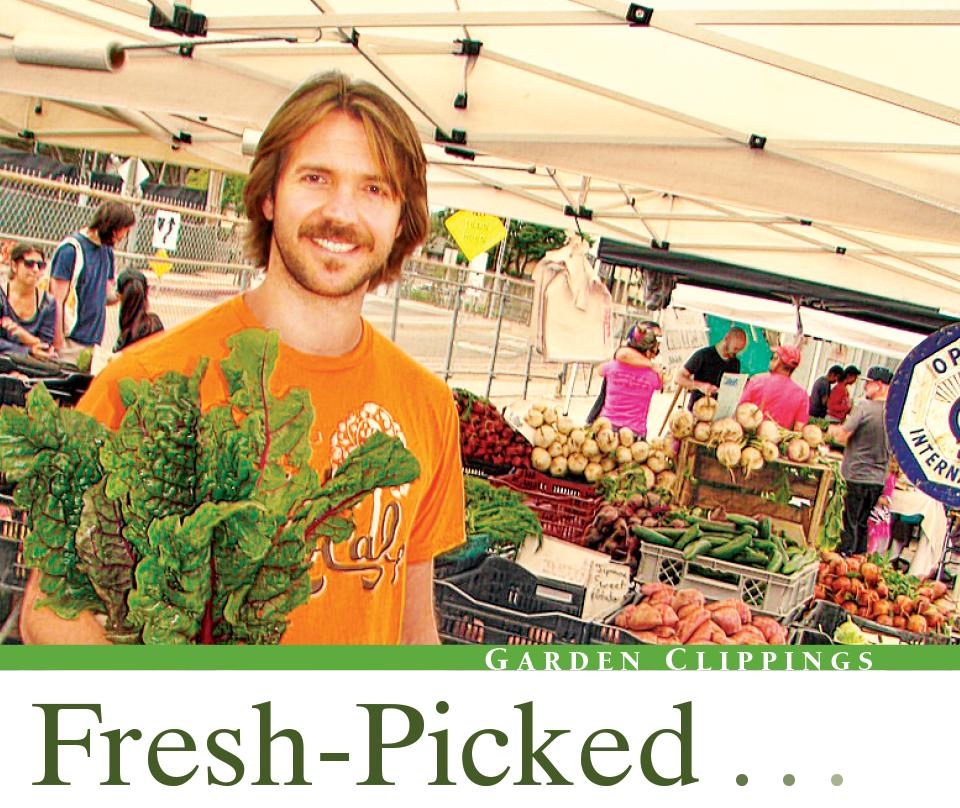 Gardeners know that fresh-picked produce is not only good for you, it tastes even better. The sooner you enjoy fruits and veggies after they're harvested, the more nutrients you consume.
Someone who knows all about getting farm-fresh produce into the hands of consumers is Brandon Kunkle, market manager for the Old Towne Orange Farmers and Artisans Market. He oversees the market's vendors, including local urban farmers who bring in freshly picked produce every Saturday.
"When you buy produce at the supermarket, you generally get items that have been harvested before they're ripe and transported for miles," says Kunkle. "Buy your fruits and vegetables at the farmer's market instead, and you'll enjoy items picked ripe at their peak less than 24 hours before."
Featuring produce from small, urban farmers in nearby cities, as well as growers further north, the farmer's market is fulfilling their goal of delivering truly sun-ripened local produce.
"We have some food artisans with prepared food, but the whole point of the farmer's market is to support small farmers who can't compete with the big guys," says Kunkle, who notes that the market is in the top five in the county in terms of number of local farmers participating.
In addition to finding truly ripe produce at the market, you also get the chance to try produce items you might not find elsewhere," says Kunkle. "You can enjoy fruits like loquats and kumquats and fresh citrus, the latter of which doesn't ripen once harvested."
The market even features seasonal produce suppliers that only come in for short periods when their crops are at their peak, like a blueberry grower that has sun-sweetened, bush-ripened berries available for several weeks at this time of year.
Some of the farmers at the market come a short distance from cities like Brea, Irvine and Bell Gardens, while others drive in from areas like Fresno and the Central coast with items like stone fruits.
Another perk of shopping the farmer's market is the chance to talk with the farmer's themselves, like John Sweredoski, owner of Sweredoski Farms in Bell Gardens. His farm grows a wide variety of produce on 22 acres, including Asian vegetables, various lettuces, potatoes, carrots, green garlic, artichokes and more uncommon selections.
"I enjoy educating people about the unusual items we carry, like stinging nettle," says Sweredoski. "Nettle is high in iron and good for various health problems, including asthma, arthritis and cold and flu. I also carry zucchini and squash blossoms, which are extraordinary sellers for me all summer long. People love to stuff them."
If you haven't been to the farmer's market before or it's been awhile, make a visit. Supplement what you're growing in your own garden and experience new fruits and vegetables that you may want to try growing.
The Old Towne Orange Farmers and Artisans Market is open every Saturday from 9 am to 1 pm at the corner of Cypress St. and Palm Ave. in Old Towne. Visit orangehomegrown.org for more information.