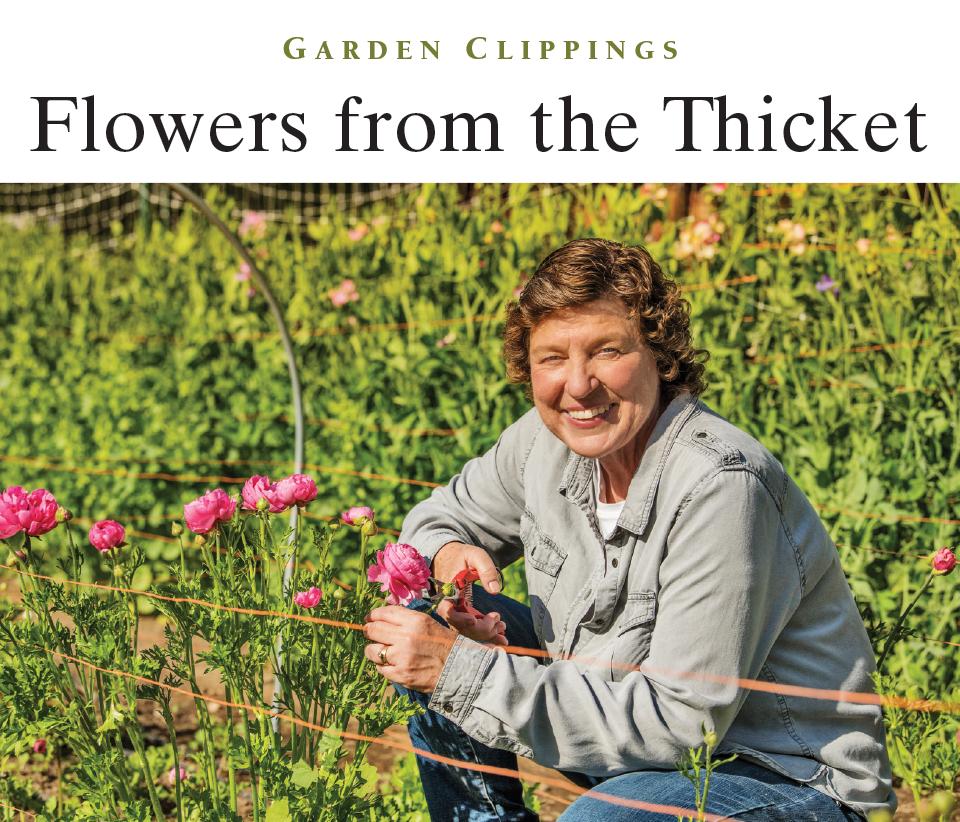 If there is one adjective that describes what Carolyn Cavecche grows in her Orange micro-flower farm, it would be joy. The local, fresh cut seasonal flowers she plants and tends always cultivate smiles.
Cavecche's family-run business grows and sells seasonal flowers for local florists and direct-to-consumer. Her eye-catching floral offerings include seasonal flowers that thrive in our climate and aren't generally found at the grocery store. These include stunning spring and summer flowers such as Bells of Ireland, anemone, larkspur, sweet peas, ranunculus, statice, zinnias, cosmos, specialty sunflowers, godetia, mallope, honeywort (Cerinthe) and dahlias.
Flowers from the Thicket is part of a groundswell of local flower farms popping up all over the country over the last several years. "The Field to Vase movement supports the production and purchase of local flowers, combatting the growing use of pesticides and chemicals in modern agriculture," says Cavecche, who grows as close to sustainably as possible.
While California's mild weather lends itself to cut flower production, 80 to 90 percent of flowers sold in the U.S. are imported, mostly from South America. This trend began in 1991 due to a trade agreement that resulted in the collapse of the U.S. Cut Flower industry. In recent years, micro-floral farms such as Cavecche's are helping to ensure that consumers have access to local grown, fresh flowers that haven't undergone the application of pesticides and chemicals and traveled thousands of miles. The result is fresh flowers with a longer vase life and a limited footprint.
Floral designer Stacy Lemoine, who owns Bougie Twigs + Blooms in Orange, says that geographic proximity is key when it comes to flowers. "When I work with Carolyn, I get flowers fresh out of the field," she says. "That translates to longer flower life for my clients. She also has uncommon colors, and her customer service is unparalleled."
Florists can expect to have longer lasting blooms when they purchase from Carolyn, agrees Gayle Ray. She owns Branches and Blooms by Beth, which provides creative floral design and local workshops. "There is a tremendous benefit to using cut flowers grown right here and cut that day versus purchasing from wholesalers, in terms of vase life and quality of the product," says Ray. "Carolyn also has a wide selection."
While Cavecche has always enjoyed gardening and calls being in the garden in jeans and tennis shoes her "happy place," it wasn't until 2018 that she discovered her calling as a local cut flower grower.
"One Sunday at church, our Pastor challenged the congregation to discover a blessing we could use to best serve God and his people," says Cavecche, who served three terms as Orange's mayor. "I immediately thought about our 3/4-acre property. My husband, Rick, and I decided to build a large table where friends, neighbors and family could gather for food and fellowship in the garden."
While those gatherings brought great joy, as Cavecche looked out over unused land on the property, she became motivated to plant flowers. They cleared weeds, tested soil and began building the infrastructure required for a local cut flower farm. The name for the business sprang from the family's nickname for their property. "A thicket is a group of trees and plants growing close together that provide shelter and protection for anything that lives there," says Cavecche.
For Cavecche, being a local cut flower farmer is a lot of work and challenging, but it's been one of the most rewarding experiences of her life. "Growing flowers and sharing their beauty gives me great joy."
Find out more at FlowersFromTheThicket.com and on Instagram: FlowersFromTheThicket