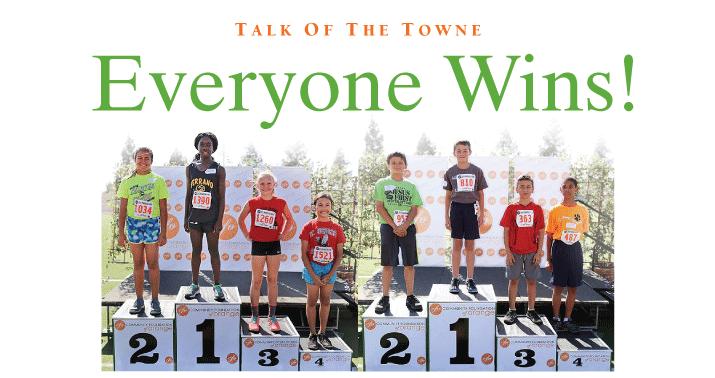 CFO provides local youth the opportunity to share their talents with the community.
- - - -
Community Foundation of Orange
Back in 5th grade when Liliana Burns played basketball for the first time thanks to funds provided by the Community Foundation of Orange (CFO) KidsPlay™ program, during the last game of the season she made her first basket.
"Everyone stood up and clapped for her, and that really helped her self-esteem," says Liliana's mother, Itzi Burns. "As a matter of fact, it gave her such a boost that now in ninth grade she excels at sports."
Successes such as this are the reason why the CFO was founded more than a decade ago by local citizens dedicated to preserving and enhancing a sense of community in Orange. Taking to heart the group's motto to "Give Where You Live," the organization's 24-member board of directors, headed by current President Gary Remland, brings their diverse backgrounds and interests to the table, which has enabled the group to make a difference in several areas.
The CFO started several years ago as a fundraising entity for the building of the Sports Center at Grijalva Park, but morphed into something much bigger, says Susie Cunningham, Executive Director of the CFO. "Like the roots of a tree reaching out, taking hold and creating a strong foundation for something to grow and thrive, the CFO has responded to a variety of critical needs within the greater Orange community."
When they viewed Orange a decade ago, the Foundation saw a need for keeping kids active and engaged, which led to the formation of the Annual Foundation Games. The free track meet for public and private elementary and middle school students in the Orange Unified School District just finished its 10th yearly event in April with 1,878 student athletes participating from 39 schools. The games were watched by 5,000 fans and 445 volunteers assisted.
Other CFO flagship programs include KidsPlay™, which enables children whose parents are unable to fund sports involvement a chance to play, and Studio Orange, which focuses on cultivating creativity and increasing arts education opportunities by providing financial assistance to students. Studio Orange events allow for the showcasing of artistic expression, such as the annual Talent Blossoms in Orange Workshop; the 4th of which was held last October and involved nearly 140 children. Open to 3rd to 6th grade singers, musicians and dancers, this year's event involved learning Broadway melodies that the participants performed for family and friends at the end of the day.
In addition to these established, ongoing programs, the CFO recently decided to branch out further into the community to help where assistance is needed, says the organization's president Gary Remland of Remland Insurance Services in Old Towne. "We already had a lot of support in the community, and that support is getting broader," he says.
Now that the organization has matured, those involved have realized that the key to building a strong foundation and helping the community is to reach out to other likeminded organizations in order to band together for causes, adds Cunningham. "We've realized that when we work together with other groups, the results can be exponential. This has proven true with the Foundation Games."
Recently, the CFO became involved with GRIP (Gang Reduction & Intervention Partnership.) This program, which involves the Orange Police Department, Orange County Sheriff's Department and the Orange County District Attorney's Office, works to prevent at-risk 10- to 12-year-old youths from joining criminal street gangs and experiencing all of the destructive behaviors that go with that life.
"Our goal is to identify at-risk youth when they are young" and not yet acting out, says Fred Lopez, daytime watch commander and public information officer for the Orange Police Department. "It's hard to change a kid's mind when he is 17." Lopez said the program, which includes sports and community building efforts, works well to keep kids in school where they can make educated decisions.
Another new program in the works is a Field of Valor similar to the one held in Covina that will honor local veterans and raise funds to support them. The CFO is currently seeking partners in this effort, such as the Orange Plaza Patriots, the American Legion and the Veterans of Foreign Wars.
Log on to Community Foundation of Orange for more information.