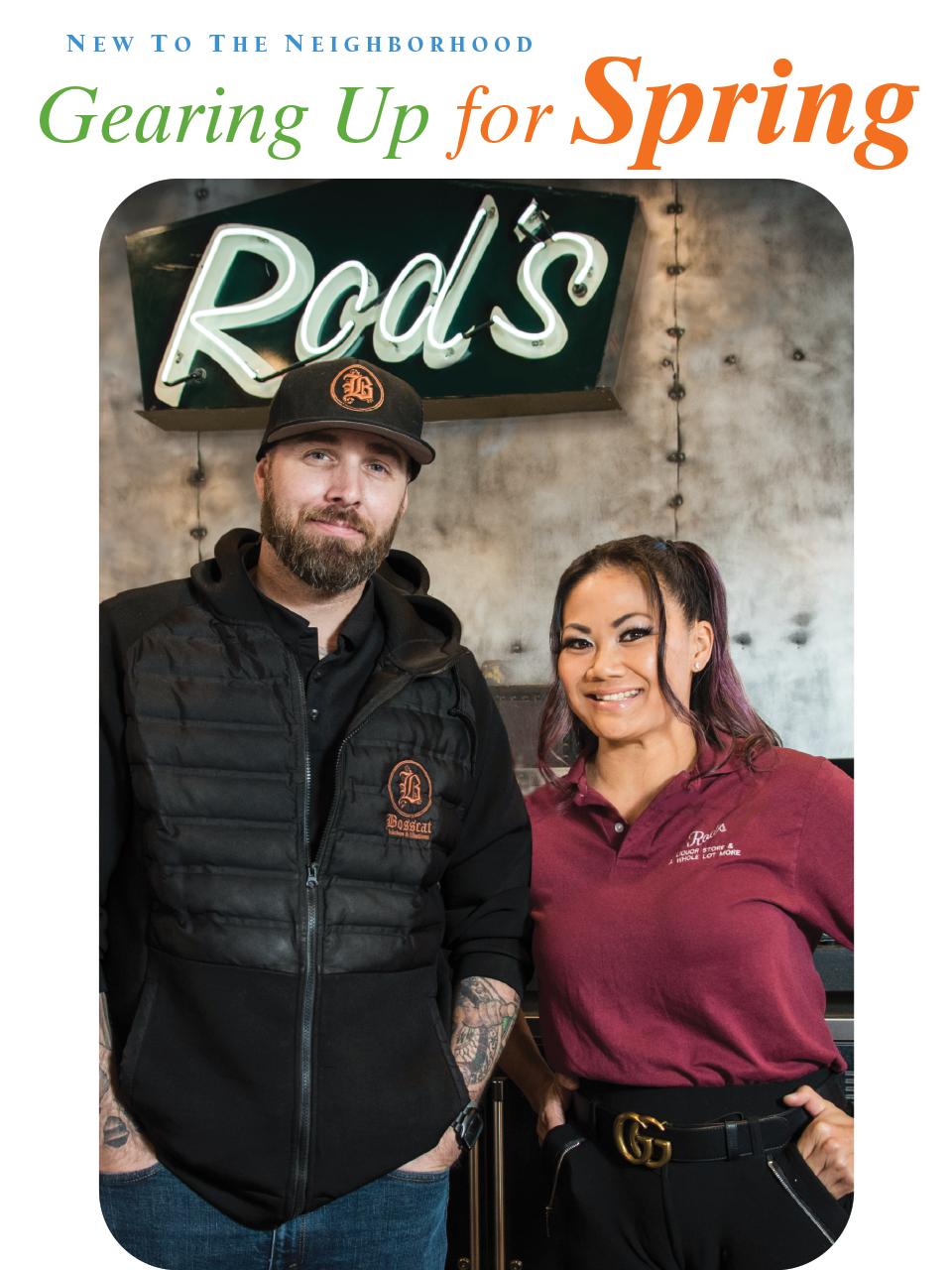 Partner and Regional General Manager Chris Daily and Bosscat Co-Founder Leslie Nguyen stand inside of the building that previously hosted Rod's Liquor. Once the restaurant is serving customers, Nguyen is excited to honor Rod's by transforming the original ice bags into decorative to-go bags for Bosscat Kitchen.
Bosscat Kitchen and Libations
From booze to brunch: After 70 years in Old Towne, the building that hosted Rod's Liquor is saying goodbye and welcoming in Bosscat Kitchen and Libations, an American restaurant that features an impressive whiskey bar and menu.
Bosscat Co-Founders John Reed and Leslie Nguyen are aiming for a March opening and have already started paying homage to Rod's Liquor in their construction plans. "We recognize that there are so many great restaurants and antique shops in the Plaza, and part of the allure of Old Towne is honoring its history," says Reed. "That's important to everyone, and that's something that we have every intention of doing."
The Old Towne location is Bosscat's third venue, with others in Newport Beach and Houston, Texas. The menu is populated with southern-inspired offerings like whiskey okra and a 12-hour braised short rib, but it also includes local twists like a vegetarian quinoa burger and "kale-ifornia" salad.
The eatery was crowned one of Yelp's top 100 brunch spots in the U.S., but Bosscat originated as simply a bar that also had great food, says Reed. Now, he's proud of both elements of his business, including a full whiskey bar with more than 300 varieties.
The Bosscat journey began in 2009 when Reed first met Nguyen, who owned a small sports bar in Irvine. After getting to know each other, the pair realized they felt like something was missing from the local bar scene. After years of planning and brainstorming, the foundation for Bosscat began.
Nguyen is a self-proclaimed foodie, so although her previous bar had a small kitchen, she wanted the opportunity to create memorable, original dishes. "My dream was to have real food because I've been in the service industry my whole life, and that was the one thing I was missing from the sports bar," she says.
The duo also wanted to construct a destination where customers who wanted high-end craft cocktails or basic drinks could feel comfortable. "We always said when we open up our own place, we're going to have craft mixology stuff but we're also going to have Coors Light and Jameson," says Nguyen. "We're going to welcome everyone because customer service has been the basis for everything I've done."
Over the years, Nguyen has seen countless weddings, birthdays and anniversaries celebrated at Bosscat. She's looking forward to establishing that sense of connectedness at the Old Towne location.
Bosscat Kitchen & Libations
118 West Chapman Ave, Old Towne Orange CA 92866 / 714-716-1599