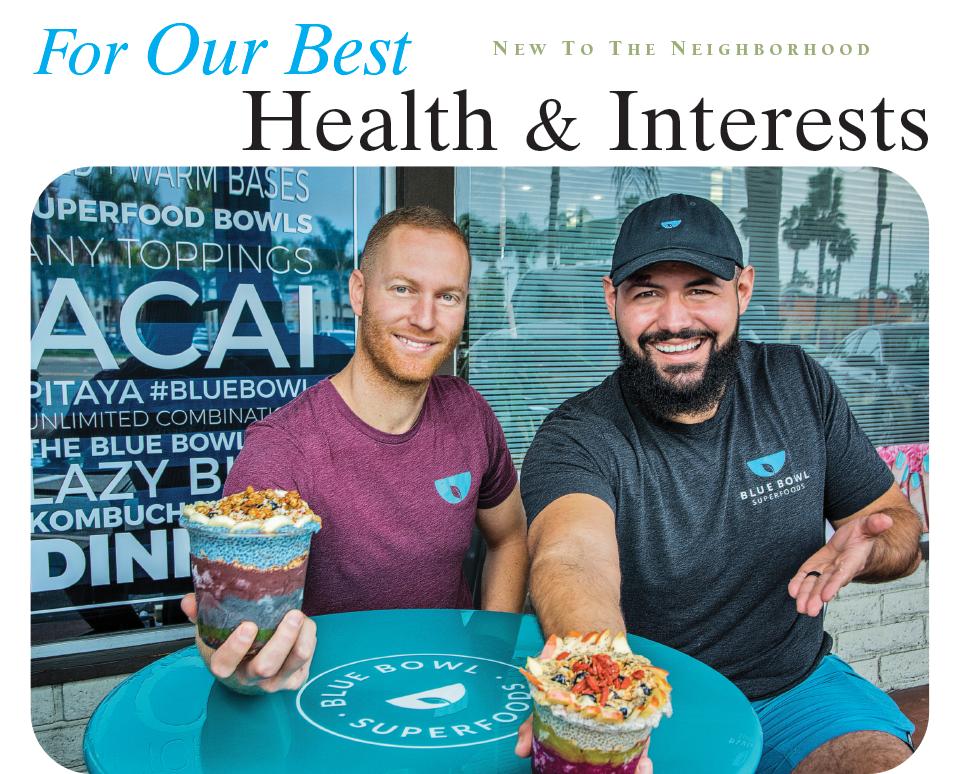 Teague Savitch, left, and Ish Lozano built Blue Bowl Superfood from a stand at four farmers markets into a thriving business with two stores. "It's been a bit of a roller coaster ride, but we both feel well-suited for what we're doing," Teague says.
Blue Bowl Superfoods
The idea for Blue Bowl Superfoods—which serves good-for-you açaí and pitaya bowls along with specialty drinks—was born in Afghanistan.
Serving in the Army, Teague Savitch was confronted with stressful situations and refueling on dining facility food, much of it fried.
"It took a toll on me physically, so when I got home I wanted to make it a priority to put good food in my body," he says. "I also wanted to do something less stressful. What's less stressful than working for yourself and putting fruit and seeds in a bowl and selling it at a farmers market?"
So, that's what he did.
About three years ago, Savitch connected with Ish Lozano, who at the time was working for a distributor of organic foods. Savitch was one of Lozano's clients. They set up shop and started selling açaí bowls at farmers markets at four Kaiser healthcare facilities, including ones in Anaheim and Irvine.
"Our demo was nurses and doctors who were looking for something healthy and quick," says Lozano, adding that the customer base grew beyond healthcare professionals at each location and included patrons who lived and worked nearby.
Believing they were onto something, they started searching for potential storefront locations, and Savitch spotted one—in a small plaza within walking distance of St. Joseph Hospital and Children's Hospital of Orange County.
"After we signed the lease, the rest has been kind of a blur, to be honest," Savitch says.
In the past two and a half years, Blue Bowl Superfoods has grown from just Lozano and Savitch working alone in the 750-square-foot space to a company that now employs 35 at two stores after recently opening one in Huntington Beach.
The açaí, pitaya and steel-cut oat bowls have become a hit. Last summer at the Orange location, at least one was being prepared or finished at the topping bar pretty much constantly, from 7 am to 7 pm.
Why so popular? Because customers make their own creations, the owners say, selecting from six or seven bases and as many as 20 toppings, including four granolas and three nut butters. And regardless of the ingredients selected, bowls range from $7 for 12 ounces to $13 for 24 ounces.
Also on the menu: nitro cold-brew coffee on tap and kombucha, a fermented tea rich in beneficial probiotics.
"As long as customers get exactly the bowl they want, we're happy," Lozano says. "We're confident they're going to choose to come back, because they're noticing Blue Bowl isn't there to make millions of dollars. We're there to make sure they have a great breakfast, lunch or dinner."
Blue Bowl Superfoods
417 South Main St., Orange CA 92868
152 North Glassell St, Old Towne Orange, CA 92866 (opened March 2, 2021)