Butaton Ramen - Jan / Feb 21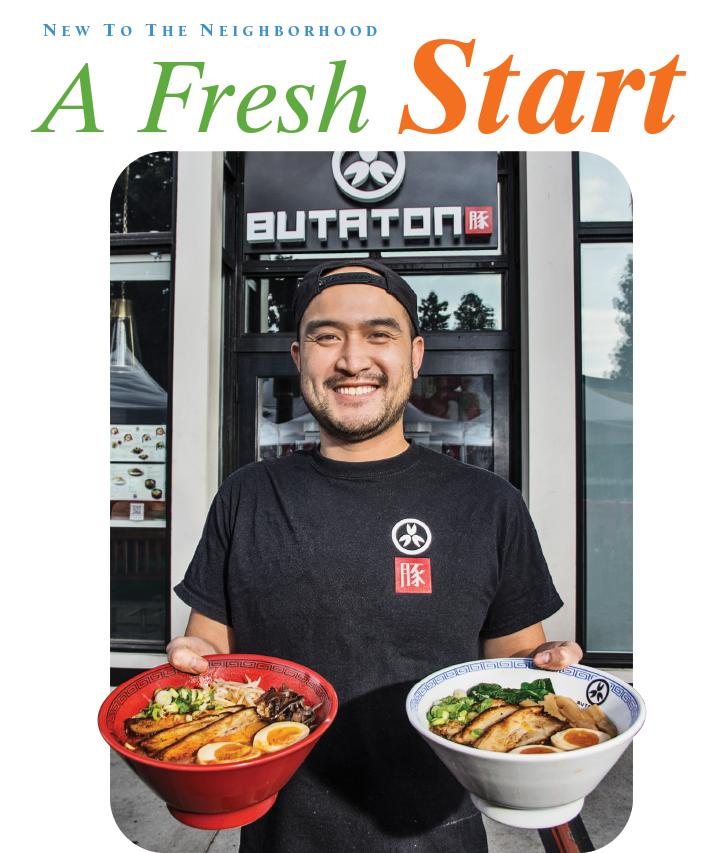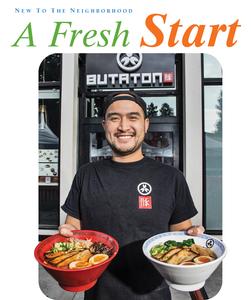 Butaton Ramen Chef and Owner James Nguyen is proud to present his rich ramen, which was created based on his mother's original recipes. "This is the best ramen I've ever made," he says. "When I tasted it, I was so happy I started dancing around the kitchen."
Butaton Ramen
As Old Towne heads into winter, it might be the perfect time to bring some warmth into your diet. Butaton Ramen opened in September, and is known for its rich broth and generous portions of chashu pork belly.
This is the second location for Butaton, which originally debuted in Garden Grove in 2016. After the restaurant's success, Chef and Owner James Nguyen says that his family wanted to expand the business and introduce more people to ramen.
"Although we opened the location in a pandemic, it's still been going pretty well," says Nguyen. "We've been getting an overwhelmingly positive response from people, and I think that's what keeps us going."
Nguyen was born and raised in North Tustin and became more familiar with the Plaza after attending Chapman University. He says he recognized a need for ethnic cuisines in the area and jumped on the opportunity when a building became available.
"We feel incredibly fortunate and very lucky to get the opportunity to be in Old Towne," he says. "Our goal is to become part of the community and integrate ourselves, and to be the local ramen shop."
Nguyen now runs Butaton Ramen with his older brother, Andrew, but it was their mother, Tam, who originally created the restaurant. She taught Nguyen how to cook, taking the time to teach him old recipes and encouraging him to experiment with new ones. "My mom is the true mastermind behind all this," says Nguyen. "It was her dream to open up a ramen shop."
Butaton's menu includes six flavors of ramen, which Nguyen is constantly tweaking and improving. Customers can also try appetizers like calamari and takoyaki and choose from a selection of beer and sake. The restaurant's best-selling item, however, is the classic Butaton ramen, a noodle dish with rich, spicy tonkotsu broth.
"I love getting into the ramen and seeing how I can make things better," he says. "I go from one dish to the next. As soon as I'm happy and confident with one, I'll move onto the next. That's my journey."
Nguyen's favorite part is cooking the ramen itself. He says creating ramen is unlike any other food experience. He gets excited when examining the ingredients to see how he can strive for excellence.
"My journey is taking those wonderful recipes created by my mother and pushing the envelope even further," he says. "We're building upon something that is already great to make it even greater."
As the new year rolls in, Butaton aims to become a go-to spot for the Orange community. Nguyen and his family were excited about opening the Old Towne location because of how friendly they felt the residents were. "We're a very personable family, so we love meeting new people," says Nguyen. "That's the best part of owning a restaurant, especially in this location."
Michael Cambra, a longtime family friend and customer, is looking forward to watching Butaton grow in Old Towne.
"To see a mom-and-pop shop get a great location in the Plaza is amazing," says Cambra. "That area needs a great ramen spot, and Butaton ramen is the best comfort food you can imagine."
Whether you've never tried ramen or are on the hunt for the best bowl, the team at Butaton is eager to invite customers to try their aromatic dishes.
"We have a love for ramen, and we want to share that love with the Orange community," says Nguyen.
Butaton Ramen
10 Plaza Square #101, Old Towne Orange CA 92866 / 714-363-3212