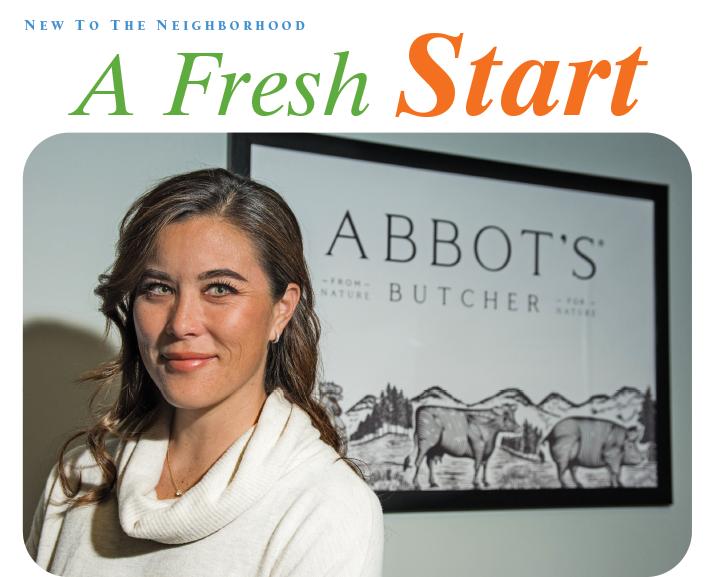 Kerry Song, Founder and CEO of Abbot's Butcher, in her Old Towne Orange office, discovered her passion for healthy meat alternatives after working as an investment banker in New York and San Francisco.
Abbot's Butcher
With food trends like veganism and vegetarianism gaining popularity, companies such as Abbot's Butcher are rising to meet demand by serving customers protein in plant-based forms.
Abbot's Butcher recently located its headquarters to South Glassell in the Plaza, but originally got its name from the street Abbot Kinney in Venice, California, where Founder and CEO Kerry Song used to live.
Song's company creates premium plant-based proteins that you can find at grocery stores like Whole Foods and Mother's Market & Kitchen. Their offerings include alternatives to chicken, ground beef and chorizo, and are developed from a protein harvested from golden peas.
"We're focused on bringing craftsmanship to the category and delivering plant-based meats that have a depth of flavor and a hearty mouth feel," says Song. "You can have something delicious that satisfies all your cravings for protein but is truly nourishing your body."
Song began her entrepreneurship journey after quitting her job in the corporate finance industry and buying a one-way plane ticket to Europe. After traveling for months, she moved into a friend's spare room in Bologna, Italy.
In Italy, Song signed up for classes at a small culinary school. She was a vegetarian at the time, and learned how to create meaty tastes and textures from natural ingredients.
"I fell in love with food and had such an appreciation for the slow food movement," she says. "I learned to take care and pay attention to the ingredients you use and the foods you create."
A few years after coming back to the United States, Song was diagnosed with an autoimmune disorder and put on medication. She learned that it was important to pay attention to her gut health, and made the decision to switch to a plant-based diet. Still, she felt dissatisfied with the vegan protein options in the market.
"I thought there needed to be plant-based meats made with ingredients I could actually feel good about eating," Song says. "That's where the idea for Abbot's Butcher came from. I started making them for myself, and the more feedback I got, I realized I could sell it."
Now, Song sells the products in grocery stores across California, Arizona, Nevada and Hawaii. Before the pandemic hit, she was also working with restaurants and corporate cafeterias to incorporate Abbot's Butcher proteins into recipes.
For the new year, Song hopes to reach more customers who are considering adopting a plant-based diet.
"With our customers, I don't care if they're diehard vegans or if they're meat eaters who want to have one meatless Monday," she says. "Our products are tools for our customers. This is their story, and we're just part of it."
The commitment to authenticity is what drives Abbot's Butcher as a company, says Director of Operations Nick Bilotti.
"It's such a breath of fresh air to work for someone who refuses to compromise on integrity and remains steadfast in her mission to change the world," says Bilotti. "I look forward to continuing on our path of getting more and more consumers to switch to plant-based alternatives to their favorite foods."
When creating the Abbot's Butcher proteins, Song was careful to include a balance of quality and taste. Customers can choose from a slow roast chopped "chicken" with onion, sage and white pepper, a ground "beef sausage" made from mushrooms and a Spanish smoked "chorizo," all without feeling like they're sacrificing natural ingredients for taste.
"We want to make clean eating simple and delicious, and not feel like you're giving up anything," says Song.
Abbot's Butcher
134 South Glassell St., Suite B, Old Towne Orange CA 92866 / 949-726-2156