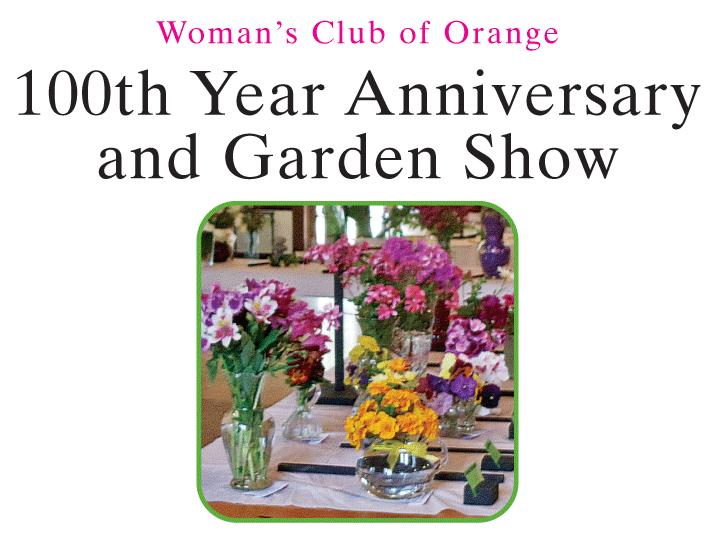 The next time you drive into the Plaza, consider this. Nearly one hundred years ago, the City of Orange paved the road—not with money from city forefathers, but with funding from the Woman's Club of Orange. The same group rallied their resources in 1924 and raised a whopping $30,000 to fund the building of the group's chapterhouse, which still stands on South Center St. in Old Towne.
"Back then the ladies didn't work outside of the home, so this was a phenomenal undertaking," says the club's current president Suzanne Vaugine. "They also furnished the house with the money raised and a few years later bought the property next door, which is now the garden area."
Celebrating 100 Years
The powerhouse club founded in 1915 just celebrated its 100th birthday on February 16th and is still thriving, says the group's publicity chair, Mary-Ellen Manning. "We have 200 members and are proud to be a member of the General Federation of Women's Clubs International and the affiliated California Federation of Women's Clubs, which is one of the largest woman's organizations in the world. The Woman's Club of Orange is the second largest club in California."
Today, a century after founding, the Woman's Club of Orange sticks to its mission to promote friendship and service in the community and the world.
"We are a philanthropic, friendly organization that raises funds to help people in need, as well as provides scholarships to local students. Along the way, we have a lot of fun," says Manning, who became a member in 1998 when she retired from a 23-year career as a school secretary. "I've lived in Orange 47 years, and I love this city, so it feels good to do something worthwhile. Many club members have become dear friends."
Vaugine, who joined nine years ago after a 34-year career as an elementary teacher, echoes Manning's sentiments. "I'm proud to be a member of a civic-minded group that is making a difference in the lives of the less fortunate, and it's wonderful to make new friends and have a fun and meaningful life after retirement."
During each two-year presidential term, the president chooses one or two charities for the club to focus on helping. Vaugine selected for her 2013-2015 term Project Hope Alliance, which assists Orange County's 30,000 homeless, including those children living in hotels, with education, community services and housing.
78th Annual Flower Show
For 78 years, the Woman's Club has held their Annual Flower Show at the chapterhouse. The show actually started in 1916, but was suspended during wartime years. This year's event, "Strolling Through the Garden," will be held on Thursday, April 16th from 12-5. Luncheon will be served and a variety of vendors' booths, including the club's Sweet Shop, will be open in the courtyard. Admission is free and flower entries, which are professionally judged and awarded ribbons, are open to all amateur gardeners. There will also be opportunity drawings.
"The Flower Show is an enjoyable community event," says the club's corresponding secretary, Nancy Hedrick, a member since 1997. The longtime Orange resident has deep ties within the community. "My father, Jerry Shryock, was a member of the Orange Police Department from 1941-1961. I also took tap dancing lessons at the chapterhouse as a little girl and attended Orange High School dances there in the late 1940s."
It wasn't until Hedrick was a member of the Woman's Club for a couple of years that she discovered an incredible connection. "A member who served as the club's historian at the time told me that a woman named Daisy Showalter was a member in the 1920s. She was my grandmother! It was wonderful to find that I'd essentially come full circle."
For more information, visit www.orangewc.com/index.html. Get Flower Show entry forms at the chapterhouse, 121 S. Center St., or call 714-538-2226. For membership information, call 714-750-1300. General meeting luncheons that include entertainment are held on the third Monday of each month from September-June.