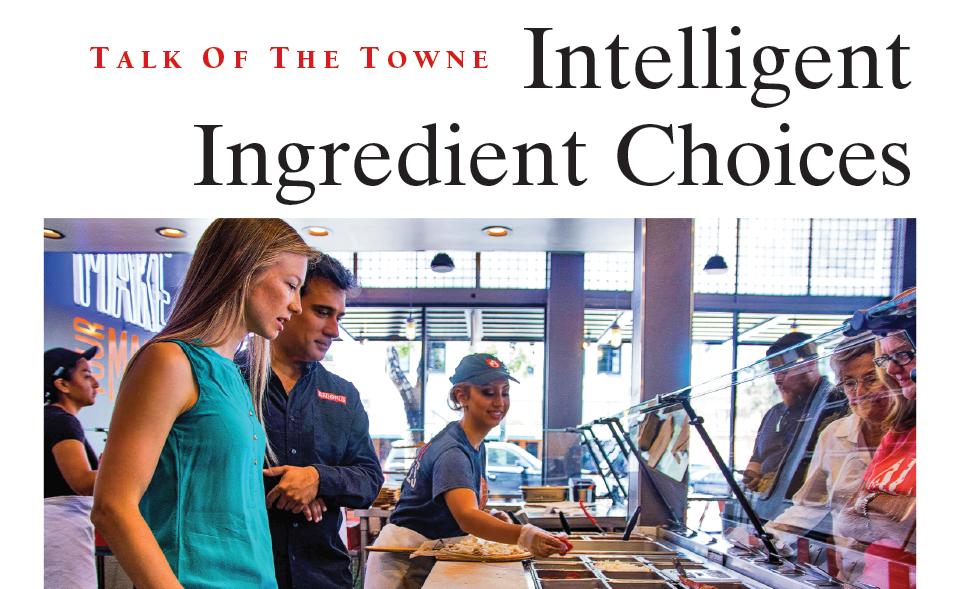 When I visited Blaze Pizza for the first time a few months ago, I tried the restaurant with some trepidation. My reluctance came not from the fact that I don't like pizza (I love it), but when I eat pizza other than homemade I don't feel well afterwards, because I'm sensitive to additives like nitrates.
So imagine my surprise when after eating my first Blaze pizza, I felt great. Come to find out that at Blaze they serve only all natural, preservative-free ingredients–right down to the flour.
Reza Medali, an Orange resident and owner of four Blaze Pizza locations, including the one in the Plaza, is proud of the fact that all of their ingredients are natural. "Many people–myself included–are looking for all natural ingredients. I eat at Blaze just about every day, so I want to make sure that the food is healthy and makes me feel good."
The fact that the food at Blaze is all natural is thanks to the company's Executive Chef Brad Kent. "Our mission is to be proud of what we serve, with no apologies," says Kent, who has a background in food science and food chemistry, as well as experience working as a chef. "I have young children, and like many parents I want them to be able to eat everything at the restaurant. We serve nothing artificial, preserved, synthetic or pre-carcinogenic, as they've found nitrates and nitrites to be."
If Kent can't find an alternative for something that is processed, then Blaze avoids serving the item. "All of our meats, including the ham, sausage, salami and pepperoni, don't contain sodium nitrate, but are instead cured with celery juice," he says. "The taste and quality of the meat is also superior."
Black olives are another ingredient that Kent has ensured is all natural at Blaze. "For visual appeal, olives are generally made black by putting them in brine containing a form of iron known as ferrous gluconate," he says. "I talked to the olive producer and asked them not to add that, and they happily complied."
The flour used in Blaze pizzas is also never bleached, and they serve only cold-pressed, extra-virgin olive oil. "Cold-pressed olive oil is made without heating, so it still contains antioxidants," says Kent. "Other restaurants use cheaper oils for economic reasons. It's an expensive ingredient, but more flavorful and healthier, so we decided that it's valuable for us to add." Their salad dressings, specially made for Blaze, also contain cold-pressed, extra-virgin olive oil.
In addition to overseeing the production of healthful foods for Blaze, Kent feels a larger responsibility to the restaurant industry. "I believe I'm playing a role in not only changing our menu at Blaze, but as a food scientist and chef, I'm making it possible for other restaurants to follow suit by creating scale for these ingredients so that manufacturers can make similar products for our competitors, and diners can enjoy healthier foods."
Katy Dyer, RDN has a private practice in Old Towne known as the Orange Dietitian. "I'm happy that a growing restaurant chain is using minimally processed, high quality ingredients," she says. "Consuming food as close to its original form as possible is a good thing. Processing typically means adding sodium and other chemicals or additives. Americans chronically over consume sodium, leading to a host of problems, and the American Institute of Cancer Research reports that nitrites and nitrates form carcinogens in lab studies."
Dyer also likes the build-your-own concept at Blaze that allows for piling on the vegetables and consuming red meat in small portions as a flavor enhancer, which she notes is the healthiest way to include red meats in the diet.
"I'm confident recommending Blaze to clients, because they have control over what goes on their pizza. The wide variety of toppings is my favorite aspect. Their list of veggies is longer than the three other types of toppings. Blaze pizzas are delicious and always enough for two meals. They even have a take home box the perfect size for a half or quarter pizza. That's a detail that makes managing your calories while dining at Blaze more doable."
Blaze Pizza
101 South Glassell St., Old Towne Orange CA 92866 / 714-783-9845
2139 North Tustin St., Orange CA 92865 / 714-408-7361