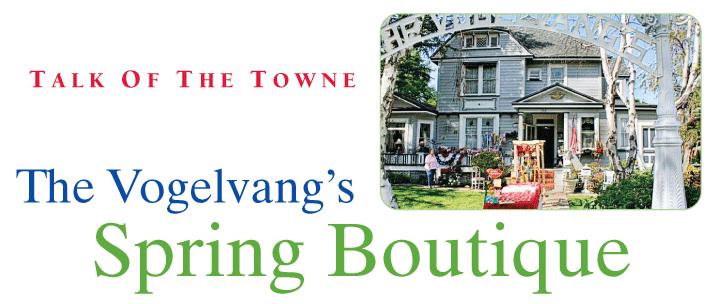 Visit the Vogelvang Annual Spring Boutique and Charity Fundraiser in Old Towne March 20-22nd, and you're likely to walk away with much more than unique gift items. In the sprawling 5,500-square-foot 1895 Victorian mansion on North Olive St., lives Anke Vogelvang, whose huge heart embraces all who enter.
The Dutch transplant, who immigrated to the U.S. in 1963, has made it her lifelong mission to give back to the community. One of her many philanthropic endeavors includes opening her home every spring to sell unique handcrafted gift items with proceeds going to local families and causes in need.
"There is so much pain and suffering in the world, that I like to do whatever I can to help," says Vogelvang, who has lived in Orange for 38 years. "This year the money brought in will go to Choc Children's Hospital for diabetes treatment and research and to help Dani Mendenhall of the Dragonfly Shops and Gardens, who is suffering with ALS," she says.
For the show, Vogelvang's house and yard will be decked out with vendors carrying unique, handcrafted items, such as doilies, tea cosies and other tea items, aprons, jewelry, baked goods, candy and clothing, including vests, scarves and children's sweaters from Holland. Vogelvang will also have on hand her Snowflake Princess handmade dress-up kits for little girls that include butterfly wings, halo, skirt, wand and miniature boa. There will also be opportunity drawings.
Guests are treated to Vogel-vang's Dutch hospitality with a chance to eat sandwiches, sip tea and sample Vogelvang's famous Dutch chicken soup and Dutch apple cakes. "We have some faithful people who always come to support the current causes, as well as new visitors," she says. "I like to spoil everyone with tasty food, which they can enjoy sitting out in the garden." She even arranges with the city to get temporary parking passes that she hands out to boutique visitors.
Though the merchandise is lovely at the boutique, it's the atmosphere at the Vogelvang house that makes the event so successful, says Vogelvang's friend Ans Varenhorst, who is also from Holland. She helps with the boutique, including selling her tea merchandise and making the sandwiches.
"There is a Dutch word, gezelligheid, that sums up the warm, welcoming atmosphere at Anka's home that makes it the perfect setting for the boutique," says Varenhorst, who immigrated from Holland to the U.S. in 1958. (Though there isn't a comparable word in the English language, gezelligheid is described as a cozy, quaint atmosphere and a togetherness that leads to warm feelings.)
"Another special treat about going to the boutique is the chance to see the Vogelvang house," says Varenhorst, "It's remarkable and gives you a wonderful glimpse of the true spirit of Orange."
The Vogelvang Spring Boutique will be held at the Vogelvang's Victorian Mansion, 288 North Olive St. in Old Towne, Friday-Sunday, March 20-22nd. Hours are 10 am-5 pm Friday and Saturday and 11 am-4 pm Sunday.