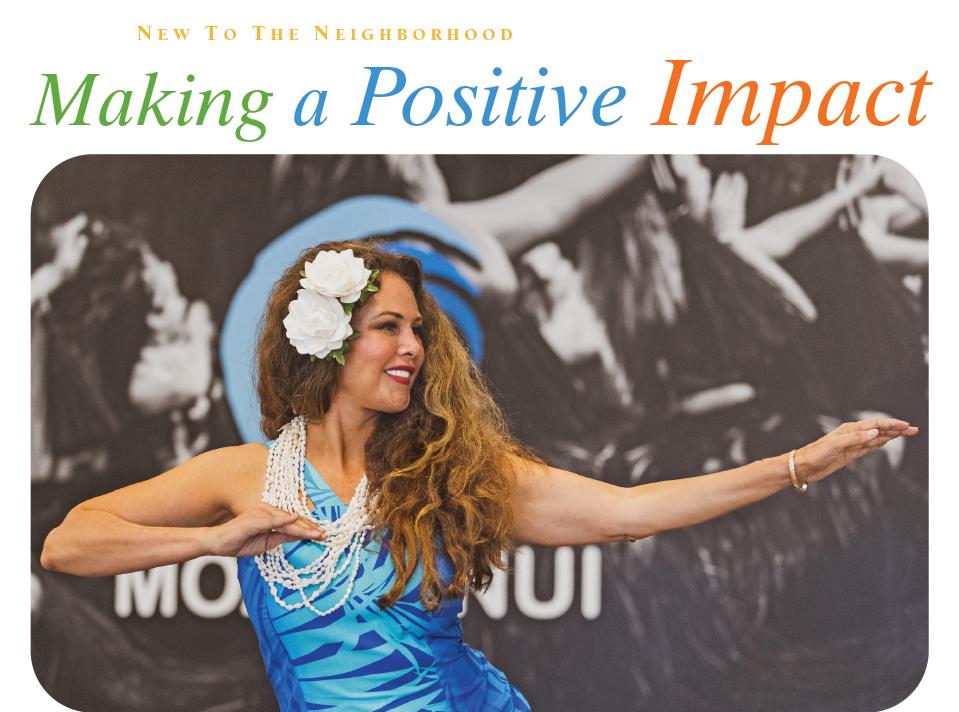 Sheila Vaiura Walstead dances at a Moana Nui event. Walstead's Tahitian name, Vaiura, means "sacred water," so when she developed her own studio, she took the water inspiration to create the name Moana Nui, which translates to "vast ocean."
Moana Nui School of Polynesian Dance & Entertainment
While a tropical vacation may not be in the cards anytime soon, Moana Nui School of Polynesian Dance & Entertainment brings the island spirit to Orange. Located off Katella Ave. and Glassell St., Moana Nui offers Polynesian arts and dance classes for all ages.
"Polynesian dancing is for everyone," says Sheila Vaiura Walstead, Director and Head Instructor of Moana Nui. "There is a lot of joy coming into the studio and everyone is welcome."
Sheila was born and raised in Orange but began Polynesian dancing when she was 6 years old. From teaching hula to traveling to Tahiti for competitions, Sheila is committed to the art. Before opening Moana Nui, she taught out of a Lake Forest garage, in her Orange home, and eventually in a subleased studio in Tustin. After three years in Tustin, she decided to create her own space.
Moana Nui hosts classes for students aged 3 and up, and includes courses such as hula, fire knife dancing, ukulele and the trademarked Tahitian dancing class, Aloha Fitness.
"With Aloha Fitness, people get a taste of real Tahitian dancing and an unbelievable workout," says Sheila. "They dance to live Tahitian drumming; the energy in the room is intense."
Moana Nui also partners with the Down Syndrome Association of Orange County to offer classes for children with special needs. They recently hosted a Zoom dance party with basic hula instruction.
Sheila's ability to teach any student regardless of ability is the reason hula instructor Wailana Rhonda Stutz chose to dance for Moana Nui.
"I love dancing and working with Sheila and her students," says Stutz. "They are my support, fellowship and therapy. We are all always there for each other."
Sheila also works with her daughter, Soleil Walstead, who manages the administrative and marketing aspects of the studio. "Our instructors are all extremely knowledgeable, talented and passionate," says Soleil. "I love that I'm able to soak up their knowledge to make me a better student, dancer and hula person."
Both Sheila and her husband, Chuck, grew up in Orange. After raising her two children here, she's excited to continue expanding her passion in her hometown.
Although Moana Nui's grand opening was postponed due to COVID-19, students can sign up for classes online. All first classes are free.
"My goal is to bring knowledge to the community about what Polynesian dancing is about," says Sheila. "Hula is so beautiful, and there's so much to learn from the culture."
Whether you've had years of experience or never danced before, Moana Nui has a class for every level. "If you have a heart that wants to dance, I'm here to teach you," says Sheila.
Moana Nui School of Polynesian Dance & Entertainment
211 West Katella Ave., Suite K, Orange CA 92867 / 949-541-3515