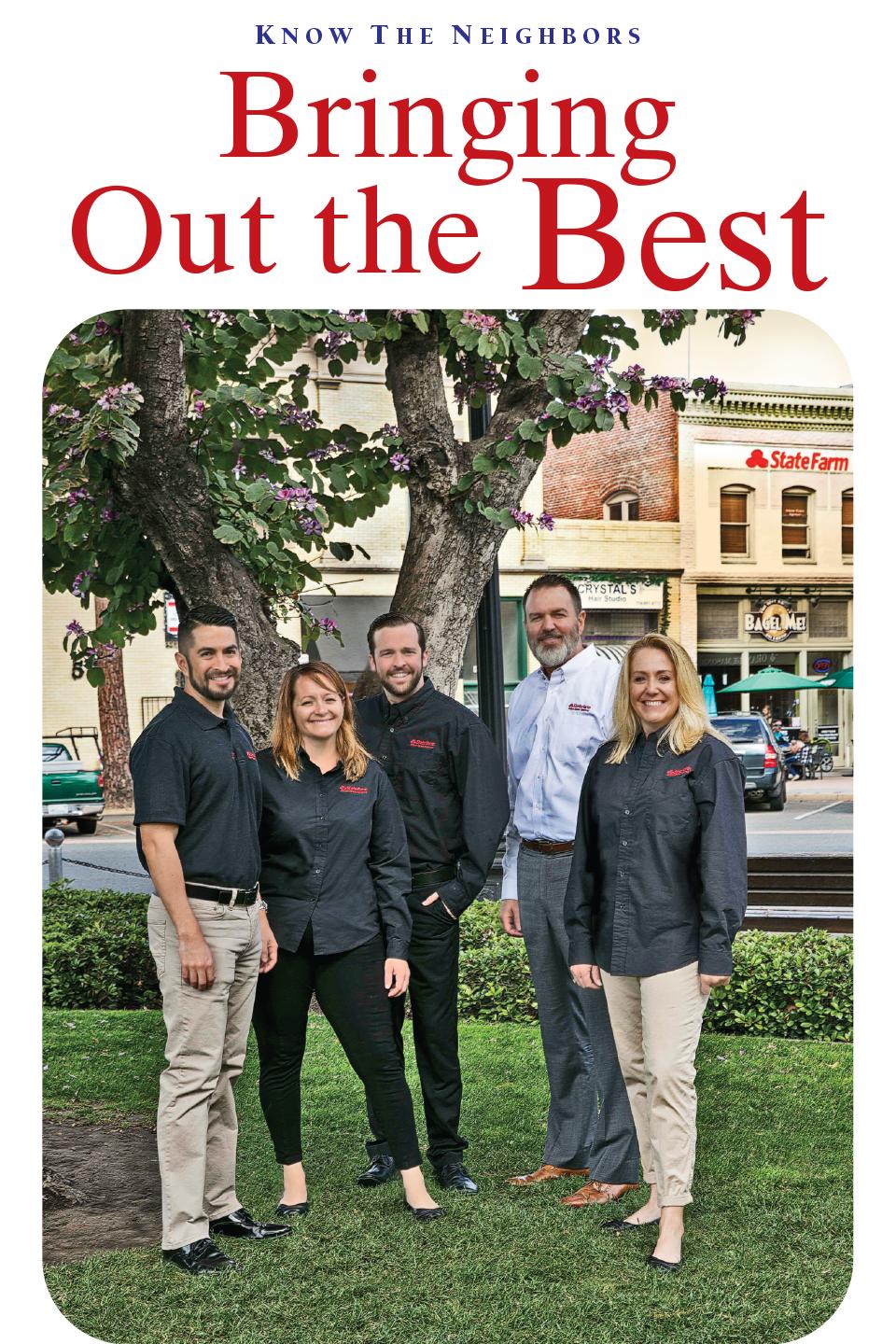 Adam Guss (second from the right) is pictured with his State Farm team (from left): Angel Cardenas, Brandie Nava, Taylor Alston and Wendy Wilson. The agency is located in the heart of the Plaza above Bagel Me!
- - - -
Like a good neighbor, Adam Guss and his team at State Farm Insurance have served local residents and businesses in the Orange area for eight years and counting.
A father, husband and family man, Adam knows the importance of having the most effective coverage for home, life and auto. These three core products—along with commercial, business and general liability policies—are offered via his State Farm agency in Old Towne, located at 60 Plaza Square #200 above Bagel Me.
"This is not just a job, it's a life-changing career that is completely gratifying," says Adam. "I currently have five people working here with me, and our team has a ton of combined experience. We make a significant impact on the lives of the families with whom we work. I take a lot of pride in the amount of knowledge and expertise this team imparts to our clients. It's what separates us from other agencies in Orange County."
Adam says State Farm has a longstanding reputation for taking care of its customers in situations where other insurance companies might try to deny a claim. For example, State Farm offers one of the most comprehensive homeowner's insurance policies in California. This is especially true for historic homes, something that can benefit homeowners in Old Towne's Historic District.
"Many insurance policies only allow for common construction materials when repairing a home after a loss, making you pay for the difference," says Adam. "State Farm goes above and beyond to repair a home back to what it was prior to the loss, including decorative historic accents."
On the life insurance side, State Farm insures more lives than any other company in the nation. One of the biggest concerns today is the epidemic of distracted driving because of texting, says Adam.
"Accidents don't discriminate based on age, sex, height or weight. Too many people underestimate the need for life insurance."
Adam also says there is a negative trend in the insurance industry in recent years, that of underinsuring the client.
"Some companies are allowing people to choose their own mistakes in coverage to save a few bucks. When someone looks to insure his or her property and liability, the goal should be to make sure the family is never financially devastated in the case of an unexpected loss."
Having an office in Old Towne reminds Adam of the old-fashioned values prevalent in the early days of the insurance industry.
"This building we are in is almost 100 years old," says Adam. "It's incredible to realize that State Farm has also been in business for almost 100 years."
Adam Guss Agency, State Farm Insurance
60 Plaza Square, Orange CA 92866
relocated to 12711 Newport Ave #C, Tustin CA 92780 / 714-978-4200