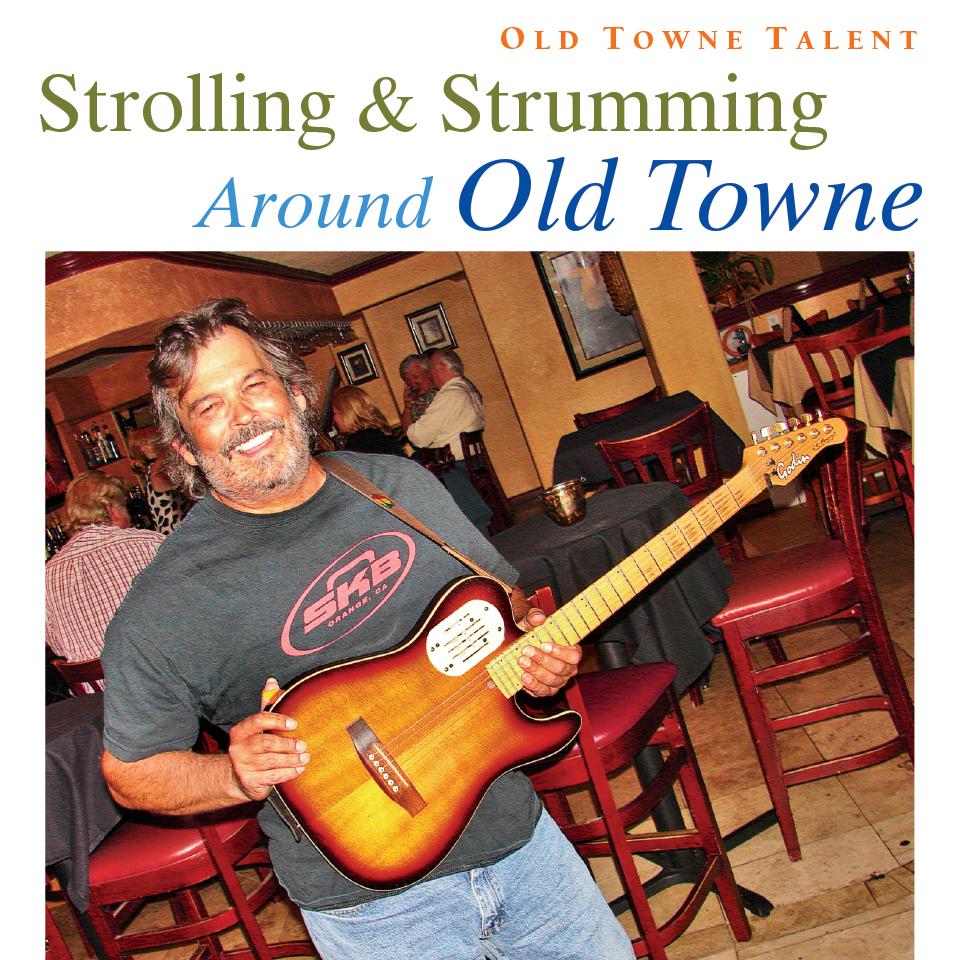 Popular guitarist Bryan Leicher draws crowds throughout Orange County with his music. He is pictured here at Opus Italian Restaurant in Orange, where you can see him perform every first Saturday of the month. Leicher is also wearing a t-shirt from Orange musical instrument transport case maker SKB.
Bryan Leicher, a guitarist who regularly plays at the Old Towne Orange Farmers and Artisans Market, is a long way from where he grew up. By playing music in Old Towne, though, he found a second home.
Born in New Orleans and raised in Dulac, Louisiana, Leicher has spent his life surrounded by music. One of his earliest memories occurred at the age of five when he saw his uncle play guitar.
"I remember thinking, man, that's cool," says Leicher. "From then on, playing music was all I ever wanted to do."
In his early days studying music, Leicher learned the drums first at age 11 and played in bands throughout junior high and high school. His biggest love, however, proved the guitar, which he started playing after his brother brought one home from a pawn shop after coming back from serving in the Vietnam War.
Rather than gaining inspiration from famous musicians as a teen, Leicher grew his passion thanks to local artists in Louisiana, like Jerry Brunet.
"I went into a bar when I was 16 and saw the bartender give Jerry a guitar. He took it and started playing right then and there," recalls Leicher. "I wanted to be the kind of musician who could perform at any given time."
After playing music in Louisiana for years, where Leicher says the main goal was "to get people to dance," in 1981 he began traveling to California to experience playing music here. He experimented with all styles—from rock n' roll, to country, to folk. Eventually he moved to Old Towne, where he married and had four children. Despite the culture change from Louisiana, the move was an easy one for Leicher, who has great admiration for local musicians.
"Many musicians in Orange County are way better than most famous people," he says. "The caliber is some of the best I've ever seen. Every musician playing in a club is good."
Once he started performing in Orange, Leicher's talent and energy caught the attention of many respected local musicians, including Barry Rillera, who previously toured with The Righteous Brothers and Ray Charles. The two met through a mutual friend, and Rillera says that Leicher's musical heritage and talent made him a natural hire.
"I've always loved New Orleans style of rock, and when I heard Bryan sing, I knew he had the intensity and energy of the music we play," says Rillera.
In addition to regularly playing guitar for Rillera, Leicher can be found playing at a number of venues throughout Old Towne and Orange County, such as restaurants like Opus and Ruby's in Orange, Bistango's in Irvine and The Sandpiper in Laguna Beach. One of his favorite places to play is the farmers market, where he loves watching his audience almost as much as they love watching him.
"It's fun to sing, but it's more fun seeing people happy and watching kids dance," he says. "It reminds me that I can affect people with music."
Steve Soest, owner of Soest Guitar and Leicher's longtime friend, says that his friend's joy for what he does makes him so successful.
"He's a great musician and a great all around guy who is always laughing and smiling," says Soest. "He's fun. I had him come out to play at my wedding when he was living in Louisiana, but he missed his first flight, because he stopped to get fried chicken from Popeye's on the way to the airport. He said, 'Man, I gotta go to Popeye's.' He ended up making it to the wedding in the nick of time."
While Louisiana music still runs through Leicher's veins, he's made a home for himself in Old Towne and has passed his love of music on to his kids. One of his daughters even pointed out that their last name derives from the German word for "dance" and "melody" and means "fairground entertainer."
"Orange is my favorite town," says Leicher. "This place reminds me of where I'm from. I think Old Towne does that for a lot of people."
Judging by the many people and venues hiring Leicher to play, it's obvious that Old Towne has welcomed him with open arms.