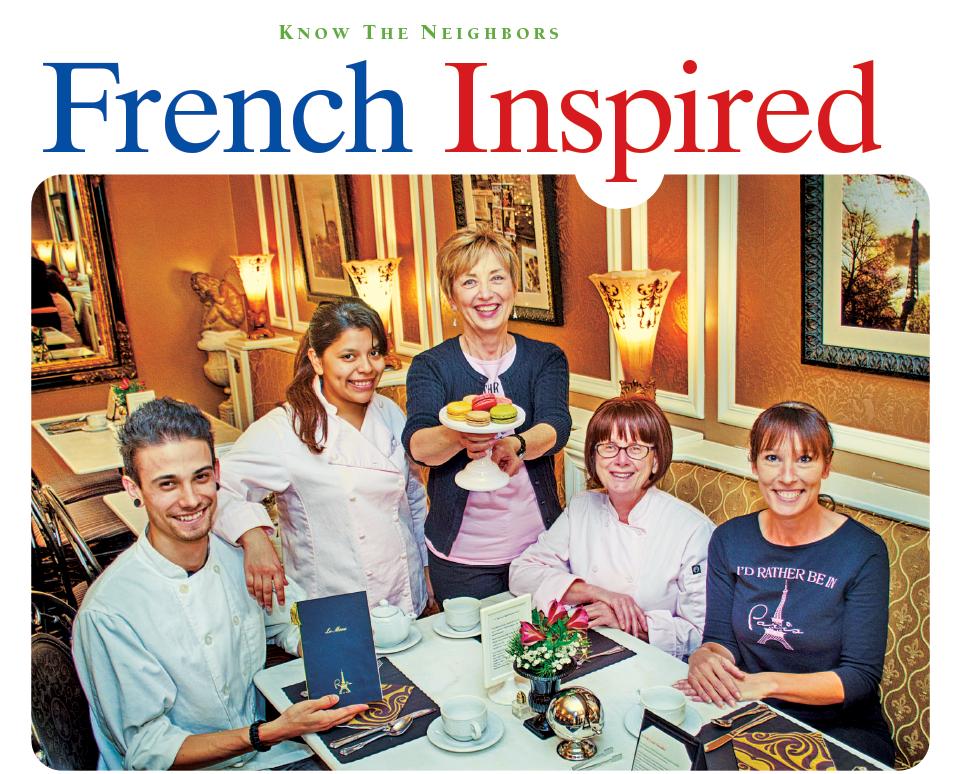 It's teatime at Paris In A Cup with store owner Cheryl Turner (center) and her team of associates. From left to right: Chef Joshua Backstrom; Venis Iberra, prep cook; Valerie Berry, food service manager and Brandee Youngdale, retail sales manager.
- - - -
Paris in a Cup
When Cheryl Turner opened Paris In A Cup in 2007, little did she know that her French-themed tea salon and café would quickly become an iconic destination in Old Towne.
Located at 119 South Glassell, the charming venue offers a truly magical escape for Francophiles and lovers of fine teas, patisseries and gourmet lunch items and desserts, not to mention the vast array of collectibles, Paris souvenirs, apparel, jewelry, gifts and goodies from France.
Fronted by a retail boutique, the Grand Salon at Paris In A Cup takes its inspiration from classic old films like "Weekend at the Waldorf," "American in Paris" and "Gigi." Beautiful, black-and-white Parisian photographs grace the walls, while interior accents include crown molding, upholstered booths, chandeliers and ornate woodworking.
"People who walk through the store and into the salon feel like they have been transported into a mini vacation," says Cheryl, who along with her husband Gary, owns the building.
"Our French customers are very complimentary, and we attract many folks who celebrate special occasions here," she adds. "On the weekends, our guests come for a leisurely tea for two. During the week, lunch is very popular. We serve quiche, four different sandwiches, soups and salads."
Working with three French importers, Cheryl offers everything from honeys, jams and cornichon to curds, mustards, tea strainers, infusers, tea towels and more. Many of her tea vendors are from France, such as Nina's Paris Tea — a centuries-old teahouse that works with the Palace of Versailles.
"We offer their famous original Marie Antoinette black tea made with apples and pink rose petals from the King's garden, plus seven other of their teas," Cheryl says. "They're also available for purchase in the store."
According to Cheryl, the concept of her tea salon dates back to 1994 when she opened the former Someplace In Time's tearoom at another Old Towne location. After a hiatus from the business, she received lots of requests from customers for another tea salon, and so the idea for Paris In A Cup was born.
"We are truly blessed to have had all this fall into place so well," she says. "It's been really important to me to make sure this has become the special place I always wanted it to be."
Paris in a Cup
119 South Glassell St, Orange CA 92866 / 714-538-9411