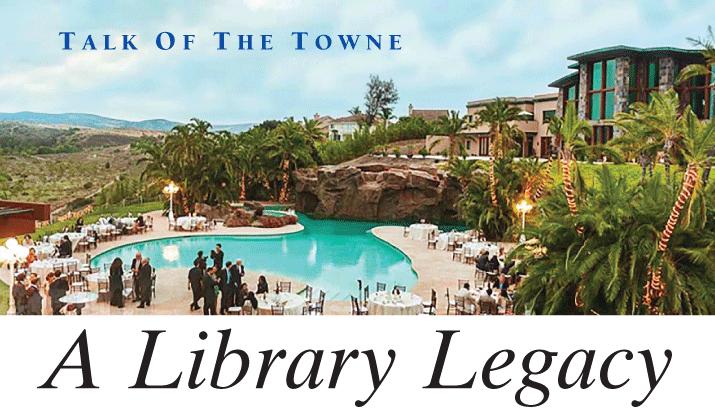 A decade ago, on April 21, 2007, the Orange Public Library & History Center re-opened in Old Towne after two years of construction. The 45,000-square-foot space featured a variety of long-awaited additions, including the Joanne Coontz History Center, the RJ Noble Teen Zone and the Klein Family Foundation Older Children's library. Today the bustling facility serves 1,000 patrons a day and signs up approximately 10,000 people for library cards every year.
"The Orange Public Library is not your grandmother's library," says City of Orange Public Library Foundation (OPLF) Executive Director Linda Cundiff. "In addition to featuring a state-of-the-art library with a large physical collection, self-checkout and more than 100 computers, we also have an e-library available 24/7. You can log in and download magazines and music and do research. Our local history librarian, Lizeth Ramirez, is also available to answer questions about local history.
The building of the library and the many services it offers to the Orange community would not be possible if not for the dedicated assistance of the Foundation. Established in 1998, OPLF is a tax-exempt, non-profit 501c(3) corporation focused on developing an outstanding library system through fundraising efforts. The Foundation raised nearly $2 million during its capital campaign to support the library's construction. (OPLF is meant to complement, but not replace tax-based funding.)
10th Annual OPLF Legacy Awards & Celebration
Taking place on April 23 this year, the OPLF gala will raise funds for the many library services enjoyed by the Orange community.
"The gala takes place at a different location in Orange each year and approximately 150 people attend," says Cundiff. "This year's gala is at the beautiful Santiago Vineyard Estate, celebrating tradition and innovation. We have a traditional brick and mortar facility, and we offer the community a wide variety of innovative programs, including a seed lending library in partnership with Orange Home Grown, four freestanding free little libraries in city parks and Steam for Teens, which teaches students about jobs in the fields of science, technology, engineering, art and mathematics.
Each year at the gala, the Foundation honors citizens who have contributed to the Orange community. "This year we'll celebrate people who were integral participants in the development of the library expansion" says Cundiff. "Honorees are former Orange Public Library Director, Nora Jacob, who wrote the $9.13 million Library Bond Grant; Mike and Brenda Carter, who with personal and in-kind donations through their business, R.J. Noble Company, were the first and remain the largest donors to the capital campaign, and Judy and Jack Schroeder. Judy painted the watercolors that illustrate the history walk outside of the library, and Jack owns an accounting firm that handled the Maxine Hubert estate. Maxine, a longtime Orange resident, left approximately 6 million to nonprofits throughout the community.
The 2017 Library Legacy Awards & Celebration will feature tasty food and drinks, live music and live and silent auctions. The event takes place on April 23 from 3-7 pm at the Santiago Vineyard Estate, 8011 East Santiago Canyon Rd., Orange. For tickets or more information, go to www.oplfoundation.org, or call 714-288-2470.
Select to view 2012 OPLF Legacy Gala article