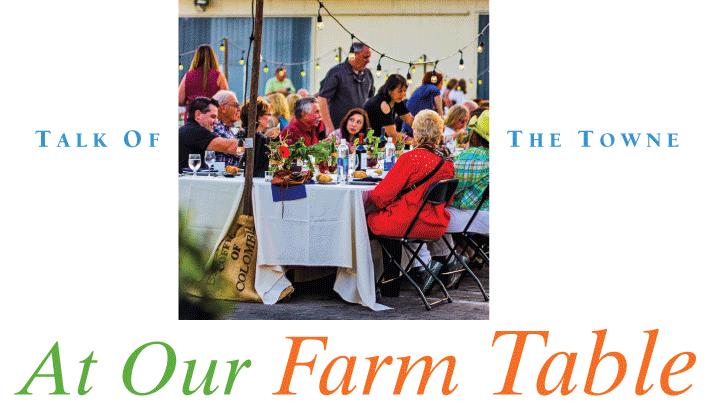 If you've dined alfresco under the stars on a balmy Southern California summer night, you know the experience reaches new heights in the company of good food and good friends. Such is the lure of the 2nd Annual Farmer's Market to Table Dinner to be held on August 26.
Hosted by nonprofit Orange Home Grown (OHG), the event features locally sourced, sustainably grown, seasonal foods from the Saturday Farmers & Artisans Market, prepared by some of Orange County's most talented chefs. The dinner is held at one of Old Towne's significant historic settings—the Villa Park Orchards Packinghouse. Guests enjoy a cocktail hour, tasty, multiple-course meal and live music.
"To my knowledge, this type of dinner is the first of its kind," says Greg Daniels, Executive Chef/Partner at Haven Collective. "We aren't a 'farm to table' dinner, but instead a farmers market to table dinner. Our produce comes from the farmers market, and this event gives us a chance to showcase these great farmers. The dinner offers a chance to eat an incredible meal together under the stars, with music playing, the sound of friends' laughter and glasses clinking."
OHG is glad to have this chance to support and thank the many excellent vendors that show up every Saturday morning at the farmers market, says Paula Soest, the event's coordinator and an OHG board member. "After a cocktail hour featuring a signature drink and appetizers, everyone sits down at long, beautifully decorated tables and eats dinner family-style with several courses."
With each course, the chefs come to discuss what's being served, notes Daniels. "Chefs are a funny bunch of characters, and we try to be as interactive as we can, while still getting the job done. Guests seem to love hearing where the food came from, where our ideas come from, and how we bring it all together for such a big group. We put a lot of thought into each course and work hard to make everyone's experience unique."
Old Towne resident Lori Olsen and her husband, Kris, enjoyed last year's dinner and plan to attend again. "The moment I arrived last year, I knew by the great ambiance that it was going to be a really fun event," says Lori. "The setting was gorgeous, and it was great to socialize with friends and meet new people. I liked it when the chefs came out to discuss the delicious food. The dinner is a brilliant extension of what OHG is all about—eating healthy, homegrown food among friends."
Attend the dinner and you'll support OHG's various community service causes, such as scholarships, says Soest. "There's nothing like dining under the stars with friends. The magical evening is a feast for your stomach, as well as your soul."
Select for more information, including obtaining tickets to the 2nd Annual Farmer's Market to Table Dinner to be held Saturday, August 26, 2017 from 6-9 pm.