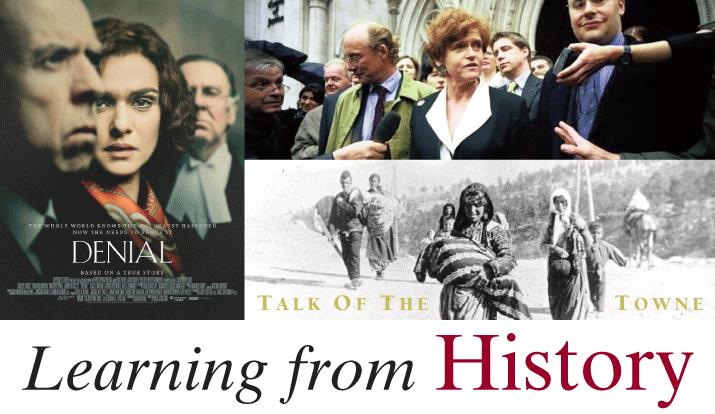 While many people are aware of the Holocaust and other acts of genocide throughout history, it's not often that you have the chance to hear from individuals who experienced these events or who have spent their lives studying these acts and their causes.
This fall at Chapman University, students and the public have a chance to learn about such pivotal events in history. The Rodgers Center for Holocaust Education is presenting the free film and lecture series, "History, Memory, Justice."
The schedule of events includes screening of the film, "Denial," on September 11. The film is adapted from historian Deborah Lipstadt's book, History on Trial: My Day in Court with a Holocaust Denier. The book chronicles Lipstadt's 10-week experience in a London Courtroom in 2000 facing off against plaintiff David Irving, who alleged Lipstadt had libeled him in her 1993 book, Denying the Holocaust, by calling him a Holocaust denier.
"British law places the burden of proof on the defendant, so Dr. Lipstadt and her team of lawyers and scholars had to prove in the courtroom that Irving had in fact deliberately distorted the evidence of the Holocaust and therefore the term 'denier' was fact, not libel," says Marilyn Harran, PhD, Chapman's Stern Chair in Holocaust Education and Director of the Rodgers Center for Holocaust Education. "Dr. Lipstadt defended historical fact and was victorious."
The screening of "Denial" will be followed on September 14 with a lecture and book signing by Lipstadt herself.
Other events include "A Conversation between Professor David Crowe and Professor Richard Hovannisian, Moderated by Professor Jennifer Keene" on September 26. They will discuss the Armenian Genocide that occurred during the Great War (World War I). Eyewitness accounts of genocide reported by the Allies are well known, but this lecture will reveal previously little known reports of German diplomats, missionaries and businessmen that offer a new dimension to our understanding of the Armenian Genocide.
On October 16, retired Canadian Senator and Army Lieutenant-General Roméo Dallaire, will discuss the child soldier phenomenon throughout the world and his efforts to end the practice. A humanitarian and champion of human rights, Dallaire commanded the United Nations peacekeeping mission in Rwanda prior to and during the 1994 genocide.
Dallaire's harrowing experiences in Rwanda are detailed in his bestselling book, Shake Hands with the Devil—the Failure of Humanity in Rwanda. The book inspired an Emmy Award-winning documentary and major motion picture of the same name. He is also author of They Fight Like Soldiers: They Die Like Children—the Global Quest to Eradicate the Use of Child Soldiers. There will be a book signing after his presentation.
On November 9, health permitting, Holocaust survivors Engelina Billauer and Idele Stapholtz will discuss their experiences witnessing Kristallnacht, the "Night of Broken Glass," when on November 9-10, 1938, Nazi- orchestrated violence swept across Germany leading to widespread destruction of Jewish synagogues and property and the arrests of some 30,000 Jewish men.
"This is one of the most amazing lecture series I have seen in any institution," says Stephanie Takaragawa, PhD, Associate Dean, Wilkinson College of Arts, Humanities and Social Sciences at Chapman University. "The series brings phenomenal world-class speakers to Chapman, making for a truly unique and dynamic experience."
A university needs these types of events to illustrate how education can be linked to action, believes Takaragawa. "The ability to see the individual work of people who make cultural change is important," she says. "Oftentimes I hear students say they don't think one person can make a difference, but everyone appearing in the lecture series is an example of how getting involved with humanitarian efforts can make a profound difference. The series also shows that we do learn from history. These speakers are inspiring and empowering for all audiences."
The lecture series is designed to inform and inspire, agrees Harran. "While our explicit focus is on historical events, our lecture series raises enduring questions about how we sustain historical memory, especially in the absence of eyewitnesses, and about what we can learn from history that will help us to understand, make decisions, and act ethically in our world today."
For more information about the lecture series, which is free and open to the public, visit https://events.chapman.edu/?group_id=55.