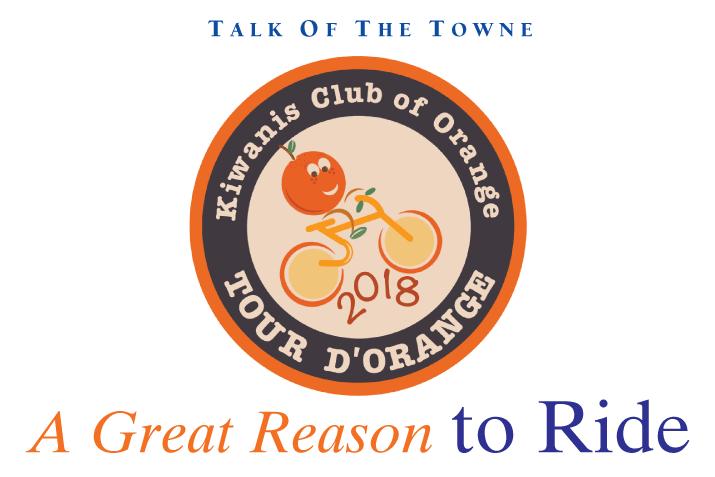 Kiwanis Tour D' Historic Orange Bicycle Event
On the wheels of its success last year, the Kiwanis Club of Orange is hosting its second Tour d' Orange bicycle event on
October 13
.
Renamed "
Tour d' Historic Orange
," the fundraising event has cyclists riding through historic neighborhoods of Old Towne Orange and neighboring cities. Start and finish lines will be at Orange Cycle, itself a historic business that has been "family owned and pedaled" since 1969.
Old Towne Orange will be Tour Central, with secure parking for riders, refreshments before and after the ride and opportunities for cyclists to sample Old Towne restaurants using $10 vouchers included in their goodie bags.
There will be four routes: The Local Express with 14 miles, the Rolling Hills Challenge, 25 miles; the Metric Century, 61 miles and the Historic Century with 100 miles. The Tour is not a race and is open to all ages.
Ride Director for 2017, Robin Naismith, returns this year, building on valuable experience from last year's ride. "That day went off without a hitch," she recalls. "We had beautiful weather, great help from the City of Orange and about 90 riders. Nobody got lost, and everybody had a great time."
Naismith considers Orange her second home, because her children have attended Lycée International de Los Angeles (LILA) School in Orange for the past 10 years. "I love the people, the architecture and history of the town," she says.
An avid cyclist (she rode across the United States last spring), Naismith understood the importance of including the Historic Century Route this year to attract more experienced riders, but also wanted to make sure families join the fun with shorter routes.
"We want to introduce to riders that Old Towne is a great place to visit, have a meal and shop," Naismith says. "A family of four who rides can grab a bite to eat afterward, get $40 off their bill and then walk around to see what Old Towne offers."
Lovingly preserved homes of varied architectural styles are on the routes, and cyclists will ride through an Eichler Neighbor-hood designed by famed architect Joseph Eichler.
If "it takes a village to raise a child," the same could be said about Orange community members coming together to stage this tour.
Intersection control in Old Towne will be provided by members of the Orange Police Department. Volunteers will direct riders at turns and will pass out water, snacks and sandwiches at Stop-and-Go (SAG) stops that have restrooms and mechanics to repair bikes.
Many volunteers are students involved in Kiwanis Key Clubs at Orange High School and the Circle K Club at Chapman University. They will be paired with adults to help with registration, setting up and cleaning up, giving directions, manning SAG stops and cheering on riders.
"They're all hard workers and will do whatever is needed," says Patti Van Voorst, Kiwanis Vice President and Service Leader Program Advisor. "They all have a heart for service."
"The people I talked to who are cyclists were so happy to have something in our community to show off our hometown and its history," says Shannon Tucker, who serves on the Kiwanis Board of Directors. The Tour is a major fundraiser for the Kiwanis Club of Orange's community service projects for local children. Tucker is reaching out to donors and sponsors to support the Foundation's efforts.
Rancho Cucamonga resident Chris Taillon is returning to this year's tour. "For a first-year event, I was very impressed with how well riders were supported," Taillon says. "I really enjoyed that we got to ride past historic sites last year. Sometimes, it's just ride, ride, ride, and it was nice to ride through those neighborhoods—an even greater reason to come back."
Early registration closed on August 31. Entry fees increase $10 from September 1 to October 7. Same-day registration on October 13 is an additional $10. For fee schedules, routes, volunteer and sponsor opportunities and more information, visit
www.kiwanistourdorange.org
.