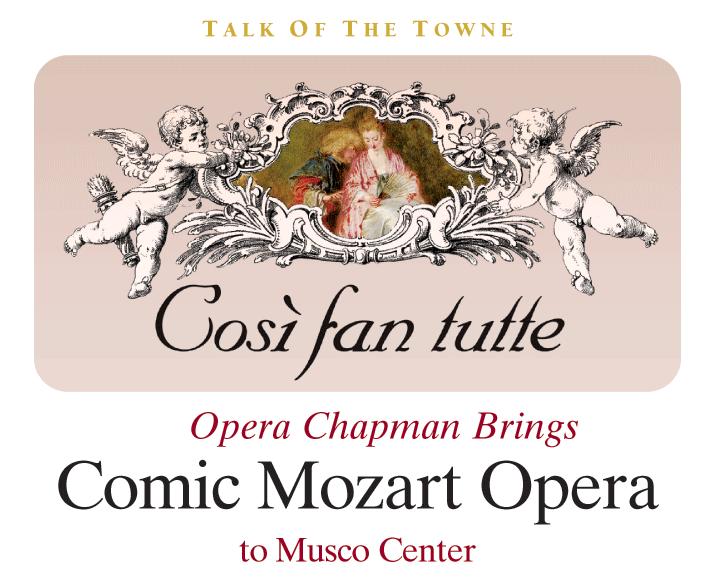 Cosi Fan Tutte
The many operas written by Wolfgang Amadeus Mozart during his short life (1756-1791) are still treasured by audiences today. One of the most madcap and melodic is "Cosi fan tutte." First performed in Vienna in 1790, the opera fell out of style because of its amorous shenanigans during the more prudish 19th century—but was revived with great relish in the 20th.
Now Opera Chapman, the acclaimed student opera program at Chapman University, is bringing "Cosi" to the grand stage of Musco Center for the Arts in a production directed by Peter Atherton, professor of vocal arts and director of Opera Chapman.
"'Cosi fan tutte' is the third great collaboration between Mozart and librettist Lorenzo Da Ponte," says Atherton. "More than a few music historians and opera lovers believe it to be the weakest of the three, as the other two are 'The Marriage of Figaro' and 'Don Giovanni.' But for all-out zany fun, combined with Mozart's beautiful music, it's hard to beat. The title, which translates to 'All Women Are Like That,' can ruffle feathers—but the action makes it clear that if all women are 'like that,' then all men are, too. If love's a game, it's worth learning how to play!"
Atherton says his production of the two-act comic opera is set in late 19th-century Naples, Italy. "The concerted musical numbers (music arranged for more than one singer plus orchestra) are sung in Italian, with English supertitles projected above the stage," he adds. "The recitatives are sung in English." The production will be performed in full period costume with sets evoking the era. Daniel Alfred Wachs will conduct the Chapman Orchestra.
"Unlike some institutions, at Chapman we immediately regard our students as the professionals they are, and we give them the opportunity to shine as soon as they set foot on campus," says Guilio Ongaro, Dean of Chapman's College of Performing Arts. "Their professors know them by name, and we welcome and encourage them to contribute to the energy, creativity and collaboration that are the hallmarks of our college."
Richard Bryant, Executive Director of Musco Center, fully agrees with this student-centered approach. "When we set our programming priorities, our first priority was and is to serve and support the presentation of student concerts and productions by the College of Performing Arts at Musco Center, and to help provide Chapman students and faculty the opportunity to achieve the highest standards through hands-on, real-world production and performance experiences. This fully produced opera performance is a great example."
Noah Rulison, a Chapman senior, is playing the scheming character Don Alfonso in "Cosi." It will be his last performance as a student, having performed with the ensemble in various shows since his freshman year. "Don Alfonso is a cynical, cunning philosopher who orchestrates a comedy of errors between two sets of young lovers," says Rulison. "It's a terrifically funny but beautiful sounding opera that we [Opera Chapman] can't wait to show off!"
Opera Chapman's "Cosi fan tutte" will be performed at Musco Center for the Arts Friday-Sunday, April 12-14. Friday and Saturday at 7:30 pm; Sunday at 3 pm. Tickets, ranging from $10 to $25, are available at www.chapman.edu/tickets.
Musco Center, of course, also presents the finest professional performers in the world on its stage. Coming up this spring are performances by Gordon Goodwin's Big Phat Band, with the students of the Chapman University Big Band, on Sunday, March 10 at 4 pm; the pipes, drums, singers and dancers of The Scottish Music Tattoo and Parade, featuring performers direct from the famous Edinburgh Military Tattoo, on Thursday, March 14 at 7:30 pm; and the American roots music of Dustbowl Revival and Hot Club of Cowtown, saluting the 50th anniversary of The Band, on Friday, March 22 at 7:30 pm. Beloved Scottish-American actor Alan Cumming (PBS's "Masterpiece Mystery," "The Good Wife") brings his cheeky one-man show "Legal Immigrant" to the Musco stage on Wednesday, April 17 at 7:30 pm.
On Memorial Day weekend, May 25-26, the popular Heartbeat of Mexico festival returns to Musco Center, celebrating the cultural depth and richness of traditional and contemporary Mexican and Mexican-American arts and entertainment. The festival includes crowd-pleasing headline performers soon to be announced, along with a host of outdoor pavilions and activities, with food, crafts, children's activities and continuous music and dance on multiple stages on the Aitken Arts Plaza and the surrounding campus. Festival events inside on the Musco Center stage are ticketed, but all the outdoor performances will be free and open to the public.
Tickets to Musco Center events are available online at www.muscocenter.com, by calling 844-OC-MUSCO (844-626-8726) Tuesday-Friday, 12 noon-6 pm; or by visiting the box office in person, Tuesday-Friday, 12 noon-6 pm.