Curtis Speed - Mar / Apr 17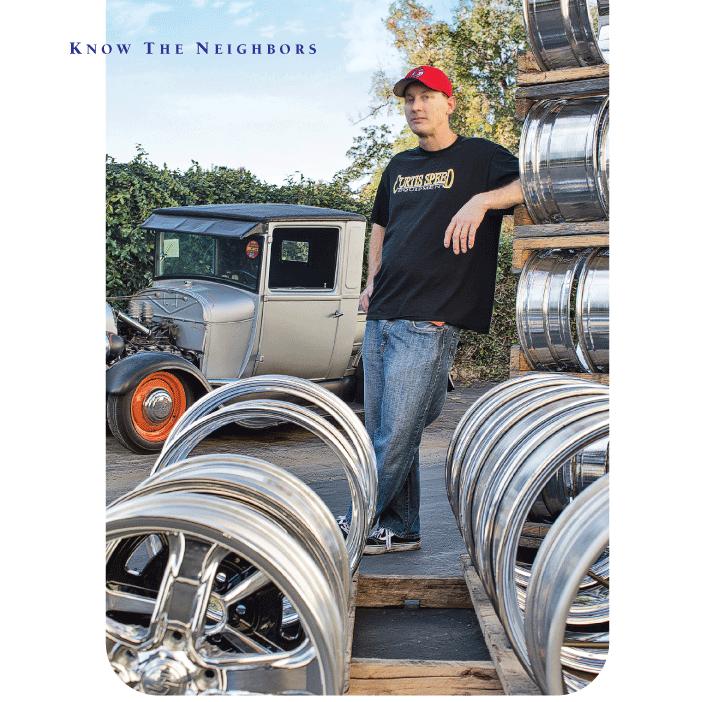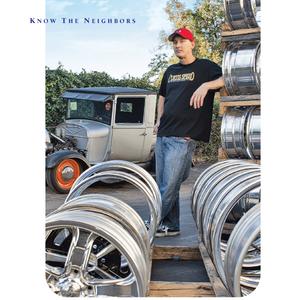 Renowned wheel maker Mike Curtis shows off some of his newly manufactured wheels while standing in front of the 1929 Model-A Ford Truck he built on the popular TV series, "American Hot Rod." His four-year stint on the show earned him recognition in the hot rod industry.


Curtis Speed Equipment
In the world of hot rods, Mike Curtis is a household name, thanks in part to his four seasons on the hit TV series, American Hot Rod, and Overhaulin'. From his shop at 504 West Chapman in Old Towne, Mike continues to forge his legacy as a renowned manufacturer of parts and custom "one-off" wheels for hot rods.
Opened in 2006, Curtis Speed Equipment occupies 6,000 square feet of space that includes four units, one of which faces his wife, Michelle's, hair salon, Hot Rod Hair. Using computer numeric control machines, saws and grinders, Mike fabricates parts out of solid blocks of metal for show cars and custom vehicles. Whether bumpers, taillights, grills, steering wheels, or suspension arms, Mike makes beautifully crafted parts that can adapt to vintage cars as well as newer cars. His work has appeared on countless industry magazine covers through the years.
In addition to working with individual owners and builders all over the world, Mike serves top-industry clients and manufacturers like American Racing Wheels and Tesla.
"I do a lot of prototype and production work for American Racing Wheels," he says. "We also did wheels for the Tesla Model 3. They came to me three days before the car debuted and we saved the day for them."
Originally from Colorado, Mike got his start at age 12 in his father's shop that specialized in street rods, restorations and custom, high-performance muscle cars. By the time he graduated from high school, Mike had built about 14 different cars, including a chopped, pro-street 1948 truck.
When on a family vacation to Disneyland in 1996, he convinced his mom to take a detour and visit a hot rod shop in Stanton owned by the legendary Boyd Coddington. After graduating from high school, Mike moved to California to work with Boyd for eight years, including four seasons on American Hot Rod.
"The show did really well," says Mike. "It was one of the first car reality shows. It was like a soap opera. I made a name for myself on the show, and I still get recognized in public and definitely at car shows. It was fun."
Some of Mike's most notable projects include the famous Alumatruck designed after a 1929 Ford and built completely out of aluminum, including the motor, body and frame. Mike was also heavily involved in the Imposter car by Chip Foose that won the prestigious Ridler Award in 2015.
Fans sometimes stop by Mike's shop for tours, which he welcomes.
"Right now, I have my 1929 Ford truck, a '32 Roadster and a '36 Coupe in the shop. The '29 Ford was the truck I built on American Hot Rod and drove to Louisville for a car show."
Curtis Speed Equipment
504 West Chapman Ave, Orange CA 92868 / 714-538-8752
---
Published in the
Mar / Apr 17
edition of the Old Towne Orange Plaza Review Article Written by Karen Anderson, photos provided by Michelle James
View More Articles