The BIRD Clinic - Sep / Oct 17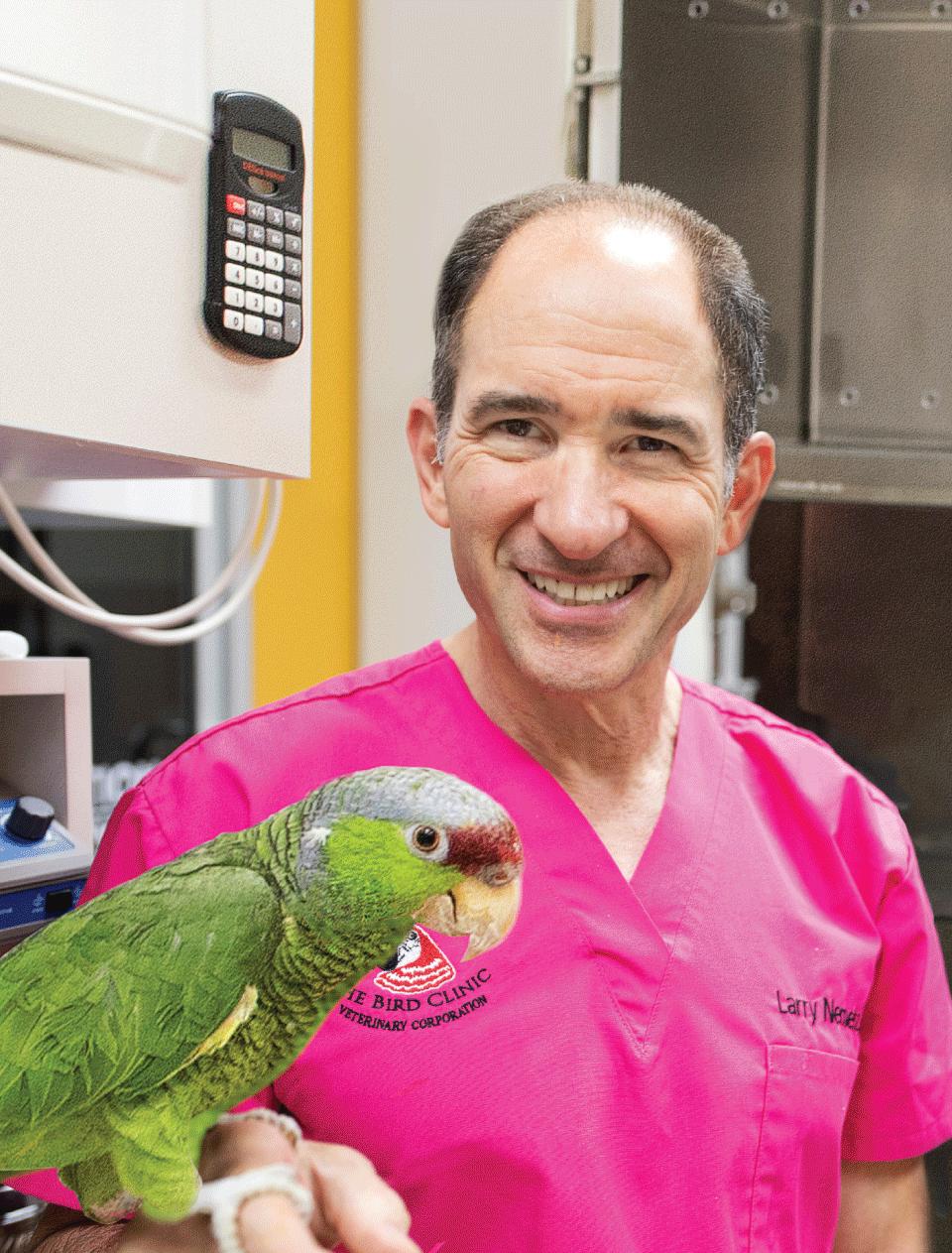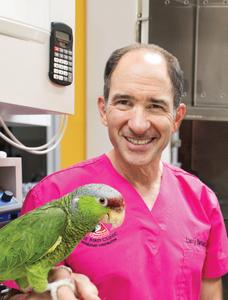 Veterinarian Larry Nemetz is one of the country's preeminent avian experts. He is pictured here with Bailey, a female lilac-crowned amazon parrot who almost died of a ruptured internal egg. Nemetz saved her with emergency surgery.

The BIRD Clinic
Bird owners from across the west flock to veterinarian Larry Nemetz of The BIRD Clinic Veterinary Corporation in Orange. The facility is one of only a handful of clinics in the U.S. that specializes solely in pet bird medicine.
Since 1987, Nemetz has been a veterinarian of feathered friends, practicing in Santa Ana out of an existing small-animal practice before opening his own clinic on Grand Avenue in Santa Ana in 1991. Within a few years, he decided to devote his practice exclusively to birds. In 2007, he opened his high-tech clinic, The BIRD Clinic in Orange, where he's been ever since.
Designed by Nemetz in consultation with an architect, The BIRD Clinic totals 2,170 square feet and offers advanced diagnostics, surgical treatments and veterinary care using breakthrough technologies.
"I like the high-tech stuff and there's not much we cannot do," says Nemetz. "I was the first to have a digital x-ray machine that I helped to develop in 2005. We see a lot of birds that swallow bad things, unfortunately. I also developed a surgical procedure in 2005 for removing these foreign bodies. The endoscopic technique has really revolutionized my world."
Featuring three exam rooms, plus rooms for radiology, surgery and hospitalization, The BIRD Clinic is designed specifically for treating birds. Even the four-foot-wide automatic sliding front door allows the bird owner to easily walk into the clinic while carrying a large birdcage.
A graduate of Purdue University Veterinary School in Indiana, Nemetz sees about 90 different species of birds and parrots on average, including ducks and poultry. He is the proud "father" of several avian pets, including a Meyer's parrot that he's had for 24 years and stays with him at the clinic every day.
A native of Orange County, Dr. Nemetz loved birds since the age of five. When he began practicing avian medicine, he always dreamed of having a clinic on Tustin Avenue.
"I've lived in the Tustin/Santa Ana area from the time I was hatched," he says. "This land was the last piece of dirt on Tustin Avenue that wasn't developed. It belonged to one of the old families in Orange County. We got lucky when we bought this lot, as it was already permitted for a freestanding veterinary practice. Most vet practices in the city of Orange can only be located in shopping centers due to zoning considerations. We're also conveniently located between two freeways, which offers easy access for our clients."
Next door to The BIRD Clinic, Nemetz also owns the property that houses birdStuff, a bird supply store and boarding facility that occupies a vintage home built in 1954. His wife runs and owns this unique store, where a rescue toucan greets visitors when they enter.
Educating bird owners about avian care is a key focus for Nemetz. Students from around the world come to the clinic to learn and intern.
"We provide counseling on bird ownership," says Nemetz. "Our main goal is to create an educational scenario so that your bird becomes a better overall pet."
The Bird Clinic
200 South Tustin St, Suite E, Orange CA 92866 / 714-633-2910
---
Published in the
Sep / Oct 17
edition of the Old Towne Orange Plaza Review Article Written by Karen Anderson, photos provided by Michelle James
View More Articles